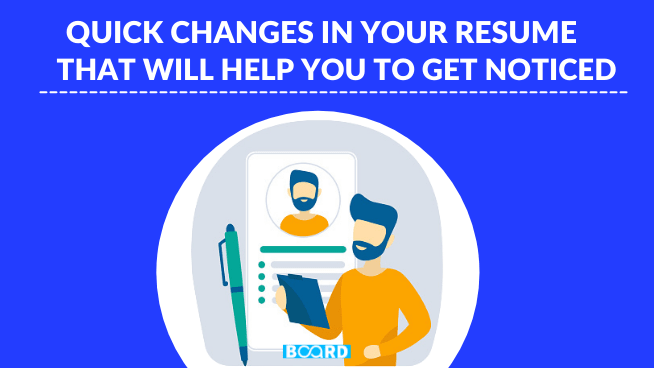 15 Quick Resume Tips to Get Your Resume Noticed by the Recruiter
You need to consistently work on updating your resume and making it stand out among dozens of other applicants. While you prefer doing it once in a few months, sometimes it's just better you do a bit of something each time you have to send it to a potential employer.

You may not always have that kind of time to edit and make changes before you have to send it, but those few changes made last minute can really make or break your chances of making that powerful first impression.

Check out these 15 quick resume tips to get your resume noticed by the recruiter.
1. Bullet Points
Reduce and cut short paragraphs into bullet points which only talk about the crux of the matter. It should be legible, readable and interesting. This makes your resume look more neat and clean, and really reduces clutter. The bullet points also shouldn't be multiple in number. Cut it to about six or seven. No one is going to go through more points per subheading.
2. Acronyms
Do away with them. Make sure you write all the full forms of the degrees, of the skills, of any certifications or any company for that matter. Now, 'Handling clients for APAC' won't be of much help in the first instance where applicant tracking systems are at work, picking up terms. But if you write 'handling clients in the Asia Pacific region', it will surely be of much more help to you.
3. Uniformity
Be consistent in terms of using fonts, colors and the other formatting in your resume. You need to put all the headings in the same font, and the body in the other font. All the bullet point styles should match and the entire resume should be a mix of maximum of two colors only.
4. Update Your Skills
Add anything relevant you may think would be beneficial to that particular job profile you're applying to. Remove the ones that are old and make no sense anymore, like skills you got in college or school, leading teams and college fests. If you have a multitude of skills to boast of, do it in an orderly manner. Break it up into parts and list them down under a common subheading.
5.Add Power Words
Power words give you that action-packed feel when reading a resume. Pick out some intensive action words and replace the generic terms with those. Use these in your strengths and skills sections especially. That's where the recruiter's attention will go at first.
6. Make Content Numeric
This is a simple trick to get the recruiter's attention to something important. It also
helps in saving word space. Try to replace the number words with numerals. It makes them stand out. For instance, '15% growth in the 1st quarter' instead of 'fifteen per cent growth in the first quarter' has a greater impact when read.
7. Focus On The Upper 1/3rd
The part that is going to be seen by the hiring manager when he first opens your resume id the upper one-third part of it. You need to make it lucrative and perfect so it makes the recruiter want to read more. That is the part responsible for making a solid first impression.
8. Take Feedback
You'll need objective feedback on your resume. Particularly, to find out if you have
arranged your pitch in the way you want the recruiter to understand it. You'll need to give it to people, both known and unknown to you. The known people will give you feedback based on their experience and based on the fact that they know you personally.
You could also ask to see their resumes if you've time in your hands. Unknown people can help you understand if you've written it the right way by stating what stays back in their mind after going through your resume. Feedback becomes an important part of a resume quick fix.
9. Read It Out Aloud
Yes, as silly as this may sound, reading out aloud has its own benefits. It's a foolproof method to identify any spelling mistakes or unnecessary words that you may have added to make the sentences sound heavy. It also helps in identifying any glitch in the meaning of the sentences which can be easily rectified this way.
10. Personal Branding
You're selling yourself on the resume and you need to take every step possible to wow the recruiter. You need to think along the lines of developing your personal brand as per the company's goals. Write effective cover letters and if possible, do add a nice strong job title on the top of your resume along with a brief summary about your best skills and achievements.
11. Update Your LinkedIn
Remember to make the same changes on your LinkedIn profile too. Add a good job title, a brief summary and update your skills there as well. A lot of recruiters hop on to your LinkedIn profile to check your activity and professional network. Remember to change your resume and your profile one after the other.
12. Remove References
'References will be provided on request' is a moot point to be added to your resume. You can surely do away with it because the company responsible will definitely ask for it if it needs them. You can make use of that space for formatting or adding any new content.
13. Name Your File Correctly
'Resume version 9' or 'My resume' or 'Resume final' sounds really amateur. You need to keep in mind to not save the FINAL file with such names. It may result in your file getting lost in the multitudes of other resumes that the hiring manager has saved. Saving it in the format of 'Firstname_Lastname Resume' will have greater chances of being recalled and even searched in the mailbox.
14. Hyperlinks
The maximum chances are that your resume will be seen on a desktop only. Therefore, add hyperlinks to your published work, or some references, or your social media profiles as hyperlinks that can be clicked and viewed on, immediately. That gives the recruiter a chance to know more about you instantly without having to wait for a conversation to happen.
15. Improve Readability
The resume should look neat and the fonts, readable. Change all the content into one or two fonts and ensure that consistency is maintained. Reduce the margin on the sides, which will inevitably give you more space and reduce the number of pages of the resume.

Don't have the lines sticking to each other like -

Done an advanced course in computing
Done an advanced course in accounting

Leave some space in between for better readability.
Subscribe to our Newsletter
Receive latest industry news and updates, exclusive offers directly in your inbox.
---