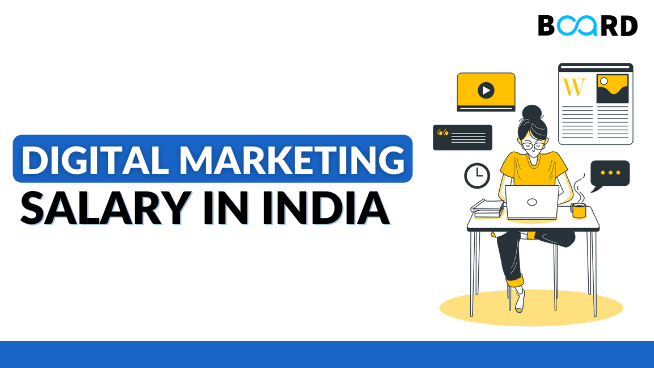 Introduction
Today, almost every industry is progressing towards digitalisation to increase its reach worldwide. Most businesses are selling their services and advertising & branding their product through digital marketing. The pandemic has given a further boost to digital marketing; to no surprise, it has now emerged as one of the growing and highly paid jobs.
Digital Marketing Salary in India (Average to Highest)
Digital marketing salary in India ranges from INR 1.5 lakhs/annum for freshers up to INR 10 lakhs/annum for an experienced person. This may increase with your experience. Thus, taking up the role of digital marketer will surely be a good decision.
Below is a list of some roles with their respective salary under Digital Marketing:
SEO means Search Engine Optimisation. SEO is a method implemented by SEO experts to get traffic from free, organic, editorial, or natural search results in search engines. Thus, an SEO expert needs to have the perfect knowledge of keyword research, search engine algorithms, SEO copywriting, etc., to make the website rank in the Google search engine. SEO is required in copywriting, content writing, blogging, and many more.
The digital marketing fresher salary for this role is about ₹ 1.75 lakhs/annum in India, and for the person with 5-9 years of expertise, it is around ₹4.6 lakhs/annum as per the payscale.  

Major responsibilities of SEO Experts:
Optimisation and analysis of the website.
Generation of quality SEO content.
Do thorough research on keywords to bring traffic to the site.
Work on the strategies of different types of internal and external linking.
2. Pay-Per-Click Analyst
The person who is a Pay-per-click Analyst is responsible for creating advertising campaigns for the organisation so that the investment for the product advertisement will be recovered and will earn great profits. The organisations aim to get organic results, and once they get them, they concentrate on moving forward by pushing their boundaries and creating more advertisements. If you can get them the results, then you will be hired by the top organisations as a PPC analyst.
This role has an average salary of around ₹ 3 lakhs/annum for freshers in India, while the persons with 2-3 years experience get the average salary of ₹ 4-5 Lakhs/annum.
PPC Analyst's key responsibilities:
Look after the paid ad campaigns on Google, Bing, and other sites.
Bidding on the correct keywords.
Boost quality score.
Looking after daily and monthly budgets of ads.
Having the skills to work with Google Analytics.
Developing graphic designs for campaigns.

The job of a web developer is to create a website that is attractive and easily accessible for the users. This is the person who analyses the needs of the user and ensures that the website's content, navigation, and graphics give the user a positive experience. For this, the web developer must be skilful and have knowledge of HTML, graphic design, and different computer languages. It is one of the most popular digital marketing salary jobs in India.
A web developer in India with experience of less than one year has a salary of ₹ 3 lakhs/annum, while for the one with more than 2-3 years of experience, the salary goes up to ₹4-6 lakhs/annum.

Responsibilities of a Web Developer:
Work with web designing languages like HTML, JavaScript, PHP, CSS, and many more.
Testing the created application of websites and also maintaining the websites.
Managing and enhancing the website's performance by increasing the traffic over it.
Collaborating data from the back-end services.
4. Social Media Marketing Expert
Social Media Marketing Experts are the persons who design and run the strategies on social media for the organizations or different functions and events. Various brands nowadays are hiring social media experts to help them reach the heights of social media. If you are an expert in this field, you must keep quality and positive content on your social media platform.
A Digital marketer's salary as a social media marketing expert is ₹ 2.5 lakhs/annum in India. A person who has an experience of more than 4 years can earn up to ₹ 7 lakhs/annum.
Responsibilities of Social Media Marketing Expert:
Carrying out well-designed social media marketing campaigns.
Manage the projects on all social media accounts.
Auditing the cost and returns of the advertisement done through social media.
Searching for social media sites which have the potential to be monetised.
A Data Analyst is the person who is responsible for the interpretation of data collected from various websites. This data gathered from various sources can be in the form of patterns and trends. Data analysts keep track of a business's data and help them improve their reach by researching strategies.
The digital marketing fresher salary in this field is up to ₹ 3 lakhs/annum, whereas, in the case of the experienced person (2-4yrs), the salary can go up to ₹ 4-5 lakhs/annum in India.
Responsibilities of Data Analysts:
Gathering the data from various sources and interpreting them.
Result analysis.
Recognising the patterns and trends present in data sets.
Cooperating with the team to manage and look after the needs of the business.
A paid media expert is the person who brings the traffic to your website by doing the online advertisements on different social media platforms such as Facebook, Instagram, Google, etc. The person in this profession needs to be creative as well as a good researcher and analyst.  The paid media expert must have the exceptional abilities to influence the people and convince them to take action.
A fresher Paid Media expert can earn up to ₹ 3 lakhs/annum. A paid media specialist with an experience of 2-3 years can be able to earn an average salary of ₹ 5-6 lakhs/annum in India.
Responsibilities of Paid Media Expert:
Recommendation of PPC.
Analysing and measuring the advances and ROI of all PPCs.
Working on the development and execution of ad campaigns.
Providing the stakeholders with information about the performance of campaigns.
Looking after the budget of the paid media.
Bringing organic traffic to the website by using some SEO techniques.

The digital marketing manager mainly works on increasing the company's sales without incurring too much cost to the company. The manager's work is to make the brand well known in a digital system. They implement the strategies and take the support of every channel present in digital marketing to advertise their business, products, and services.
The Digital Marketing Manager's salary in India for a fresher is around ₹5.5 lakhs/annum. On the other hand, the 5-9 years experienced digital marketing manager earns between ₹ 7 - ₹ 10 lakhs/annum.
Responsibilities of Digital Marketing Manager:
Branding of the product on digital platforms.
Do data analytics.
Know about executing and analysing Email Marketing campaigns.
Planning and development of paid and organic online campaigns on social media platforms.
Designing the campaigns in such a way that they bring traffic to the site.
Using web analytical tools to analyse and report the effects of the activities done for digital marketing.
Keeping a check on the new trends and updating the strategies as per the changing trends.
Establishment of new as well as maintaining the old partnerships with agencies and other trading partners.
The work of the content marketing managers is to create content that is effective and will be able to bring organic traffic to the company's website. The content plays a major role in promoting the business, services, or products on various platforms. Thus, the content of the person who is at this level must be creative, and they must have unique communication skills.
An entry-level salary of a Content Marketing Manager is about an average of ₹4.8 lakhs/annum in India. In contrast to this, if a person has 5-9 years of experience, the salary can go up to ₹8.2 lakhs/annum in India.

Responsibilities of Content Writing Manager:
To create content for the company which will be able to attract traffic from all platforms.
To work on the SEO of the content.
Communicate with the team to understand the proper working of any new project.
Create content that will give conversions.
Also, watch a YouTube video on Paid Digital Marketing jobs:
Conclusion
Thus, it can be concluded that looking at digital marketing as a secure and good earning career would be the right decision. If you have great analytical skills and love taking the challenges, this field is definitely your piece of cake. Only you will need more sharpening and perfection on your skills, and to achieve these two trends, make sure you take the digital marketing course from our platform.