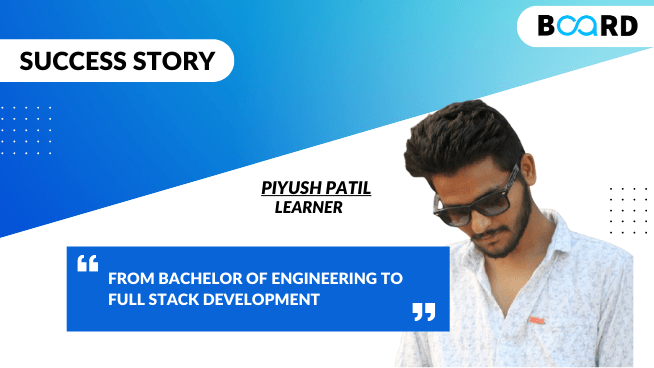 From Bachelor of Engineering to Full Stack Development
By - Piyush Patil, Board Infinity Alumni
My Early Career Journey
I am Piyush Patil. My family is from Shahada in Maharashtra, and I attended school and did my diploma there.
Growing up, I always dreamed of becoming an engineer. My first course of study after giving my 10th board exam was a Diploma in Industrial Engineering from GM Chaudhari Polytechnic, Shahada. In 2017, I attended Bhujbal Knowledge City in Nashik to obtain a Bachelor of Engineering after obtaining my Diploma.  
My last semester at college was in 2020 when I took the C-DAC entrance exam and was awarded AIR 1382. However, a disruption forced the cancellation of the exam.
One day while scrolling through Instagram, I came across Board Infinity's Full Stack Development Course.  I've always been interested in programming and I know a lot of my friends who took courses earlier and are now successful professionals. So, I enrolled in the course considering the long-term benefits.
My Experience With Board Infinity
I have had a very positive experience with Board Infinity. My training began in February, and I have gained a comprehensive understanding of the modules since then. Coaching with Coach Abhishek Chaudhary is very interactive and I admire his method of teaching a lot. HTML and CSS are my favorite classes. This program has helped me grasp a lot, and I believe I will utilize all of the information in my future career.
The placements are not on my mind at the moment. The goal of this experience is to learn. My motivation for joining Board Infinity was for a good start and I feel the course has fulfilled its purpose until now.
---
Connect With Me
I hope that this article and video helped you and gave you the required clarity. If you would like to connect with me you can fill out this form. "Connect with Board Infinity Alumni"
Watch Career Pe Charcha
You can also watch fellow learner experiences on Career Pe Charcha live series on Board Infinity's Instagram Page.
Subscribe to our Newsletter
Receive latest industry news and updates, exclusive offers directly in your inbox.
---