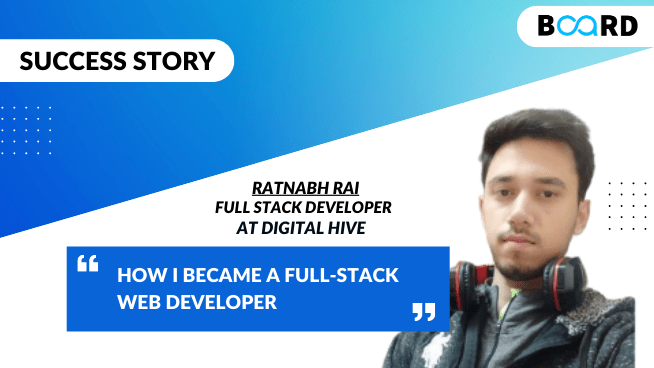 How I Became a Full-Stack Web Developer
By - Ratnabh Kumar Rai, Board Infinity Alumni
1. Early Career Background
So I am about to complete my Internship by the end of this month. Let me share my story with you. Growing up, I wanted to get into IIT, but I missed that opportunity due to several reasons.

After some time, I decided to join University, but I made sure that I stood out among my peers. I didn't want all that hard work to go to waste. During my first 2 years, I focused heavily on building new sets of skills, as well as, improving my coding skills.

But even after that, I felt that I was lacking somewhere. I felt like I needed to get professional guidance. That's when I reached out to a friend of mine who had just completed a course from Board Infinity. He had an amazing experience and wouldn't stop talking about it. I was intrigued, so I decided that I would give Board Infinity a try. I joined Board Infinity's Placement Program because I didn't want to solely rely on college placements to get a job. I wanted a lucrative opportunity & I felt that I had to do more to get that.

Although I made the decision, my parents weren't very convinced. It's not their fault, they only knew about the traditional methods of getting a job i.e. college placements, so they were skeptical. After all, they're my parents and want the best for me. Seeing that I was so determined to go to Board Infinity, they finally agreed!
2. Learning Experience At BI
My whole experience at Board Infinity was lovely. Their whole team was so helpful throughout the program and the coaches were also top-notch. It couldn't have been better.
One instance that stands out to him where I felt truly supported was when my coach told me, "Don't give up if you don't find an answer instantly. Keep at it. There's no way you won't find an answer if you spend enough time on the problem."
3. Placement Journey
Soon enough an incredible opportunity came along, where I could provide value and learn. After interviewing and clearing the rounds, I began working as a full-stack developer at Digital Hive. I learn a new thing every day at my workplace and I look forward to becoming a better full-stack developer by working here.

Board Infinity's placement assistance team helped me get this opportunity and I'm truly grateful to them.

I thank Board Infinity for its well-curated full stack development course. I truly believe that students like me, the ones who dream big, must apply here if they want to kickstart their careers in the right direction.
---
Connect With Me

Have doubts about Board Infinity's full-stack development learning path and want to connect with me? You can fill out this form. "Connect with Board Infinity Alumni"
Watch Career Pe Charcha

You can watch fellow learner experiences on Career Pe Charcha live series on Board Infinity's Instagram Page.
Subscribe to our Newsletter
Receive latest industry news and updates, exclusive offers directly in your inbox.
---