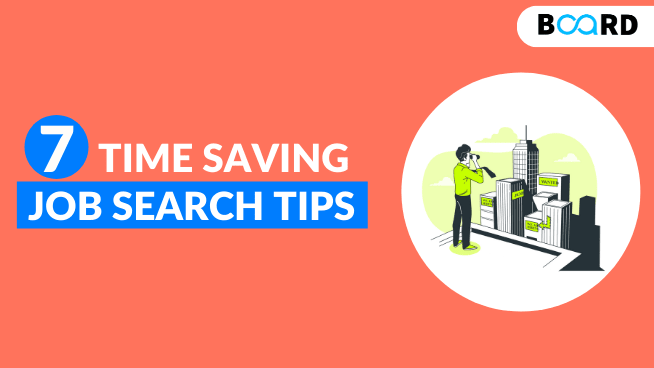 How to Search for Jobs | 7 Killer Job Search Tips for 2022
A Latin proverb goes, 'if the wind will not serve, take it to the oars'.

A regular job search may take anywhere from a month to a couple of months, to maybe even a year. This is the perfect time of the year to start your job hunt. This is a fertile period as the organizations also have fresh budgets for the year, and many companies even think of restructuring, and more hiring.

Wouldn't it be easy if we all had a handbook to tell us how to apply for our dream jobs?

Well, not a handbook, but we surely have 7 killer tips for job search, for 2022. Read on and take notes.
1. Devote Time to your Resume
Your first step in a job search is your resume, as it is the first piece of document that faces the recruiter on your behalf. Polish it, remove unnecessary information, shorten it, and check for grammatical errors. Any mistakes on your resume are unpardonable. Prioritize which areas of the resume are more important, and accordingly pay more attention to them. Most importantly, make it ATS-friendly by using the right keywords, as it will help in getting your resume screened on the first go.
2. Online Presence
Develop a sound online presence, in the sense, be active online on your social networks and start to network. LinkedIn is an amazing platform for building professional connections, making conversations, researching jobs and applying to them, etc. You could also sign up for a few job portals. Use social media to get in touch with your peers, alumni, and acquaintances. You never know who will knock on your door with an opportunity.
3. Research
Keep your research game strong. If you have chosen a career path, then research how you will grow in it. This information will help you a lot in your interview. Learning about the variety of job roles, opportunities and challenges will prepare you and give you an idea about what to look for when you are searching for a job, in that particular field. The more you research, the more you will know.
4. Know your Strengths and Skills
Before you apply for any job, you need to introspect for a bit and understand where your strengths lie. Identify your skillset, as you can then look for jobs that match your skills. This is the right approach to job search. When you adopt this approach, you will discover that such skills will turn up more job opportunities than you ever realized.
5. Quantify Achievements
Remember to support every achievement with some value or quantity. For instance, instead of saying 'implemented a successful Facebook campaign', you could prepare facts and instead say, 'implemented a Facebook campaign which resulted in 15% more likes, shares, and comments.' Real numbers will denote your value, and employers need to know what value you are getting to the organization.
6. Prepare a Good Cover Letter
Don't treat your cover letter like a resume. Give it the separate importance it deserves. You can write a detailed, captivating introduction to briefly make the hiring manager understand your credibility and candidature and why you are a fit for the job. Remember to include a clear call-to-action like a follow-up, an email, or a phone call at the end.
7. Prepare Well for the Interview
Your job search ends with this final step, so you have to get it right. Make sure you read about the organization you are interviewing for. This is essential. Do your homework regarding the company's latest news, and what is going on currently in your industry too. Keep a list of questions ready to ask as well. Preparing well for an interview justifies all the efforts you have taken for the job search.

You can do this!

Go for it, and start searching for a job with these tips. Create a plan and follow it. You will surely succeed!
Subscribe to our Newsletter
Receive latest industry news and updates, exclusive offers directly in your inbox.
---