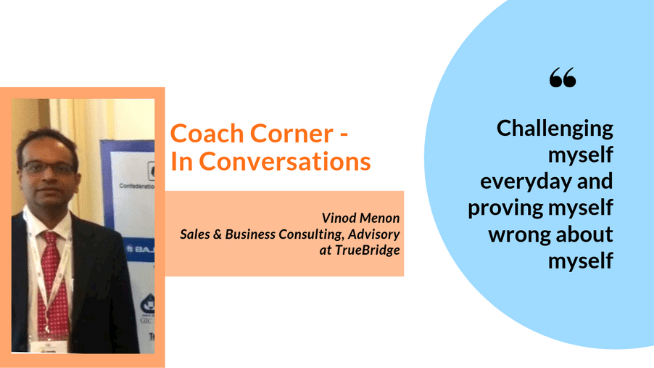 #SeptemberSpotlight: In conversation with coach Vinod Menon
Coach Vinod Menon is a Chartered Accountant with 20+ years of successful track record Heading & Managing Enterprise Sales, Business P&L across Financial Technology & Financial Services organizations. He's been a part of 2 successful FinTech startups – 1) As Product & Sales Head building a product to client acquisition to a global presence in BFSI segment and finally in the smooth transition of the takeover by a large group & also as Director Sales, P&L and Co-Founder – Right from building team, managing company, client acquisition to a global presence.

We're proud to have him as a career coach, and below are the mindful answers to questions asked by us.

BI: Things you love the most about your job?
VM: Meeting new people.

BI: Your favorite books/films/documentaries?
VM: Who Moved my Cheese.

BI: Who is your mentor and the best piece of advice given by her/him?VM: Mr. Pushpangadan ( Ex CEO of L&T Capital) - Always be humble.

BI: What dreams and goals inspired you to succeed?
VM: Challenging myself every day and proving myself wrong about myself.

BI: What are your favorite questions to ask those you lead?
VM: What motivates you to come to the office every day.

BI: How do you keep a work-life balance?
VM: Actively contributing at home, playing with kids.

BI: How did you get your start?
VM: By applying for a job vacancy!

BI: How do you help a new employee understand the culture of your organization?
VM: Talk to him at a personal level and get him comfortable and then communicate.

BI: What are the 3-5 Leadership Principles that you have discovered and executed that have contributed to your success?
VM: Humility with Team and clients, Active Time Management, Always define work priority, Maintain Discipline. Clear Communication.

BI: What advice you would give to a larger group of people?
VM: Always ensure that you are contributing more than what is expected from you.
Subscribe to our Newsletter
Receive latest industry news and updates, exclusive offers directly in your inbox.
---