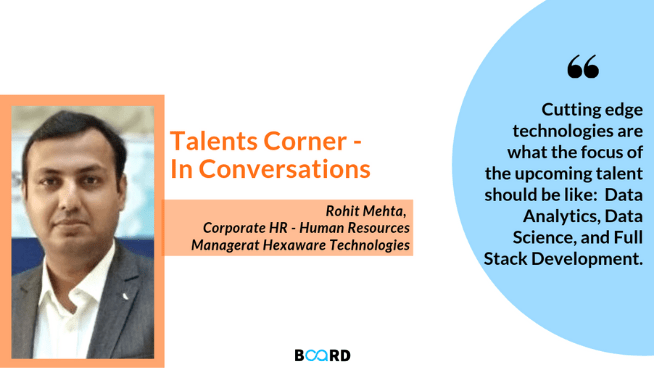 Behind the scenes of Recruitment in Technology Industry
Hexaware is a CMMI Level 5 global IT services & consulting company that specializes in delivering complex technology solutions.  Hexaware is the fastest growing next-generation providers of IT, BPO and consulting services. Hexaware has been powering man-machine collaboration, solving complex business problems, using a combination of human creativity & intellect, leveraging the power of ubiquitous data, powerful algorithms and computing. We are on a journey of metamorphosing the experiences of our customer's customers by leveraging our cutting-edge strategy— 'Automating Everything, Cloudifying Everything and Transforming Customer Experiences'.

Hexaware's digitally empowered workforce, comprising 14,600+ employees, lives the company's philosophy of 'customer success, first and always' by imbibing its core values to drive the success of its business strategy. Drawn from around 20 countries and 80 leading global academic institutions, this diversified workforce is constantly working on an innovation-led approach to realize the company's vision "to continuously amplify human potential through the use of digital technologies".

This is what an interview with Rohit Mehta - (Corporate HR - Human Resources Manager) at Hexaware Technologies reveals regarding the current recruitment scenario-
Q1. What are the challenges you are facing w.r.t finding good Talent in the Market?

(a) Identifying quality resources in the industry who are technically strong with high on commitments.

(b) Resource having the right attitude with a focus towards learning and non-monetary career growth at initial and a mid-phase of career.

(c) Availability of quality resources in the industry to be filled in within tight timelines given by the business.

Q2. Are there any specific Skills where you see more Demand coming in for your business?

Cutting-edge Technologies are what the focus of the upcoming talent should be like Robotic Process Automation, Cloud, Data Analytics, Data Science, and Full Stack Development. An individual should be hands-on technical with solution-oriented at every stage of their career.

Q3. What is your Entry-Level Talent-Hiring Strategy?

On-Campus and Off-Campus hiring. Running them through few Technical, Psychometric Tests, Personality Tests, etc. for understanding them on their standing while Recruiting them and then bridging the gap by putting up Training Need Analysis. The right training will groom them for the different roles that are offered to them.

Q4. Is your company focusing on Offering live Projects and Internships to students?

Not at this point/ for maintaining security & confidentiality guidelines of the organization.

Q5. What is the future Talent Strategy in your organization for upcoming skills in tech/analytics?

Rather than my company strategy, I would like to put this up for building future talent strategy in the industry. We should target hiring people that hold high IQ and Analytical skills so that any company will less invest in their training needs and can hit the ground from the very start of their duration. Such resources will be high performers.
Subscribe to our Newsletter
Receive latest industry news and updates, exclusive offers directly in your inbox.
---