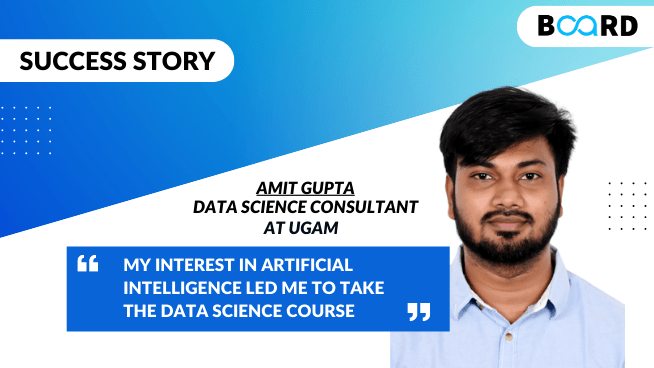 A Turn Of Events By Chance : Mechanical Engineering to Data Science
By - Amit Gupta, Board Infinity Alumni
1. My Early Career Journey
My name is Amit Gupta. I was born and brought up in Goa. My school was pretty interesting but studies weren't the reason, it was sports and my friends. As I passed the school, I wasn't sure what career move to make next. My father guided me to take up engineering, although I wanted to become a Chartered Accountant. However, things didn't go as planned and I took admission in Mechanical Engineering and graduated in 2020 from Jain College of Engineering in Karnataka.
Mechanical Engineering was a decent option to go with but with time I developed my interest in automation more than tools and machines. I was introduced to Artificial Intelligence in college when I came across an article on robots in my final year. I was surely intrigued but I decided to stick with Mechanical Engineering and pursue AI later.
Luckily, there was a workshop organized at our college on AI by TechShiksha, which my friend and I attended, which really got us hooked on the subject. In the same workshop, we were informed about an internship in AI in Mumbai being offered by the same organization.
My passion made me travel to Mumbai and do this internship. During this internship, I was introduced to AI algorithms, however, it wasn't a cakewalk for me at all and confused me further about my career.
At that time, a friend of mine, Mitali Pawan, guided me and helped me understand my interests better. It's true that sometimes your friends know what's best for you than you do yourself! Mitali guided me to take up a Data Science course rather than going for Artificial Intelligence directly. She has played a huge role in shaping my career.
I came across Board Infinity on social media and registered myself. I was then assigned a counselor who guided me through the syllabus of the Data Science course and how it will benefit my career. After a great deal of research from my side, I enrolled in the Learning Path in Data Science course at Board Infinity in January 2021.
2. My Experience With Board Infinity
Board Infinity has been a life-changer for me. It gave me a career path. Before this, I was so confused as to what to do next in my career. When I had graduated in 2020, no company was hiring due to the pandemic. Board Infinity showed me the way!
Board Infinity's Data Science Course has helped me understand the subject from scratch to expertise and I must say I have been able to finish the course without facing any difficulties and it's because of the coaches we got here!
One of those coaches, Coach Darshan Ingle is someone I'd like to specially mention. He was so clear with the concepts that are reflected in his way of teaching. The best part of learning from him was that he would always clear all my doubts on the spot. It's very hard to get coaches like him!
3. Placement Journey
I had never faced a job interview before this. When I got to know that Ugam Solutions was hiring, I readily applied. Thankfully, it went very smoothly. Thanks to my placement coach, Coach Saurav Bhattacharya who guided me so well throughout the placement process. I interviewed for the role of a Consultant at Ugam Solutions and got it! As of now, I am starting off as an intern.
I am happy with this position as I had started off as a fresher but landing on a job like this is amazing! Data Science is a game-changer for me. As I have started my job here, I feel that the projects I did at Board Infinity have been really helpful in imparting practical knowledge about the field. These projects also look very good on your CV as we have something to endorse our skills, especially for a fresher.
Making a career change is nerve-wracking for most people, as they are worried about what their friends and family will think. But, I believe if they believe in themselves and try to gain the knowledge and grasp as much, they will be successful no matter what!
---
Questions? Book a Call

If you have any questions about my journey or the online data science course by Board Infinity. Feel free to connect with me - "Book A Call with Board Infinity Alumni"
Watch Career Pe Charcha

You can watch learner experiences of my batch mates on Career Pe Charcha live series on Board Infinity's Instagram.
Subscribe to our Newsletter
Receive latest industry news and updates, exclusive offers directly in your inbox.
---