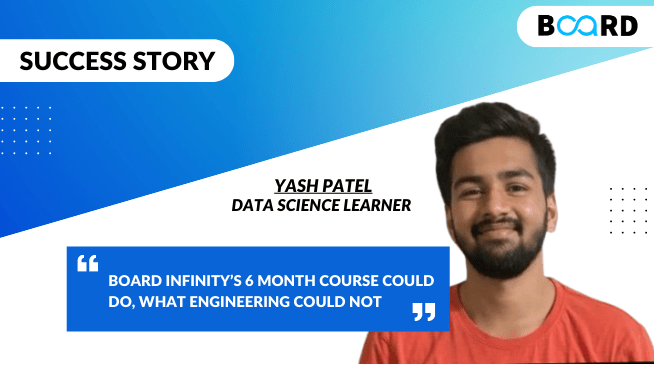 For Me, Board Infinity's 6 Month Course Could Do, What Engineering Could Not
By - Yash Patel, Board Infinity Alumni
1. Early Career Background
My hometown is Mumbai. I grew up here. In school and throughout college, I was very notorious. You would mostly find me out of the class. I hardly attended classes and my teachers would be so troubled with me! I am in the fourth year of my engineering right now, and life seems too serious for my mischief. From here on, what you read is a story of a lost guy trying to find his career path.

After finishing school, I didn't think much and went with the herd to pursue engineering in Information Technology at K.J. Somaiya College of Engineering in Mumbai. I don't remember attending even a single lecture. I have always felt that one could learn more from Youtube than from in-class teaching. In fact, I have learnt web development, Python, C, C++, Java, etc., on my own from YouTube. Although there is a lot that one can learn from the free courses available on the internet, it's difficult to find a proper course that can teach you everything related to a subject.

I was looking for expertise and that's when I came across Board Infinity's website. I enrolled myself in the Data Science Course, the day after, since my teachers told us that they can't assure 100% placement. I was obviously scared because things seemed haywire in terms of career objectives.

Last year was tough! COVID wasn't the only thing making life tough for me but the fear of missing out on great career opportunities was too heavy on my shoulders. Many of my friends got placed last year, some even went to study abroad. Though I was happy for them, it was a very difficult time for me to define my career path and find a job on my own. Not that I lacked knowledge, but I was not confident to convey my understanding of the subjects I had studied.  
2. Learning Experience at BI
About my experience with BI,  four years of engineering couldn't do what Board Infinity did for me. I can say that I can see the changes in me now. For me, it was easy to understand the concepts but I could never explain my evaluation well. Now, I can very well do that and I am also confident about my placement.

I am extremely grateful to the faculty, especially Gautam Sir, who taught us in a way that any beginner could easily grasp the concepts. Our Deep Learning classes with Bharat Sir were also very productive! One thing that I admire the most about Board Infinity is that the faculties are ready to explain the concepts 2 to 3 times, even though we can simply go and watch the recorded videos of our live classes. But, they realise the importance of live interaction and how it gives a scope for a learner to clear their doubts.

Also, the Program Managers are very helpful here. They are always ready to help. Whenever I have reached out to Faizan Sir, he has always helped me. Since our placements are approaching, I was confused about which Data Science profile should suit me. I contacted Faizan Sir and he helped me sort things out for me. I have finally decided to go for the Data Analyst profile.

My course in Data Science is almost complete here. My pre-placements will start sometime. I am confident about my placement and I hope to go abroad for work in the near future.
---
Connect with me

Have doubts about Board Infinity's Data Science learning path and want to connect with me? You can fill out this form. "Connect with Board Infinity Alumni"
Watch Career Pe Charcha

You can watch fellow learner experiences on Career Pe Charcha live series on Board Infinity's Instagram Page.
Subscribe to our Newsletter
Receive latest industry news and updates, exclusive offers directly in your inbox.
---