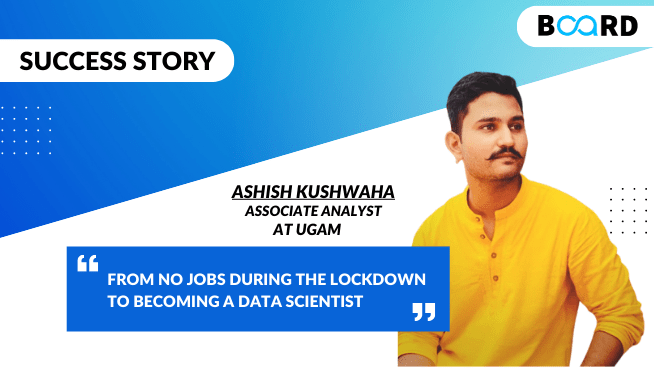 From No Jobs During The Lockdown to Becoming A Data Scientist
By - Ashish Kushwaha, Board Infinity Alumni

Covid has become a great barrier for people from small towns as there are not enough good opportunities in our cities and our families won't allow us to go to other cities for work during the pandemic. My name is Ashish Kushwaha and I was working at Varite India as an HR in Gurgaon. Last year, I had to leave my job when the lockdown was imposed and come to Kanpur, where my family is currently residing.
1. Early Career Journey
I received my Bachelor's degree in Computer Application from CSJM University in Kanpur in 2017 and my Master's degree from Lucknow University in 2020. As soon as I completed my master's degree, I got a great opportunity as an HR, so I joined Varite.    

During the lockdown, I was researching many courses, when I stumbled upon Data Science. Reading about the field made me very curious to know more. That's when I came across Board Infinity's Data Science Course!        

At first, I was skeptical about putting my money into an online coaching platform since it was my parent's money I had to put in.

But, my first interaction with the team helped me build my trust instantly. My counselor walked me through the courses and the offerings and it sounded exactly like something I was looking for.

My academic record has been average since childhood. It was always my interest in the subject that determined my marks. In our Data Science Course, it was the same. As a result of the curiosity, this field has given me, I did well and I can't thank Board Infinity enough for that.
2. My Experience with Board Infinity
For me, Board Infinity has done everything that an organization could have done. They assigned extremely knowledgeable Coaches from the concerned industries to teach us the modules. I have gained enough knowledge to imagine myself following this career for the rest of my life. From Coaches to our Program Managers at Board Infinity, they have all been so helpful in showing us the way. The projects, assignments, quizzes, hackathons have all contributed to my 360-degree learning of Data Science.
3. My Placement Journey
At first, I was stressed when I was unable to crack the interviews at first. But, then I realized different companies have different perceptions. Sometimes what you have is not what they are looking for and you have to be patient throughout the process.

Coach Prashant really helped me throughout the placement. He motivated me a lot. I even won two Hackathons at Board Infinity.

Through the right kind of guidance, I could finally crack the Associate Analyst role at Ugam Solutions. There were two rounds of interviews conducted and the employers asked me advance-level questions. Thankfully, I was able to answer all of them as I was thoroughly told by my coaches the important questions.

I joined Ugam on 6th July. It's going well so far. Going forward, I would like to start something of my own in the long run. But, this journey in my career has taught me how we should believe in ourselves and work towards what we believe in without excuses.
---
Connect with Me

Want to connect with me to know my experience at Board Infinity?  Fill out this form - "Connect with Board Infinity Alumni"
Watch Career Pe Charcha

You can also watch fellow learner experiences on Career Pe Charcha live series on Board Infinity's Instagram Page.
Subscribe to our Newsletter
Receive latest industry news and updates, exclusive offers directly in your inbox.
---