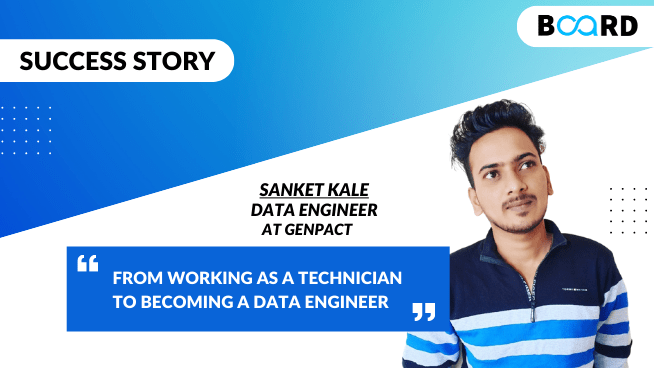 From Working as a Technician To Being Offered the Role of Data Engineer at Genpact
By - Sanket Kale, Board Infinity Alumni
1. My Early Career Journey
My career has always been a challenging part of my life but my hard work and determination have always paved the way.

My father wanted me to become a Mechanical Engineer, however, I was least interested in the field. In 2016, I joined the S.N.K college of Engineering in Nashik and flunked every semester except the last one. In the last semester, I passed with distinction and you can call it god's grace because studying was not easy for me.

Unfortunately, my father had passed away at the start of my college and I had responsibilities to shoulder, in the view of which my studies were pushed aside. I worked alongside attending college, throughout the four years. My HOD knew about my responsibilities and hence I was only in the college when I had to make submissions or when I had exams. I joined Hindustan Unilever as a service engineer while also doing my B.Tech.

As a technician, I visited multiple IT companies, every now and then. Upon being acquainted with a lot of IT professionals, I learned that it's not necessary to have an IT background to be working at these firms. Many of these acquaintances actually came from Mechanical Engineering backgrounds and did different certification courses to do high-paying jobs in the IT sector.

I began my search on Google for these courses and came across Data Science. However, upon discovering the expense, I dropped my plan. But, as they say in the Bollywood movies, "When you want something very dearly, they come to you, sooner or later." Around Christmas in 2020, I got a huge discount on the Data Science course at Board Infinity and joined the course in January 2021.

However, working alongside the course was becoming very hectic for me, as even Saturdays and Sundays aren't off. So, I took the tough call and decided to resign so that I could give everything to this course.

When I came home after resigning, I faced flak from my family. My cousins were of the opinion that nobody gets placed on the basis of certification courses. But, I could only convince my mother somehow.
2. Experience with Board Infinity
My experience with Board Infinity was a great one! I dedicated the whole of my six months to my studies. I used to study 8 hours a day.  Post classes, I used to grab questions from the internet and practice them all and watch all hiring and interview videos to get an idea.

The course was very good at Board Infinity. The syllabus covered everything we needed to learn as a Data Science fresher. My coaches were very helpful in explaining the concepts and also clearing the doubts. All my projects were marked above 80. Even the Hackathons and webinars were very helpful in giving us an understanding of the field.
3. My Placement Day
There's a funny story about my interview day. Even though I had prepared so well, I forgot that I had an interview with Genpact on the day it was scheduled and was peacefully asleep when my program manager, Varneet, called me. I, without any further delay, joined Zoom right away.

My interview went for an hour or so. They asked me about the rules for Tableau and SQL. Because I had prepared so much in all these six months, I was able to answer all of the questions well and secured the position of Data Engineer.

I was so happy to have cleared this interview. It gave me a lot of confidence. I felt like my hard work for six months had paid off. It wasn't easy to give up on everything else and try building a career in an entirely new field. Even the network is not very good where I live, and with all the distractions from social media, I used to hang my phone on my room's door and then study to avoid distraction.

When I told my family about my job, everyone was so surprised. Now even my cousins want to pursue certification courses.

For now, I want to work with Data and gain some experience. I have to get better at Java. I am also interested in learning Full Stack Development, so if you ask me about my future plans, I have got some more learning alongside work on my mind!
---
Connect with Me

I hope you liked reading this post and I was able to provide some value to you. Feel free to connect with me by filling out this form. "Connect with Board Infinity Alumni"
Watch Career Pe Charcha

You can also watch fellow learner experiences on Career Pe Charcha live series on Board Infinity's Instagram Page.
Subscribe to our Newsletter
Receive latest industry news and updates, exclusive offers directly in your inbox.
---