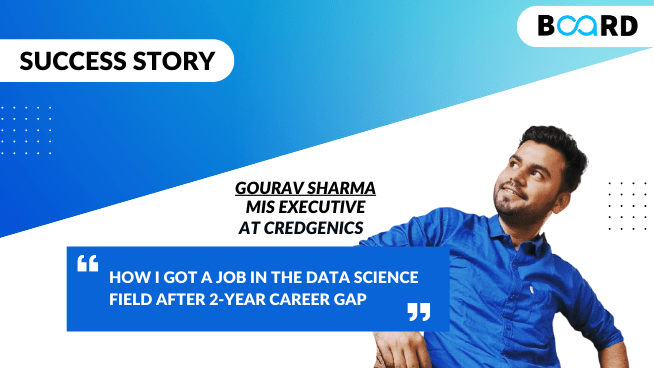 How I Got A Job In The Data Science Field After 2-Year Career Gap
By - Gourav, Board Infinity Alumni
Early Career Journey
From 2016-2018, I had nothing to do. I am thankful for my positive attitude and the guitar that helped me relieve my stress.

My name is Gourav.  I am from Madhya Pradesh. I graduated in 2016 with a B.E. in Mechanical Engineering from Mahakal Institute of Technology in Ujjain. As I graduated, I had started applying for jobs but nothing came my way and I also received no placement from my college. Back then, certification courses weren't a fad and I had no clear vision of where my career was headed.

From 2016-2018, I was completely off the engineering field. These two years felt completely wasted as they didn't contribute to my future much. Later, I joined an ITI college as an Assistant Professor and worked there for 2 years till I decided to build my future in Data Science.

A couple of years ago, I decided to switch careers to data science, but I lacked guidance and programming skills. I had no opportunities. But, Board Infinity gave me both - the guidance and hands-on experience to venture into this field.

Data Science was introduced to me by my brother-in-law, who is a Python Programmer. Initially, I was skeptical to think of a career in a totally unrelated field, but coming across Board Infinity's Data Science Course specially designed for freshers completely changed my view.
My Experience with Board Infinity
Board Infinity's course in Data Science has been a very good experience for me. The coaches at Board Infinity are professionals who are working in the industry currently. They guided me well! This course taught me so much about programming languages and various tools.

I would especially like to mention my 1:1 sessions with Coach Salil Gautam, who evaluated my projects and guided me. It was the turning point in my life from being a non-IT professional to a programmer.

Before joining Board Infinity, I was advised by a lot of well-wishers to learn all the programming languages individually to make a career in Data Science. I had done certification in R programming but it couldn't help me find any decent jobs in the industry. However, it was only after I joined Board Infinity, I got to know it isn't just the languages but also so many other things I needed to learn to get into Data Science. Thankfully, the course here covered it all.

I really enjoyed deploying a project on NLP at Board Infinity and it helped me gain valuable experience in the field.
Placement Journey
When the placement arrived, I wasn't sure of getting a job as I had a major career break on my resume. I was even rejected by a couple of companies in their document verification rounds. But, Credgenics arrived with the position of MIS Executive in September. They interviewed me and selected me on the basis of my skills. I am very happy to be working here.

If you rate my Data Science skills. I feel I am still a 7/10. But once I have enough work experience, I shall be a 10/10. I look forward to being working in Deep Learning and Artificial Intelligence.
---
Connect with Me

I hope you liked reading this post and I was able to provide some value to you. Feel free to connect with me by filling this form. "Connect with Board Infinity Alumni"
Watch Career Pe Charcha

You can also watch fellow learner experiences on Career Pe Charcha live series on Board Infinity's Instagram Page.
Subscribe to our Newsletter
Receive latest industry news and updates, exclusive offers directly in your inbox.
---