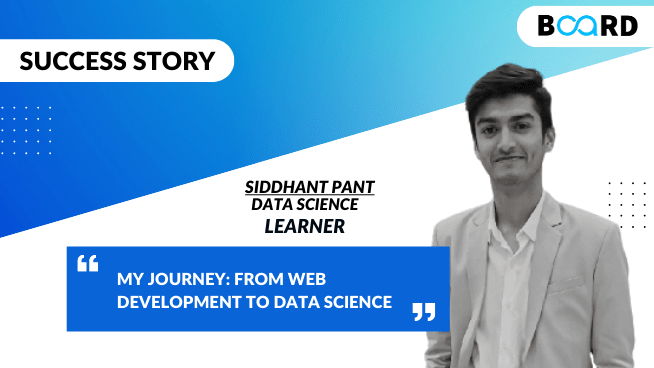 My Journey: From Web Development to Data Science
By - Siddhant Pant, Board Infinity Alumni
1. My Background
Ever since my BCA started, I've been very interested in Web Development. I even did a Web Development Internship in my 2nd year of college.

After this internship experience, I realized that what I knew about web development was only about 10% and there was still a lot to learn.

So, I asked one of my college professors for advice on what I should be learning. She recommended I not limit myself to just one domain like web development, and just focus on exploring as much as I could because I had a lot of time to choose a career.

Fair enough. I then asked her which coding language I should be learning & she told me to give Python a go. It was getting pretty popular during the time (still is).

I bought a Udemy course and got started with the basics of Python. I did the course for a few weeks and through it, I came across the term "Data Science".

I had heard about data science before, but I never really did any in-depth research on it. And this seemed like the perfect time to do some research. Lucky for me, my elder brother had worked as a data analyst before, so I asked him as many questions as I could.

As I did more and more research, my interest in data science started to increase & my interest in web development started to decrease. It got to such a point that I started looking for data science courses and institutes that would help me learn the fundamentals of data science. I could do it by myself, but going for a professional course would just cut down the learning curve & help me gain the right knowledge.
2. Experience at Board Infinity
This is when I came across Board Infinity's Data Science Course.

I was very sceptical at first about joining their course and did a lot of research. I visited their blog, social media profiles, website, Quora… Pretty much anything that I could find on the company. After doing enough research, I finally decided to join their course.

My main reason for selecting Board Infinity was the placement aspect. Board Infinity's team has always set realistic expectations about placements, and it's a 50-50 effort from both sides (me and Board Infinity's team). If I don't put in any effort (learning, practicing, growing), then they won't be able to guarantee a placement for me and that's fair. This is why I'm giving my 100% effort into solving the assignments on time, scoring well during tests, and overall just learning more as I go forward.

I have to say that the teaching methods that the coaches at Board Infinity adopt are just amazing. They go step by step from basic to intermediate to advanced. This method helped me grasp the concepts very easily. I was having a bit of difficulty at the start, but then I started doing my own research along with the classes and I started to understand it a lot better.

As we go further down the modules, the more I learn and the more challenges I face, I'm starting to develop a deeper interest in this field. I'm trying to focus heavily on setting up my foundations correctly so that I don't have much of a problem in the coming advanced modules.

The student support is also amazing and I personally interact a lot with my program manager. Whatever query I have, I contact my program manager and they do their level best to get my query solved as soon as possible.

I'm still new to this field, and at a very beginner level where I'm still figuring things out. I have some expectations and dreams, but only time will tell what's going to happen in the future. In the end, every person wants to prosper in his life & wants to have wealth. There are a lot of careers out there, but personally, I think data science is one of the top careers where you can learn a lot & earn a lot.

So I'm excited to finish my course & start my journey in this field.
---
Connect with Me

I hope you liked reading this post and I was able to provide some value to you. Feel free to connect with me by filling out this form. "Connect with Board Infinity Alumni"
Watch Career Pe Charcha

You can also watch fellow learner experiences on Career Pe Charcha live series on Board Infinity's Instagram Page.
Subscribe to our Newsletter
Receive latest industry news and updates, exclusive offers directly in your inbox.
---