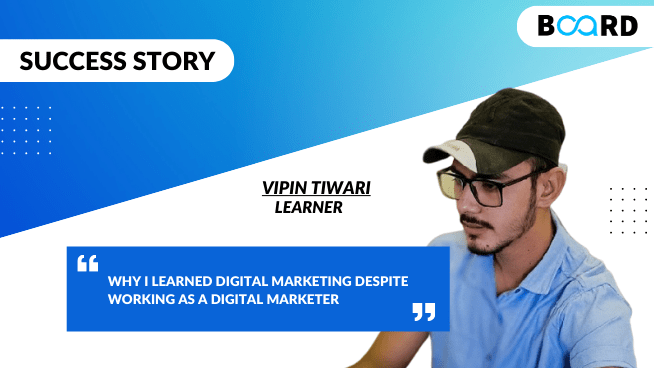 Why I Learned Digital Marketing Despite Working as a Digital Marketer
By - Vipin Tiwari, Board Infinity Alumni
1. Early Career Background
In regards to my career, I consider myself very fortunate because my family never pressured me. Yet, I feel the flip side of this was my reluctance to pursue my career as a student.

When I graduated from school, I had no career dream, so I took a year off to figure out what I liked doing. I was certain about one thing though, I didn't want to do what others around me were doing!

After a year of thinking, I registered for a Bachelor of Computer Applications degree program at Jabalpur College of Computers and Communication. When I was in college, I became fascinated with this emerging field of Digital Marketing. Whenever I could, I would learn about it. At college, I even preferred it to my semester exams.
Over the course of four months, I studied Digital Marketing from whatever sources I could find online. As a result, I was hired by Samdariya, a well-known brand in Jabalpur, as their digital marketer. As I started earning money, I had made up my mind to not take financial assistance from my parents. Having worked at Samdariya for some time, I moved to Dream Zone, also in Jabalpur, where I worked for one year until December 2020.

A few months later, I joined Unified Web Options Services Pvt. Ltd. as a Digital Marketer. I work with them. In spite of my experience and work in the sector, I decided to gain some knowledge and understanding of the concepts of digital marketing at that time. A course from Board Infinity caught my attention on Instagram.
2. Experience at Board Infinity
There are plenty of free platforms and sources available to learn online, but I chose Board Infinity because of its course structure. It is a well-organized digital marketing course, and even though I was working, there were still many areas I needed to improve. As of yet, Board Infinity has provided me with a comprehensive understanding of the subject.

Board Infinity has been a very good experience for me. Madhura Ma'am, our coach, has a terrific way of teaching. Her way of teaching kept my interest even though there were concepts I already understood. In the past, I wasn't confident in expressing myself. At Board Infinity, Shraddha Ma'am has helped me improve my communication skills and I have worked on myself as well.

My long-term goal is to start my own company. This explains the vast number of startups I have worked with. While working at these startups, I want to identify all the weak points so that when I have my own startup, I know what to do. I have even started my own website recently - DigiVipin.com
---
Connect with Me

Have doubts about Board Infinity's digital marketing learning path and want to connect with me? You can fill out this form. "Connect with Board Infinity Alumni"
Watch Career Pe Charcha

You can also watch my Career Pe Charcha Episode for a full review.

You can watch fellow learner experiences on Career Pe Charcha live series on Board Infinity's Instagram Page.
Subscribe to our Newsletter
Receive latest industry news and updates, exclusive offers directly in your inbox.
---