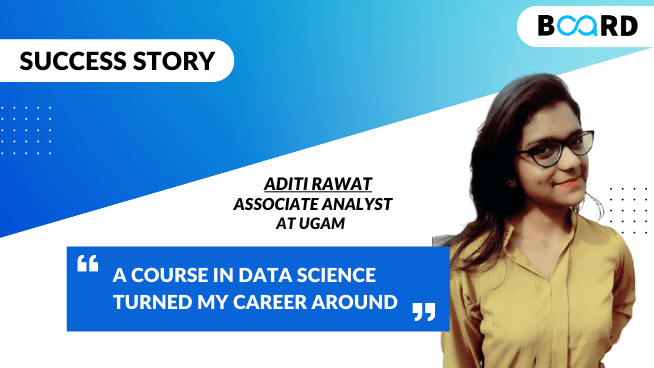 With No Jobs After Graduation, A Course in Data Science Turned My Career Around!
By - Aditi Rawat, Board Infinity Alumni
My Background
I stay with my parents and my brother. My brother is a Chartered Accountant. There used to always be a healthy competition between the two of us on who will do better. My dad is in the textile business and my mother is a housewife.

Talking about my interests and hobbies, I love Grappling. I won the State-level championship in this. Apart from that, I also like to do outdoor activities and sports.

Academically I always excelled and scored well. Since Standard 1, in the school itself, I used to always rank first in class. In 12th grade, I scored 94%. The thing is, once you start to perform well, the expectations from parents and society increase. To meet these expectations, I took up a course in Actuarial Science as this field was considered to be difficult and highly paid. However, things did not go my way and I did not get the opportunities that I wanted. My belief is that one should never settle. For this very reason, I ventured into the field of data science.

I am from a commerce background. I completed my 12th in Commerce, Maths. For graduation, I opted for BSc in mathematics, statistics and economics. After graduation, I appeared for IIT JAM. I ranked 284th during the exams but because I belonged to the general category, I did not get in.

Data Science is upcoming and it's a trend. Besides that, it also supports my career and background as it requires statistical knowledge which I am good at. Because I had a background in statistics, I wanted to convert this theoretical knowledge into technical skills. Data Science gave me the opportunity to fulfil this ambition of mine.

One of the worst setbacks was after graduation year when I was looking for jobs in the field of actuarial science. However, getting a job in this field was very difficult. Just being a graduate was not enough to get a job in this domain. The whole year I was confused and distressed. I gave IIT JAM, got a good score and still my career was not heading anywhere. 2020 was a disastrous year for me. When I was at an all-time low, was when I discovered Board Infinity's Data Science course and truly it was a blessing in disguise.
Experience at Board Infinity
Many institutes promise you about placements but Board Infinity goes on and fulfills this promise. Even before my placement process, we had capstone projects and I was provided many opportunities. The kind of assignments and tasks at every level equips you for the job world outside. With regards to the learning, Board Infinity is setting a benchmark.
Placement Process
For the placements, Sheetal, my program manager, informed me about a company that's hiring for Machine Learning and it so happened that I just learnt about these techniques.

The first round was a group discussion on the topic of 'Impact of Digitization and Robotization'. After that, there were 2 technical rounds. They asked me some deep questions regarding ML and some puzzles, and riddles about data interpretation. Then, I was given a hypothetical situation wherein I had to code. I cleared all the rounds and successfully got the job as a fresher.

My role is that of an analyst. I am working in retail analytics and my current job role is related to the marketing mix model. How much media is contributing to the sales of a particular brand is what I look after.

With Board Infinity, I enjoyed the fun activities that used to take place every Friday and the hackathons which I won several times. The entire data science field is vast and each technique is evolving on a daily basis. There is so much content out there and you don't know where to start.
Board Infinity's course not only helps you get started but also provides Capstone projects which are highly qualified. In addition to that, the mentors who teach you are industry professionals and highly skilled in their domain. The assessment part in the form of exams and quizzes were really helpful to me. What stood out to me was, there was an opportunity to present your skills to the class. These skills are vital and prepare you to grow in the professional environment.

At a time when jobs are hard to come by, to get a job at one of the top companies in Data Science, Ugam Solutions is nothing short of a dream come true.
---
Connect with Me

If you have any questions related to my journey or the online data science course by Board Infinity. Feel free to connect with me by filling out this form. - "Book A Call with Board Infinity Alumni"
Watch Career Pe Charcha

You can also watch my Career Pe Charcha Episode for a full review.

You can watch the learner experiences of my batch mates on Career Pe Charcha live series on Board Infinity's Instagram.
Subscribe to our Newsletter
Receive latest industry news and updates, exclusive offers directly in your inbox.
---