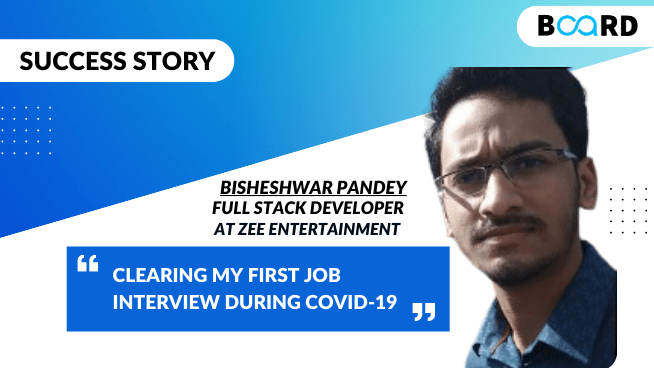 Clearing My First Job Interview During COVID-19
By - Bisheshwar Pandey, Board Infinity Alumni

First, let me introduce myself. My name is Bisheshwar Pandey, and I'm a final year Computer Engineering student at Lovely Professional University, Punjab.

This is my very first article about my coding journey. I decided to publish this article to help beginners in the field of web development. Hopefully, you'll be able to learn from my experiences and grow in your career as well.
1. Early Career Journey
My journey starts in my 12th grade when I decided to take up a course in Java. This is when I started to develop an interest in programming.

As soon as I finished my 12th, I was so into programming that I decided to go for Computer Engineering at Lovely Professional University, Punjab.
During my degree, I continued to learn Java, HTML, and CSS and focused on developing my skills in the web development sector.

In my last year, I started to feel that I had hit a ceiling with these languages, and I wanted to try learning more. I wanted to learn something that was trending and would give me an edge over my competition. Instead of going for something basic like data science or machine learning, I wanted to build on the skills that I already had developed over the years (full stack development).

The whole COVID-19 situation came along, my college placements were hampered, and the market had become more unpredictable than before... I felt the need to take help from the experts at Board Infinity.

The main reason I joined Board Infinity's Job-assured Full Stack Development Course was that I wanted to secure my future career, while also developing the skills that are trending in the industry.
2. Learning at Board Infinity
And I can gladly say that Board Infinity delivered on what they had promised me.

The major portion of our course syllabus was covered by the Principal Engineer & Technical Manager at PayPal (Coach Nanda Kishore). He not only has the technical expertise, but he also has insider knowledge of the industry and what skills employers are looking for. The coach always pushed us to explore the field on our own & was always there to guide us in the right direction. He paid huge attention to the skills that we're learning inside the course, instead of just the theory. Getting mentored directly by an industry expert is a huge benefit in my opinion.

During my course, I also spoke to a lot of team members, and each one did everything in their power to solve any problems that I faced.
3. Placement Process
Even though I had a lot of technical knowledge, I knew that having soft skills and knowing how to present yourself (on the resume or in real life) were equally important to getting placed. I knew that I was lacking in this area and Mukul Sir (Operations Manager at Board Infinity) helped me a lot. He gave me many insights about how to create a professional resume, the skills that recruiters look for in a candidate, how to structure my resume, and a lot more.

The best thing about Board Infinity is that everyone on their team is trying to push you to keep learning & successfully get placed. They actually care about helping you and pushing you closer to your career goals. They make you feel like you're part of a family and this kind of supportive attitude from them helps you stay in the right mindset.

After 4 months of constantly working on improving myself and my skills, I was finally able to get placed at Zee Entertainment Enterprise as a Frontend Developer (React). (it was my first ever job interview).
---
Have Doubts? Connect with me

I'm truly grateful to Board Infinity for helping me out in my career journey. You can connect with me you can by filling out this form. "Connect with Board Infinity Alumni"
Career Pe Charcha

You can also watch fellow learner experiences on Career Pe Charcha live series on Board Infinity's Instagram Page.
Subscribe to our Newsletter
Receive latest industry news and updates, exclusive offers directly in your inbox.
---