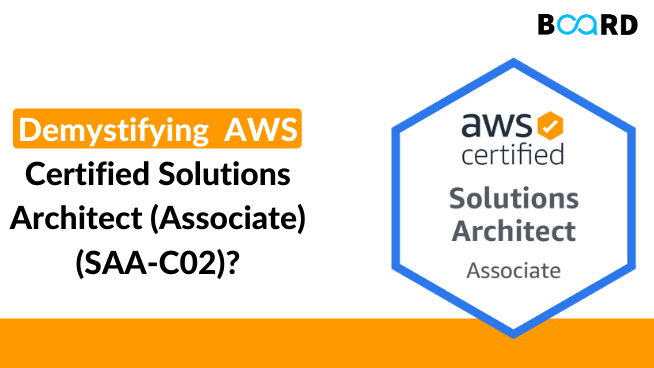 Demystifying AWS Certified Solutions Architect (Associate) (SAA-C02)?
In a brief period, Cloud Computing has become an integral part of many organizations. Due to this, the demand for Cloud Professionals and Certifications is also escalating exponentially in the IT sector.

When it comes to cloud-based certifications, AWS has a wide range of certifications in its arsenal.

AWS Certification helps learners build credibility and confidence by validating their cloud expertise with an industry-recognized credential. It also pushes organizations to recognize skilled professionals to lead cloud initiatives using AWS.

Before diving to understand the AWS Certified Solutions Architect certification, let us navigate through the AWS certification path and levels.

AWS certifications are categorized mainly based on four tracks/levels:
1. Foundational
2. Associate
3. Professional
4. Specialty
1. Foundational level
As the name proposes, it helps you to build the foundation for the AWS cloud and gain some insight into the key services in AWS and their use cases. At this level, there comes only one Certification – AWS Certified Cloud Practitioner.
2. Associate level
The Associate level has a higher difficulty level than that of the foundational level, as it requires you to have an in-depth understanding of different AWS services.

The associate level has three certifications

1. AWS Certified solution architect

2. AWS Certified Developer

3. AWS Certified SysOps Administrator.
3. Professional level
This level demands an in-depth understanding of AWS services and a fair amount of mastery of different concepts and use cases related to AWS services. This level has two certifications
1. AWS Certified DevOps Engineer

2. AWS Certified Solutions Architect.
4. Specialty
There are six specialty certifications by AWS. However, individuals are required to have an in-depth knowledge of the chosen domain as the exam level of the specialty certifications is higher.
Who is an AWS Solutions Architect?
Solutions architects are in charge of creating, designing, and implementing arrangements within a business. They help to develop new systems needed by the organization and must be able to identify the business' current problems and future technological goals.
Roles & Responsibilities of AWS Solutions Architect
The AWS Solutions Architect would be responsible for helping to develop advanced cloud-based solutions and migrate existing workloads or on-prem loads to the cloud.  As a Solutions Architect, your main role would be to plan, design, and scale AWS cloud services using the best practices recommended by AWS.

You need to deal with infrastructure and networking and designing the proper environment based on client requirements, your role would also include finding an easy solution for business problems, system maintenance, and future scaling.

The solutions architect should know how to develop, maintain the system, and work with the sales team to decide on the budget. work on customer specifications, analyze them and conduct the best product recommendations associated with the platform to the clients.

The Solutions Architect is also responsible for designing product documentation that will include project goals, main features, functions, tasks, and SOW.
How much does an AWS Certified Solutions Architect Earn?
Due to the surge in usage of cloud technologies, AWS-related Jobs salary in India is significantly increasing. The national average salary for an AWS Solution Architect is ₹6,53,411 in India. As per Glassdoor, it could also reach as high as ₹15,31,000 per annum based on your experience.
Conclusion
Procuring AWS Solutions Architect Certificate would add great magnitude to your portfolio, by increasing your chances of getting a better job where you can demonstrate your skills and learn more by implementing your bits of knowledge of different AWS services.
Subscribe to our Newsletter
Receive latest industry news and updates, exclusive offers directly in your inbox.
---