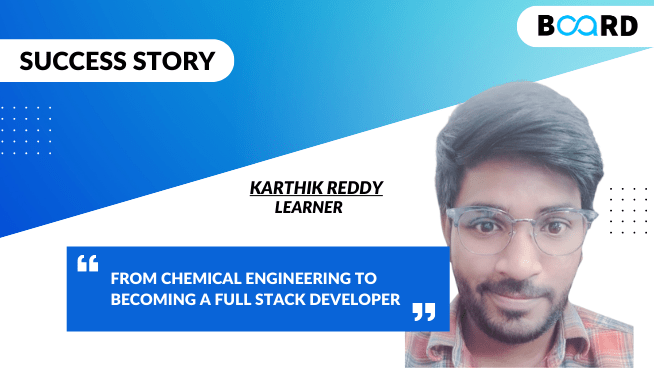 From B.Tech in Chemical Engineering to Fulfilling the Dream of Becoming a Full Stack Developer
By - Karthik Reddy, Board Infinity Alumni
My Early Career Background
My high school years were spent in Hyderabad but I'm originally from Telangana. I went to a rural school that required us to walk 3 km to get to school every day. After finishing school, I scored 190 in my JEE exam and got admitted to NIT Durgapur in West Bengal for a B.Tech degree in Chemical Engineering.
Despite the cultural shock of being a South Indian studying in a college in West Bengal with a completely different culture, I enjoyed college life! There was a language barrier, and food culture differences, but we finally got a South Indian mess controller. As a college student, I've thoroughly enjoyed myself. If only we could all turn back the clock to our college days!
When I first attended college, I was a studious student, but the chemical engineering program had made me realize that my interest was more in software engineering. Creating websites was something I was deeply interested in. My friend was the inspiration for this career change around that time. Through online platforms, he was able to learn Python and get a job at HSBC. My inspiration from him led me to look for online courses on web development that I could take. That's when I came across Board Infinity and enrolled in the Full Stack Development Course.
Learning Experience at Board Infinity
I have had a very positive experience with Board Infinity. With Board Infinity, instructors made the course simple and straightforward to understand. Here, I was able to learn HTML and JavaScript in a clear and concise manner. Attending personalized classes and working on projects and continuous assessments through quizzes and assignments helped me grow a lot. Working on projects helped me improve my skills and learn better.
My Placement Journey
The course was well-structured and  I got a placement through the college placement cell at Piramal Foundation in Hyderabad but unfortunately, it got canceled due to the lockdown in 2020.  After which, I applied for Heterolabs in Hyderabad and got the job as the production engineer there but I had to let go of it in 2-3 weeks because of the health problems I was facing due to continuous exposure to chemicals.
In January, I applied for the Ethical Hacking role in Tech Mahindra as their Technical Support to support my course at Board Infinity. I have learned a lot here and I am confident about my placements.
I am looking forward to cracking Amazon interviews for the Full-Stack Developer role.
‌             ‌
Connect With Me
I hope that this article and video helped you and gave you the required clarity. If you would like to connect with me you can fill out this form. "Connect with Board Infinity Alumni"
Watch Career Pe Charcha
You can also watch fellow learner experiences on Career Pe Charcha live series on Board Infinity's Instagram Page.
Subscribe to our Newsletter
Receive latest industry news and updates, exclusive offers directly in your inbox.
---