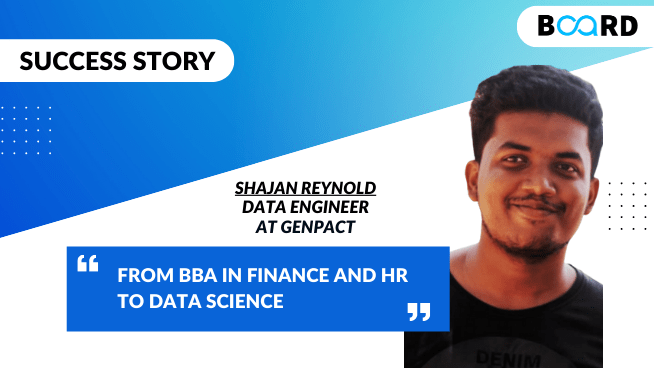 From BBA in Finance and HR to Data Science
By - Shajan Reynold, Board Infinity Alumni

Tesla's self-driving cars piqued my interest in Deep Learning and Artificial Intelligence, and I decided to make a career out of it.
1. My Early Career Journey
My name is Shajan and I am from Kerala. My career graph has an interesting form to it as it is not an ordinary one. My career has had a lot of ups and downs but thankfully I sailed through it.

Post schooling, I had enrolled in B.Tech in Computer Science, however, 2 years down the line I dropped the course mid-way due to a loss of interest. Hanging out with friends who had businesses spiked my interest in business-related fields and I decided to pursue a degree in BBA from St. Xavier's College, Calicut.

When I graduated in the pandemic year of 2020, watching TV at home while quarantining was the only thing to look forward to. My original plans were to do an MBA, but I opted out as I couldn't benefit from a distance MBA. So, I prepared myself to sit idle at home.

As I used to stay glued to my phone all day, I discovered Elon Musk's driverless cars, my first venture into the Data Science field. And since I was reading about the Data Science field, Instagram showed me Board Infinity's courses related to this career field. And, my curiosity made me apply readily!

Following almost a month of discussions with career counseling experts at Board Infinity and my parents about how this decision would benefit my career, I decided to enroll in the Data Science course in July 2020 and make the best use of my time at home. Finally, I am happy to say that I got what I enrolled for.
2. My Experience with Board Infinity
I have had an extremely positive experience with Board Infinity. The fact that I learned what I initially wanted to learn and completed modules on time makes this a wise choice for my career. All of this happened at the perfect time! This lockdown phase could actually benefit me, and I hadn't realized that a single decision could alter so much about my life.

Although I had knowledge of certain languages, starting from scratch was of benefit to me. Learning SQL and Tableau was my favorite part of the course. The best part of the course was that it focused on developing practical skills to prepare us for real-world applications. In addition to the classroom experience provided by the course, the Capstone projects provided a hands-on experience that was very valuable.
3. My Placement Journey
My first interview was very nerve-wracking since it was my first placement experience. It's hard to believe, but I was so nervous during my first interview for a company that I couldn't say a word.

As much as I tried, cracking an interview seemed impossible. The search for a job stressed me out. During this time, Coach Vaishali helped me with a freelance job so that I could hone my skills while looking for a full-time job and it really did wonders on me!

My program manager, who has been extremely patient with me throughout the process, should not be missed when writing this story. Varneet is one of the most friendly people I have ever reached out to in times of stress. The gentleman connected me with Genpact regarding a position as Data Engineer. Nevertheless, I was apprehensive since I was not familiar with either Machine Learning or Cloud services. During our conversation, Varneet advised me to focus on what I knew. Finally, I went into the interview with confidence and nailed it with my knowledge of SQL and Python.

Later that evening, I received a mail informing me that I had been shortlisted. Communication-based rounds followed, and thankfully I also cleared them. I joined Genpact as a Data Engineer on August 26. Currently, my training is going on.

I am very satisfied with my job here. To every person looking for a career change, I want to tell you that you just need to find that one motivational moment for yourself. Mine was a post about self-driven cars that changed my whole career and of course, strengthened my belief in myself. And also, the idea of keeping my phone on silent while studying has also made an incredible contribution towards realizing my career dream.
---
Questions? Book a Call

If you have any questions about my journey or the online data science course by Board Infinity. Feel free to connect with me - "Book A Call with Board Infinity Alumni"
Watch Career Pe Charcha

You can watch learner experiences of my batch mates on Career Pe Charcha live series on Board Infinity's Instagram.
Subscribe to our Newsletter
Receive latest industry news and updates, exclusive offers directly in your inbox.
---