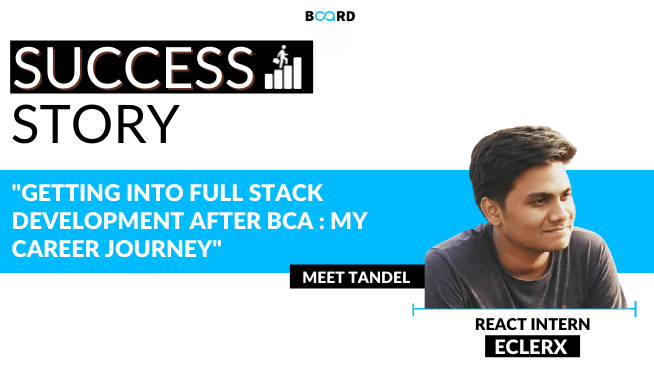 Getting Into Full Stack Development After Mechanical Engineering: My Career Journey
By - Meet Tandel, Board Infinity Alumni

In the 3rd year of Mechanical Engineering, I lost my interest in the field and started exploring. In the same year, I got interested in web development and since then, there has been no looking back!
1. My Early Career Journey
My name is Meet Tandel. I am from Gujarat. After finishing school, I joined Government Engineering College to study B.Tech in Mechanical Engineering. But, mechanical engineering couldn't do wonders for me, so I decided to look for other career options. I explored various fields like marine engineering, data science, and full-stack development. But, my lack of interest in math made me drop the other two options and go for full-stack development.

Trying to learn full-stack development on my own, I was extremely drawn towards mobile and web development. I, however, felt that the course was a little hard to follow without any guidance, so I started a certification course with Board Infinity on full-stack development.

I thoroughly discussed the course and all of its aspects with the counselors at Board Infinity and felt comfortable going forward, so I quickly enrolled and began the course.
2. My Experience with Board Infinity
Learning with Board Infinity from the best coaches in the industry was a very good experience for me.  Coach Saurav Matre made me very proficient in both front-end and back-end development. Attending personalized classes and working on projects and continuous assessments through quizzes and assignments helped me grow a lot.

Board Infinity has a great role to play in the shaping of my full-stack developer career but none of it would have been possible without self-study and consistent hard work every day. I used to code for hours and review my work, especially the projects.

Through my journey, I learned that project-based learning is the most important part of any course as it helps you develop real-world knowledge. Working on projects helped me improve my skills and learn better.
3. My Placement Journey
Placements didn't start with a bang as I had to face a couple of rejections but I knew that I just had to wait for my time. A few days later, eClerx arrived with the position of React Intern. They conducted an online test and a 30-minute interview. After a week, I got a call from them confirming my job.

This has been one of the happiest experiences for me as I had set out on a completely unknown career field but with Board Infinity's help and self-discipline, I had finally realized my career dream.

I am really happy with the job that I have right now. In the future, I would like to work in front-end development and my dream company is Microsoft.
---
Questions? Book a Call

If you have any questions about my journey or the online full stack development course by Board Infinity. Feel free to connect with me - "Connect with Board Infinity Alumni"
Watch Career Pe Charcha

You can watch learner experiences of my batch mates on Career Pe Charcha live series on Board Infinity's Instagram.
Subscribe to our Newsletter
Receive latest industry news and updates, exclusive offers directly in your inbox.
---