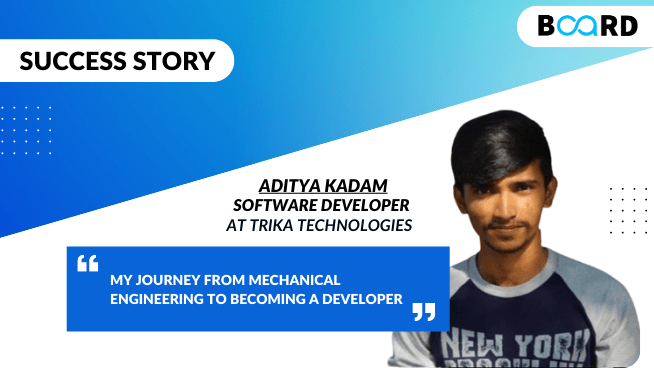 My Journey From Mechanical Engineering to Becoming a Full Stack Developer
By - Aditya Kadam, Board Infinity Alumni
1. My Early Career Background
My father wanted me to pursue Computer Science. He believed that the field could help me land great opportunities, that's what his friends' children were pursuing. But, I was a rebel. Back then, cars and machines fascinated me more than computers. So, I went for Mechanical Engineering. If you ask me now, I think I would agree with my father.  So, here I am, joining Trika Technologies, a Digital Commerce consulting Company as a Software Developer.

I was an above-average student, scoring more than 80 percent in school. After completing class 10, I enrolled myself in a Diploma course. Sadly, I couldn't score enough to get admission into a good college, and hence I had to settle for a mediocre one. In 2020, when the lockdown happened and there were no classes, I wanted to do something that should set me apart from my peers. I gave a thought to coding. It seemed very cool to me and I started learning C on YouTube. I felt it was something that I could pursue a full-time career in and so I started browsing through professional courses in Full Stack Development. I came across a Board Infinity Full stack Development course advertisement and that's when I signed up for the course.
2. My Experience at Board Infinity
My BI journey was both sweet and sour. There were coaches I could relate to and there were coaches I didn't but sought help when I found difficulties and they were addressed by the team. The coaches were very helpful as they helped me get started in a completely different field. The projects given to us helped give us hands-on experience in the field. I thoroughly enjoyed the Hackathon and I am very grateful to Gurtej Sir for motivating me.

Although I am someone who prefers offline/in-class learning, learning online was equally good with the perks of connecting with your coaches immediately.
3. My Placement Journey
When the placements arrived, Board infinity provided me with the Job Description of Trika Technologies. The post resonated with me and I applied. There were three rounds of interviews. Two of them were technical rounds, the third one was with the Managing Director of the company. I think I made an impression on them by answering all the questions. With Board Infinity's contribution to skill-building and hard work, I feel I am there in my career where I had imagined being when I had signed up for this course. In five years, I want to be working in a higher position and would like to get a chance to work in foreign countries too.

My father works very hard for my family and I see him as my idol. I want to make him proud by proving myself. He has always been supportive of my free spirit. I feel he is happy, now that I am placed in good company. I think I am happy too.
---
Connect With Me

I hope that this article and video helped you and gave you the required clarity. If you would like to connect with me you can fill out this form. "Connect with Board Infinity Alumni"
Watch Career Pe Charcha

You can also watch my Career Pe Charcha Episode for a full review.

You can also watch fellow learner experiences on Career Pe Charcha live series on Board Infinity's Instagram Page.
Subscribe to our Newsletter
Receive latest industry news and updates, exclusive offers directly in your inbox.
---