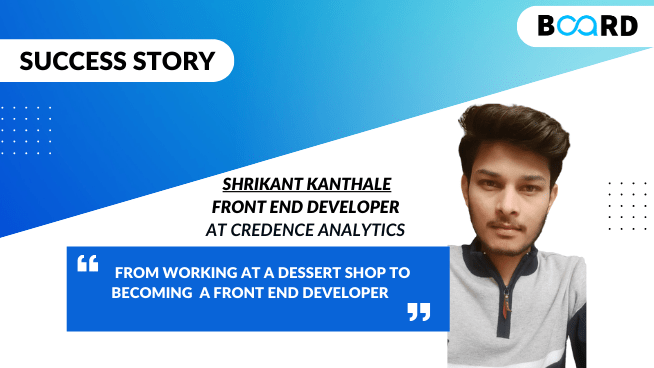 The Journey from Taking Orders at a Dessert Shop to Becoming a Front-End Developer
By - Shrikant Kanthale, Board Infinity Alumni
Introduction
This career transition story will give you goosebumps.

There's a famous quote in Hindi which goes like this -

कौन कहता है आसमां में सुराख नहीं हो सकता एक पत्थर तो तबियत से उछालो यारों...
Early Life
Born and brought up in Nanded, as a school-going boy, I was the brightest in my class and my love for computers was apparent from a very young age. To pursue my increasing interest in computers, with a 10 rupee note in my pocket, I only spent money at local internet cafes, learned programming languages, and practiced on borrowed systems from friends.

I come from a very humble background and my family consists of only my mother. My mother, a tireless cook has supported me in fulfilling my career aspirations and has been supporting our family of two for many years.

Upon graduating from high school, I wanted to pursue engineering, but financial stresses made me give up the most suitable career for me. Unfortunately, even to continue my studies further, I had to wait a year, due to a lack of finances.

After waiting for a year for my finances to stabilize, I decided to do a Bachelors in Computer Science at MGM College of Computer Science and IT in Nanded. Aware of my impressive scores in school exams, the director of the college humbly offered to waive my fees for the first year of college.

In recognition of my excellence in Computer Science, even during college, I managed the fees for my entire bachelor's degree with the help of the director. Shrikant finally graduated with an 8.87 average.

However, despite my excellent performances throughout my bachelor's program, I was unable to find employment that suited me. I had just graduated from college and was looking forward to beginning my career when COVID-19 hit the job markets, which affected recruitment and placements across the country.

In the end, I decided to enroll in a Masters in Computer Science course at Swami Ramanand Teerth Marathwada University in Nanded, for the learning process to continue and to gain credentials that would somehow qualify me for an engineering degree. In order to support my education, I also worked part-time at a Belgian Waffles outlet, where I looked after the counter and planned my career when there wasn't a lot of work.
Learning Experience at Board Infinity
In February 2021, I came across Board Infinity's advertisement and decided to register as the Full Stack Development Course had piqued my interest. I took the scholarship test and was awarded a discount of over 50% on my course. The affordable cost of the course convinced me to join the program and pursue my long-lost dream of designing web applications and more through becoming a certified full-stack developer.

My experience with Board Infinity has been very rewarding. Coach Rahul is extremely knowledgeable, and he explains every module in an easy-to-understand manner. As a result of his interesting way of teaching, his lectures never felt like lectures. I am also very thankful for what he has taught me about facing struggles in life.

I worked on several projects during the course. These projects helped me a lot when preparing for interviews because it helped me gain hands-on experience and apply what I learned in the modules.

Taking a full-time course at college, working a part-time job involving bicycling for hours to work each day, and taking a certification course may seem impossible altogether, but I managed to do everything to enhance my career.

It's said that "there is always a great woman behind every successful man". In my case, this statement rings true. My mother has been there for me throughout my life, supporting me every step of the way. She worked hard enough to always support my education.
Placement Journey
Through Board Infinity's placement assistance program, I was interviewed by Credence Analytics for the role of a Front-end Developer. After 3 rounds of interviews, I was offered the role. Currently, I am interning with the company and will soon convert to a full-time position.

It was easy to handle the interview with the help of interview preparation sessions offered by Board Infinity. In addition to this, I often took mock interviews thrice a week with my friends to prepare for these interviews. My hard work ultimately paid off with a job I had always dreamt of with a 10 rupee note in my pocket.

Being here and doing what I love makes me very happy. Thanks to Board Infinity for making this happen! This is just the beginning. I have a lot more to learn and do.
---
Connect with Me

Want to connect with me to know my experience at Board Infinity?  Fill out this form - "Connect with Board Infinity Alumni"
Watch Career Pe Charcha

You can also watch my Career Pe Charcha Episode for a full review.

You can also watch fellow learner experiences on Career Pe Charcha live series on Board Infinity's Instagram Page.
Subscribe to our Newsletter
Receive latest industry news and updates, exclusive offers directly in your inbox.
---