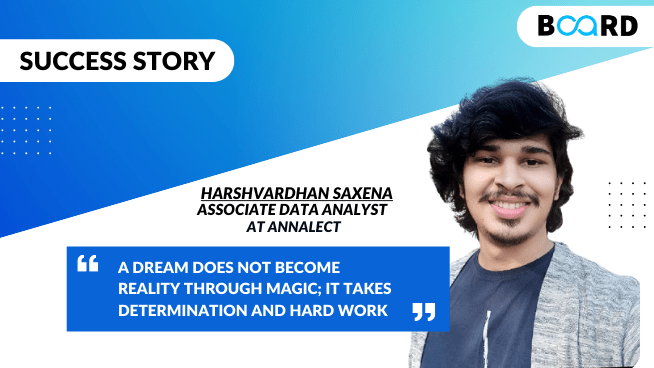 A Dream Does Not Become Reality Through Magic; It Takes Sweat, Determination, And Hard Work.
By - Harshvardhan Saxena, Board Infinity Alumni
1. My Background
Despite a major setback in the defence field, I overcame all odds to pursue my passion for Data Science.

In my family, we are 5 members. My father is a retired SBI officer, my mother is homemaker and I have two elder sisters, both of them have successful jobs. I completed my graduation from Jiwaji University and my schooling from Kendriya Vidyalaya. I had a lot of interest in the sports domain. I secured 3 consecutive medals in Judo. I also participated in open nationals in Judo. Because of sports, I have traveled almost half of India.

After graduation, I got into the corporate sector. Coming to my personality, I love Maths a lot. So much so that in Maths & Science, I got a CGPA of 10.

Before coming into the private sector, I wanted to get into the field of defense. I participated in NDA and CDS exams. I happened to successfully clear them as well. During my interview for SSB, I was faced with difficulty. During one of my open nationals of Judo, I fractured my shoulder. Due to that, I was not able to pursue this line. One day accidentally I saw an ad pop-up on my screen while I was scrolling through Instagram. A coordinator reached out to me and briefed me about everything related to Data Science and the course. That is how I stumbled across the ed-tech platform Board Infinity.
2. Experience at Board Infinity
I took up data science because I have a lot of interest in the field of computers. Even though I did not have any technical background, I wanted to pursue this. I am a BSc graduate and it is difficult to get a job as a software engineer. I knew this was my forte and that I would produce some great work in this field.

Thus, began my journey in the field of data science. I participated in several Data Science hackathons and also come out as the winner in a few of them.

Currently, I am placed at Annalect. My job role in the company is that of an associate data analyst. My role requires me to define trends that the company gets through ads.
3. Placement Process
Talking about how I cracked the interview, the interview process was one of the best experiences for me. There were 3 rounds after screening.  My first interview round lasted for around 2 hours. The thing with me is that how much longer something goes on for, that much my confidence in that particular situation increases. The recruiter tried to throw me off my game by deploying a psychological tactic. But because of my background in the Defence field, I was well aware of this strategy and overcame the situation that was thrown at me. I spoke about my projects that I had done. For eg: the covid-19 dashboard, International Aviation dashboard. I spend loads of hours working on these projects and the recruiter was mighty pleased with these projects that I displayed. The third round was the dreaded HR round. I knew I had to do something to prepare for this. I reached out to Mukul sir who arranged a mock HR round with Prashant sir. That mock interview gave my confidence a much-needed boost. On the day of the interview, everything sailed smoothly and I got through the HR round. Finally, I got the job and all my efforts paid off.

The most memorable moment for me was when I participated in a machine learning hackathon. The thing was, I had to go for a Puja on that day, so I worked relentlessly for 17 hours straight and I was the first few to submit my project. When I got the result of that, I was delighted as I topped that hackathon in a batch of 40-50 students.

Many mentors helped along the way. One of them was Coach Mohit. He helped me a great deal with Machine Learning. He told me I could go to deeplearning.ai and that was one of the best websites for machine learning.

I believe that If you know what you want, you should go after it.
---
Questions? Book a Call

If you have any questions about my journey or the online data science course by Board Infinity. Feel free to connect with me - "Book A Call with Board Infinity Alumni"
Watch Career Pe Charcha

You can also watch my Career Pe Charcha Episode for a full review.

You can watch the learner experiences of my batch mates on Career Pe Charcha live series on Board Infinity's Instagram.
Subscribe to our Newsletter
Receive latest industry news and updates, exclusive offers directly in your inbox.
---