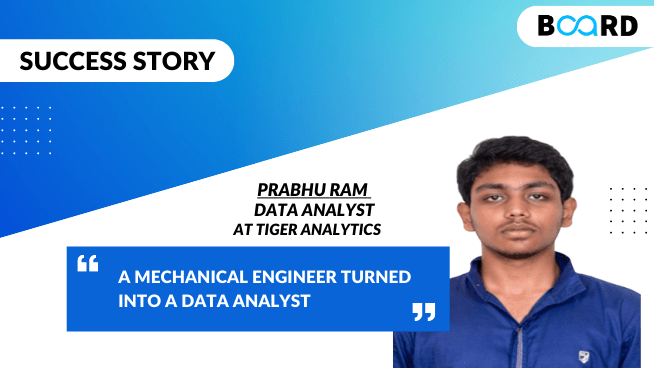 A Mechanical Engineer Turned into a Data Analyst: My career Journey
By - Prabhu Ram, Board Infinity Alumni
1. About Myself
My name is Prabhu Ram. I am from Erode, Tamil Nadu. After I finished schooling, I attended Amrita University, Coimbatore, to study mechanical engineering. While my understanding of engineering was limited when I chose this career path, my college placements got me a job at Infosys as a Full Stack Developer. Since that time, I have been working here. However, discovering a field like Data Science sparked my interest, and now I'm looking ahead to building a career in the same area. In fact, I just got hired as a Data Analyst at Tiger Analytics.

Data Science was first introduced to me through my mother, who was doing her Ph.D. My interest developed in the Data Science field with me helping my mother in writing her papers. This career field seemed like something that could help me find solace in my professional life.

Due to my background in Mechanical Engineering, I was unable to pursue an MS in Data Science directly. So, I decided to do a certification course in Data Science and enrolled in the Data Science Course with Board Infinity in March 2020.
2. My Learning Experience at Board Infinity
Board Infinity had caught my eye on Instagram. The placement promise offered by Board Infinity seemed more genuine as compared to other similar platforms. The whole process of enrollment was great! When I first reached out to Team BI, I had doubts if it would work out, but they reassured me with the course and I was very happy about how the institute was ready to take the challenge of providing its learners with placement support at the cost of refunding the fees.

Board Infinity has been a very rewarding experience for me. Even though I was a fresher in the Data Science field, I sailed through the course with ease because of how it was structured to suit a beginner as well as someone with a Data Science background.

Thank you to both Varneet, my placement manager, and Isha, my coach, for their support.  They had such great confidence in me and my skill-set that I was able to ace the placement. My placement training was guided by Coach Isha. She helped me a lot with my resume. A college resume wouldn't have helped me land a job. She helped me prepare an impressive one which finally worked for me in getting the job I wanted.

Board Infinity's study materials are also very helpful and it was fascinating to learn these from IIT alumni, entrepreneurs. The projects, assignments, and live classes have greatly contributed to helping freshers set their feet in this career field, which otherwise wouldn't have been possible for me.
3. How I Got Placed
Because of my learning here and the placement training, I was able to crack the Data Analyst role at Tiger Analytics. I finally have a job in hand in the career I desire for myself. Everything that I have learned at Board Infinity didn't just help me to get this job but it is going to help me throughout my life. Data Science is what coding was 10 years ago. It is imperative that it will attract young minds as it promises a bright future.

It was a tad bit difficult to manage both full-time work and a course. I used to dedicate 5-7 hours a week. It was tough but now that I got placed, I feel my hard work has finally paid off. After all, somebody has rightly said, "Good things don't come easy."

Ultimately, I want to build a great portfolio in this career field and start freelancing. My goal is freedom. I want to spend more time with my family and I am happy to step into a career field that allows you to work according to your flexibility. After all, we work to live and not the opposite of it.

---
Connect With Me

This was all about my journey. If you would like to connect with me you can fill out this form. "Connect with Board Infinity Alumni"
Watch Career Pe Charcha

You can also watch my Career Pe Charcha Episode for a full review.

You can also watch fellow learner experiences on Career Pe Charcha live series on Board Infinity's Instagram Page.
Subscribe to our Newsletter
Receive latest industry news and updates, exclusive offers directly in your inbox.
---