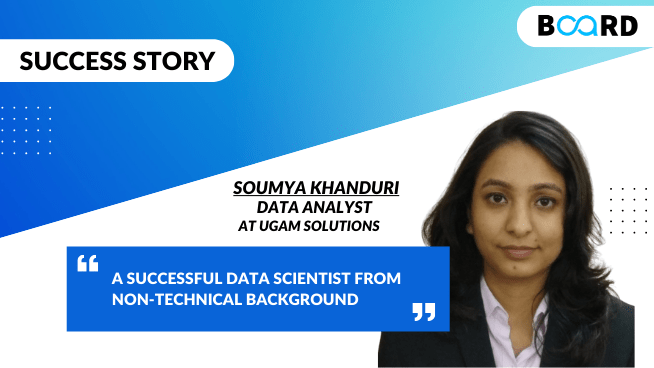 A Successful Data Scientist From Non-Technical Background
By - Soumya Khanduri, Board Infinity Alumni
I have pursued my management from one of the reputed B schools in India but getting into the technical domain has been challenging due to my background in Healthcare/non-engineering.  We still prioritize degrees in India over Skills and that is the truth I learned hard way.
1. Early Career Background
Hello! I am Soumya. I pursued Physiotherapy after my 12th because I lacked clarity in my life back then and the lack of exposure to the choice of Courses and programs further narrowed down my options. Eventually,  during my course I realised, this is not how I see my future to be and that pushed me towards a management degree. I did have a few setbacks post my placement in the career stream. Post-COVID my career took a significant downturn and hence the need to look for further options came into the picture.
That's when Board Infinity's program came to rescue me. I wasn't employed then and started preparing myself with the course. Even though at that time I half-heartedly invested in the course, I never realized that would turn out to be the best decision of my life.
2. Learning Experience at BI
I came across Board Infinity's offerings on Instagram and put the money I had saved into my course in Data Science. Rather than taking a course available for free on the web, I chose Board Infinity because I needed certification to prove my skills when applying for my dream organizations.

I had a great learning experience at Board Infinity! The faculty assigned to teach at the ground level helped me solidify my concepts. It was great to have 1-on-1 sessions with our coaches! I highly recommend Syeda ma'am as a coach! Unmatched clarity is the hallmark of her teaching.
3. Placement Journey
My placement was greatly facilitated by her. As someone with 8 years of experience in the data analytics field, she guided me with the types of questions asked during an interview for Data Science jobs. Her training in relation to my interviews was very useful to me.

Furthermore, I am grateful for the help I received from Varmeet, who was more motivated than I was in assisting my job placement process. I couldn't have made it big without their help!

Thanks to Board Infinity's placement drive, I am happily employed at Ugam Solutions now as an Analyst and I am finally doing what I wanted to do!

I am interested in working in healthcare data analytics in the future. The Coronavirus pandemic is a wake-up call for the world! To ensure health security, we must build a robust healthcare system, and I am eager to contribute my talents and skills to that effort.
---
Connect with me

Have doubts about Board Infinity's full-stack development learning path and want to connect with me? You can fill out this form. "Connect with Board Infinity Alumni"
Watch Career Pe Charcha

You can watch fellow learners experiences on Career Pe Charcha live series on Board Infinity's Instagram Page.
Subscribe to our Newsletter
Receive latest industry news and updates, exclusive offers directly in your inbox.
---