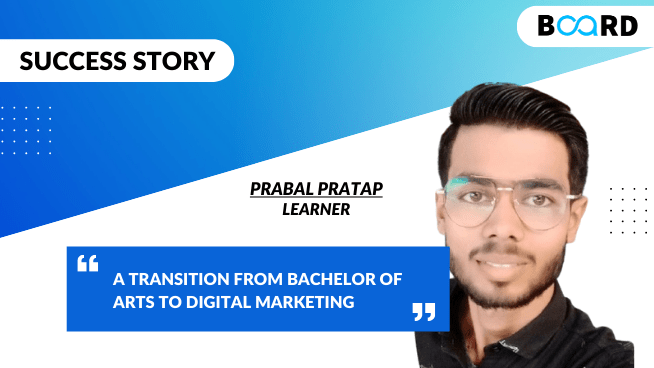 A Transition From Bachelor Of Arts To Digital Marketing
By - Prabal Pratap, Board Infinity Alumni
1. Early Career Background
My name is Prabal. I am a native of Lucknow and am currently pursuing a Bachelor of Arts degree from Lucknow University.

My dream was to join the Defense Forces. Even though I qualified for the interview in 2019, I was rejected in the medical round. At that point, I had no idea where to go with my career. My cousin offered career suggestions and helped me identify my skills at that time. Digital Marketing was one of them. Digital Marketing seemed like a great option to me since I intend to go for an MBA in the near future!

Through YouTube and Instagram, I learned about Board Infinity and contacted the counselor right away. Following his guidance, I enrolled in the Digital Marketing  Course
2. Learning Experience at Board Infinity
The Board Infinity experience has been nothing short of fantastic. I have received a lot of support from Nitin Sir. I was able to understand all the modules very well and have a good understanding of them. Even though I joined as a fresher, I have been able to easily understand the topics being taught here since our coaches make them easy to understand. Here, the coaches are top-notch professionals with a wealth of expertise in their fields.

Among all the modules here,  Social Media Marketing and Email Marketing are two of my favorite topics. In addition to my Board Infinity experience, I have also taken on two internships in Social Media Marketing and Email Marketing. I am executing the skills I am learning at BI in my internships and learning completely.

Board Infinity is best known for being able to solve problems instantly. My program manager, Siddhi ma'am, has always responded promptly to all my questions. The coaches were also very responsive; none of my questions were ignored, and I really appreciate that.  
3. My Long Term Goal
My goal is to do an MBA after gaining work experience for a few years, and this course will help me prepare for that. My motivation for pursuing a certification course has stemmed from this. It was important to me to receive value for my knowledge and skills. Board Infinity certifications will help me since I don't have the academic background for an MBA directly.  

I am confident that I will land a job through this certification course. The modules have been excellently taught by my coaches, and I expect to gain the knowledge necessary to get a decent job at the end of the course.
---
Connect With Me

Hope my experience helped you. If you would like to connect with me you can fill out this form. "Connect with Board Infinity Alumni"
Watch Career Pe Charcha

You can also watch fellow learner experiences on Career Pe Charcha live series on Board Infinity's Instagram Page.
Subscribe to our Newsletter
Receive latest industry news and updates, exclusive offers directly in your inbox.
---