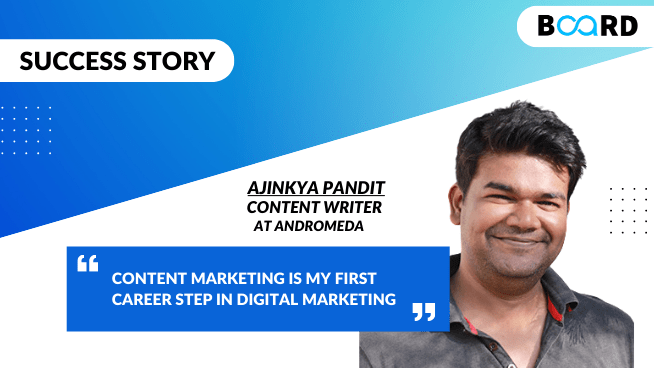 Content Marketing Is My First Career Step In Digital Marketing
By - Ajinkya Pandit, Board Infinity Alumni
1. Who Am I?
My name is Ajinkya.  My hometown is Nagpur. As a child, seas fascinated me and I wanted to become a sailor. But, I guess life wanted to sail me elsewhere.

Sometimes, sailors end up on a strange island. Some are stranded, while some learn to enjoy where life takes them. My strange island was Management Studies.

After finishing school, I graduated from Vaze Kelkar College in Mumbai with a Bachelor's degree in Management. Following college, I worked in Sales & Operations for two years before getting laid off in the lockdown due to a market crash caused by the pandemic.

While scrolling through Facebook, I came across an article about the Digital Marketing field and career options. It caught my attention, so I researched it which is when I came across Board Infinity. I also researched the course and found out that it is a great field for creative people and is offering great job opportunities in India and everywhere else.

The courses offered by Board Infinity seemed to be helpful, and they offered placement guarantees. I also consulted some of my friends from the field to have a better idea about the syllabus. All of them told me to go for it!
2. Learning Experience At Board Infinity
I finally enrolled in the Digital Marketing Course after conducting a lot of research. As a part of my training, I learned how to use various tools of Digital Marketing and also how to design emails and campaigns based on system-generated data. With Board Infinity, I learned a lot about the technical aspects of Digital Marketing. In the beginning, I was very insecure, but this course made it easy for me to adapt to the pace as a beginner.  

I found Digital Marketing to be a very interesting course since there are so many tools that one can use to optimize web content. It involves smart and intelligent strategies. There's no doubt about the fact that Digital Marketing is a creative field and someone who likes to learn new things every day on the job should definitely give this a try!
3. My Placement Journey
Upon completing the course, I wanted to explore the content marketing space. Through Board Infinity's placement drive, I got the opportunity to work at Andromeda as their Content Writer. Though content is not directly related to Digital Marketing, it has exposed me to the very foundation of marketing which is communication.

I am happy to work here, and I have also created my blog and will look forward to getting Adhoc roles for digital marketing.

---
Connect With Me

I hope that this article and video helped you and gave you the required clarity. If you would like to connect with me you can fill out this form. "Connect with Board Infinity Alumni"
Watch Career Pe Charcha

You can also watch my Career Pe Charcha Episode for full review.

You can also watch fellow learner experiences on Career Pe Charcha live series on Board Infinity's Instagram Page.
Subscribe to our Newsletter
Receive latest industry news and updates, exclusive offers directly in your inbox.
---