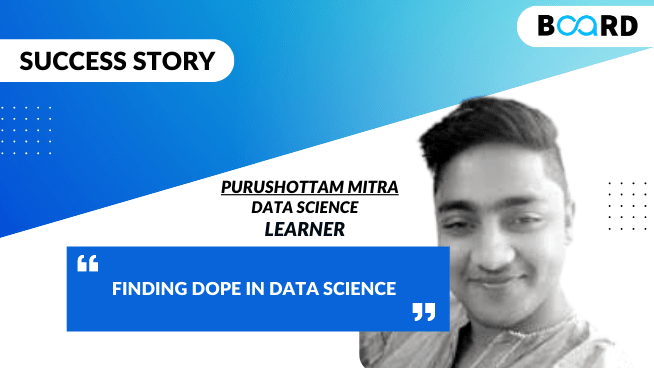 Finding Dope In Data Science!
By - Purushottam Mitra, Board Infinity Alumni
1. My Background
I was getting very frustrated and confused. I had enrolled in a coaching class for government exams, I could clear the prelims easily but somehow couldn't manage to clear the mains exam.
I had worked as a Site Engineer at Indian Oil Corp.Ltd. on a contractual basis. I have also worked as a Production Engineer in Goldi Green Technologies for 6 months (at ₹12,500/month), Surat. That wasn't enough money to live in a city like Surat, away from my family.

I had no other ideas, I didn't know what else to do anymore.
2. Why Data Science?
This is when one of my very close friends, who knew me personally as well as professionally, told me that Data Science would be a good career path for me.

This was like a ray of hope for me!

I had heard about Data Science before, but I'd never tried to educate myself about the field. So, I started to fully educate myself by going through a lot of blogs, watching videos, and doing more research about the field.

I realized that I already had a lot of the core skills that were required for Data Science. I was very strong in mathematics, statistics, problem-solving, and even making visual designs (graphs, bar charts, etc.)

This developed my interest in Data Science even further.

I started exploring the job profiles of different Data analysts & Data scientists to figure out how they got to where they are now.

I started to look for companies or institutes that would help me learn Data Science. I found a lot of institutes, but I wasn't very convinced because of different reasons like no placement assistance, relocating to a new city for the class, different syllabus, etc.
3. Experience at Board Infinity
During this time, I came across a guy in my hometown, Subhashish, who was also a learner at Board Infinity. He gave me the suggestion to enroll into Board Infinity if I was serious about learning Data Science. He had a lot of good things to say about the institute and I was very intrigued.

I also asked Subhashish a lot more questions like the syllabus of the course, the teachers, portfolio projects, etc., and he had nothing but good things to say about Board Infinity.

I was convinced by his words, and I made the decision to join Data Science Course by Board Infinity.

Honestly, this was my first experience of learning online and I'd say that there's a huge difference between traditional learning & online learning, but not in a bad way. The live lectures are extremely interactive and you can get your queries answered within minutes. You also don't feel the social pressure that you feel while asking a doubt in a classroom environment. The whole live classes experience was very smooth.

As soon as you ask a query to any member of the team, they do their best to get it cleared on a priority basis.

When I started learning & practicing SQL, I ran into a minor problem that I forgot to clarify during the live lecture. I directly got in touch with the respective coach on LinkedIn to get my doubt solved. The coach went above and beyond by replying to me on WhatsApp with the solution as well as sending me extra resources to learn SQL.

It's amazing how much attention the coaches give to the students, even though they work full-time in the industry.

Another thing that I'd like to mention is Board Infinity's program managers.

I'm a very introverted kind of guy so I generally have a hard time talking to people and opening up to them. But my program manager was able to make me feel so comfortable that I could talk to her about anything. She was always there to solve my queries, or any problems I faced during the course, or even any personal problems.

Each of their team members made me feel like family, and this kind of mental and emotional support is what I love the most about Board Infinity.

I would recommend everyone to check out Board Infinity. If you're looking to upskill, they'll give you the best learning experience of your life.
---
Questions? Book a Call

I hope you liked reading this post and I was able to provide some value to you. Feel free to connect with me by filling this form. "Connect with Board Infinity Alumni"
Watch Career Pe Charcha

You can also watch fellow learner experiences on Career Pe Charcha live series on Board Infinity's Instagram Page.
Subscribe to our Newsletter
Receive latest industry news and updates, exclusive offers directly in your inbox.
---