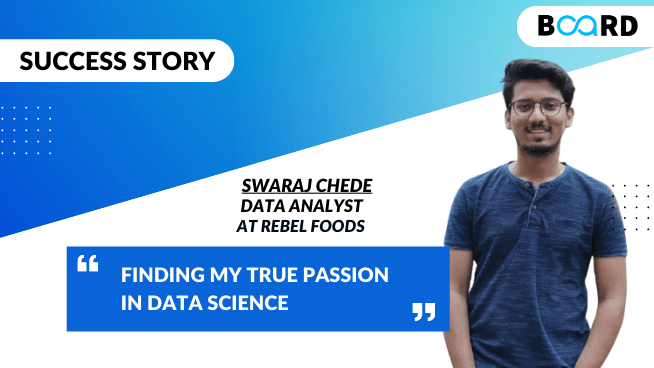 Finding My True Passion in Data Science!!
By - Swaraj Chede, Board Infinity Alumni
1. My Background
Let me tell you a little about myself…

I have traveled to many places because of my Dad's job. I am from Aurangabad but in the past couple of years, I have been in Delhi as well. Post that, I was in Mysore too. I am friendly by nature and a very easy to go person. I love cricket. Apart from that, I like reading novels as well. A lesser-known fact about me is that I love reading about historical facts and articles.

After the 12th, parents tell you to do engineering. Even when I took telecommunications I had very little knowledge in this field. I am very glad I cracked engineering in 4 years. To be honest, at the end of my fourth year, while everybody was getting placed, I had no clue about where I wanted to be in my career. Although I was lost with respect to my career, I knew I was on the wrong path and with time I will figure out where I truly belong.

After that, I was planning to do an MBA but it so happened that I did not clear it. For a good 3–4 months, I was looking for a job but wasn't too happy with the overall scenario. A major setback I faced was during my CAT results. I lost all hope. All my efforts went down the drain. Even in January 2021 after completing my course, I was not getting the necessary response from companies. These two were the lowest points in my career. However, I am glad I faced these situations. They usually say that struggles matter. Success tastes sweeter when I overcame these setbacks and got the job I wanted.
2. Experience at Board Infinity
That was the time when covid hit and I was exploring data science. I had some knowledge about Tableau and I thought to myself that this is the best time to jump in and learn something. I started browsing the internet about Tableau and then realized that Tableau consists of a small portion of data science. My SQL skills were not that great but I was good enough. Eventually, I used my lockdown time pretty well by studying and upskilling with Board Infinity. I convinced my parents and then enrolled in the course in Data science.

The 1-on-1 sessions were extremely helpful. Coach Vinal Reddy helped me a lot. I was a raw product and he helped shape me to be industry-ready.
3. Placement Process
Coming to my placements, I was interviewed for 3 companies. One was with Ugam but sadly they were certain technical aspects that I couldn't get through. The second one was with Avegen and the third and final, where I happened to get placed was with Rebel Foods. With Rebel, I was in full control and managed to ace the interview.

At Rebel Foods, I get to take complete ownership. There are 12 prominent brands and we get this data from Swiggy, Zomato, and our own in-house app. On a daily basis, we monitor how our product is performing. I sit with wonderful corporate chefs as part of my job and if anybody asks me what I do for a living, I chuckle and say to them, I work from the kitchen. Additionally, I am a big foodie, and getting to work with a brand that associates with food, I couldn't ask for more.

At Board Infinity, all the program managers were wonderful. They were calm and helped assist during any crisis situations. They were our guides and helped us understand and navigate through difficult circumstances.

In the end, I got the job that I wanted and I am very happy doing what I love
---
Connect with Me

If you have any questions related to my journey or the online data science course by Board Infinity. Feel free to connect with me by filling out this form. "Connect with Board Infinity Alumni"
Watch Career Pe Charcha

You can also watch my Career Pe Charcha Episode for full review.

You can watch learner experiences of my batch mates on Career Pe Charcha live series on Board Infinity's Instagram.
Subscribe to our Newsletter
Receive latest industry news and updates, exclusive offers directly in your inbox.
---