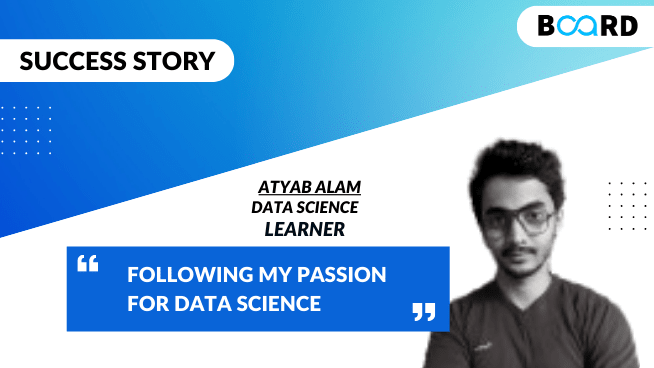 Following My Passion For Data Science
By - Atyab Alam, Board Infinity Alumni
1. My Career Background
I had it all planned out. I was in my final year of B.Tech and campus placements were around the corner, but I wasn't worried. I was going to skip the campus placements completely.

The fact is that I had been working on my startup idea for more than a year now and I was very confident that it would work. But I guess I didn't really have it all planned out.

Soon after my graduation, my startup idea failed. I was devastated, but my #1 priority right now was to support my family.
2. How Did I Get Into Data Science?
I took the first job that I could find on the market. Gladly, I got hired at OPPO mobile as a software tester and I continued that job for about 11 months.

Side-by-side I also started learning a bit of Python, mainly to pursue my interest in data science. But I just couldn't find enough time to fully commit to learning Python.

I was always interested in data science but I never really got the chance to pursue it because I was busy working on my startup idea. I had first heard about it from some of my college friends who were in the computer science department.

I quit OPPO in January and joined a Delhi-based company for the same software testing role. But due to the pandemic, I had to quit that job around April/May. I think it was not such a bad situation for me because this was the perfect chance to start learning data science.
3. Experience at Board Infinity
I finally had the time and the resources, so I decided to enroll in a well-established course. Board Infinity's data science online course was the best one that I could find and I just took the leap.

It only seemed natural that the next step for my career in technology was to start learning data science. I was already interested in the technology industry, and as you might already know, technology is moving towards data science.

The course itself has been extremely helpful so far, I have nothing but good things to say about it. The best thing about the course is the helping nature of the coaches/mentors. Each coach is just a message away & they're always eager to help you out whether you have a query, career doubt, or anything. Even if you have an out-of-the-box question that isn't in the course, they'll still try to do their best to help you out. They won't ever say "No" when you ask for help, and that's the best part in my opinion.

Every coach is also an industry expert and has a lot of experience in their respective domains. In a field like data science, the practical experience that you have is very important. To be a good data scientist or machine learning engineer you need to have a lot of real-world practice. And Board Infinity's curriculum follows a very practical structure where we're taught theoretical things, but there's a lot more focus on actually practicing it.

Another great part of the course is student support. Whenever I had any problems with the assignments or theory, I just had to contact my program manager or leave a support ticket and the query would be solved within 1 hour usually. I can't stress how helpful this was in my learning process.

Overall I'm very happy to be starting my data science learning with Board Infinity & I'm looking forward to starting my professional career as soon as I complete the course.
---
Connect with Me

I hope you liked reading this post and I was able to provide some value to you. Feel free to connect with me by filling this form. "Connect with Board Infinity Alumni"
Watch Career Pe Charcha

You can also watch fellow learner experiences on Career Pe Charcha live series on Board Infinity's Instagram Page.
Subscribe to our Newsletter
Receive latest industry news and updates, exclusive offers directly in your inbox.
---