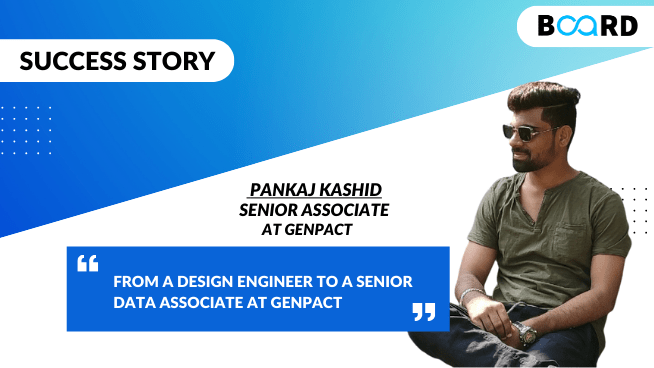 From A Design Engineer to A Senior Data Associate at Genpact
By - Pankaj Kashid, Board Infinity Alumni
1. My Early Career Journey
My name is Pankaj Kashid. I am from Ratnagiri, Maharashtra. When I was in school, my teachers convinced me to go for Mechanical Engineering as I was good at engineering graphics. After I passed class 10th, I opted for a Diploma in Mechanical Engineering and completed it with a First Division. Following this, I took admission in Trinity Academy of Engineering in Pune to pursue B.tech in Mechanical Engineering.  Although I was happy to be following my passion for designing, the theoretical classes weren't able to interest me at all as I was only interested in production.

When I graduated in 2016, I started searching for jobs in the design field. However, my failure to find any suitable jobs made me change my career path and I started working as a trainer at a CAD center. After working there for a while, I joined SNK India Pvt Ltd. in Pune, in 2018, as a design engineer, where I had been working till August 4.

During the lockdown last year, the design-related work in my company had subsided due to reduced demands. So, my senior assigned me some sets of data to analyze in excel. I wasn't aware of how to work with Data, so I started watching YouTube tutorials and learning from there. This was my first exposure to Data Science. After this, I started getting a lot of ads for Data Science jobs, which hooked me and sparked my curiosity.
2. Experience with Board Infinity
I learned about Board Infinity while searching for Data Science courses and after getting to know more about the Data Science Course, I enrolled in June 2020.

Board Infinity has been a very good learning experience for me. The Data Science course really helped me grow my skill-sets to step into this field which was completely new to me. Board Infinity has a number of good coaches who are well-versed in their respective fields. My Placement Trainer, coach Vimal Reddy really deserves a special mention in this article. His 1:1 sessions were really helpful. He also helped me with my projects. These projects have greatly contributed to my learning and I have based my concepts on them. They have also given me the confidence to work as they rewarded me with hands-on experience.
3. My Placement Journey
I really enjoyed learning Data Science. It imparted me with the knowledge of how businesses work based on data as I plan to start one too in the long run. This course has helped me develop my understanding of how they work. Before this career transition, my life was extremely difficult as I had to travel 50-60 km every day for work. I had continued my work while pursuing this course with Board Infinity. It used to be very hectic sometimes but confidence and concentration worked for me. I used to study 1 and a half hours daily and 12 hours on the weekend to build a strong base in Data Science. Finally, all of that hard work paid off with a job as a Senior Associate (Data) at Genpact.

There were three rounds of interviews - Technical,  Business Communication, and the HR round. I was asked about the basics of SQL and Python and thankfully I was able to answer it all.

As of now, I am really happy to start off my first job in Data Science. I want to gain experience by working in this field and eventually start a business of my own. I also have plans for MS but let's see how things turn out to be in the coming years.

For all the people who are looking for career transitions, I want to say that a career transition is possible. You just have to trust your instincts if you are unhappy about your career and have faith in yourself. You will reach your goal with hard work. I did. You can too.
---
Connect with Me

If you want to connect with me and answer your questions. Fill out this form - "Connect with Board Infinity Alumni"
Career Pe Charcha Episode

You can watch learner experiences of my batch mates on Career Pe Charcha live series on Board Infinity's Instagram.
Subscribe to our Newsletter
Receive latest industry news and updates, exclusive offers directly in your inbox.
---