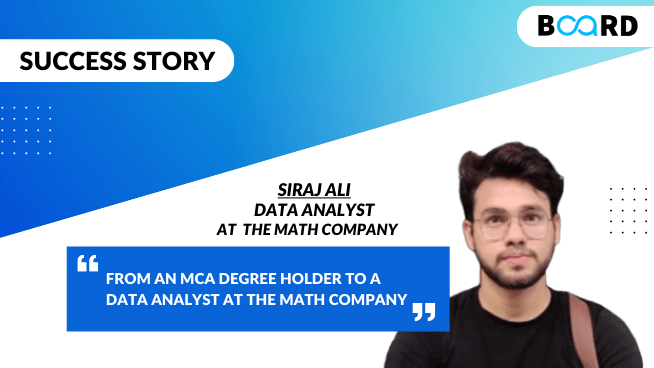 By - Siraj Ali, Board Infinity Alumni

Would you believe me if I said I don't sleep more than 4 hours a day? As a full-time employee at Infosys, a college student chasing an MCA degree, and a data science student at Board Infinity, I had to sacrifice sleep to balance all my responsibilities.
1. My Early Career Journey
My name is Siraj Ali. I am from Lucknow. I started off my career with a BCA degree from Career Point University in Kota because of my interest in web development. Throughout my academic career, I have been a dedicated student. After graduation, as I enrolled in the same university's MCA program, I also interviewed for Infosys for the role of Operations Executive so that I could support myself financially. At Infosys, I received the top rank in training. Over time, however, my expenses seemed impossible to manage with the salary I was receiving and I was curious about my next career move.

The senior that shared my apartment with me during my MCA degree introduced me to Data Science as an exciting and emerging field with ample job opportunities that also pay well! After researching and learning about the growth in this field, I wanted to give this a try!

Having considered the effort it would take to learn something from scratch, I enrolled in Board Infinity's Data Science Course in March 2021. After I was given an overview of my foundation course, which is designed especially for new students, I was confident that I would learn a lot from it and I certainly did.
2. My Learning Experience with BI
During my time at Board Infinity, Coach Aditya has inspired me a lot. I consider myself very lucky to have been taught by such genius people as Coach Aditya. He used to say, "Clients do not want to know what you use to obtain insights. They want results to be told in an understandable language, for that you'll have to talk in the language this domain uses. You should be able to tell them a great story."  I am eternally thankful to him and all other coaches for what they have taught me within this short period of time.

Right from the first module, we were given Capstone projects which were very helpful in learning with practical applications. I worked on four Capstone projects, all of which I successfully completed. Further, I was able to develop an extensive knowledge of Data Science as a result of the exams after each module. I also took part in several Hackathons and also won one of them.

Board Infinity is a hub of courses that make you job-ready. Moreover, I have had a chance to take many free courses here in addition to Data Science. Prior to placements, I took a resume-building course and a course on professional etiquettes; these courses have been very beneficial to me. My resume at Math Company helped me to get shortlisted by the recruiters.

Besides my coaches who have guided me well to step confidently into an entirely new career field, I also had the chance to meet incredibly kind people here - my program managers. I am very thankful to Gurtej and Pranshul for helping me schedule my 1:1 doubt clearing sessions and for always boosting me.
3. Placement Process
I had only joined in March 2021 and completed 4 modules out of 6, and my course is still ongoing, I was still recommended to interview for The Math Company. Even though I had just started off, I was interviewed for the Data Analyst position and got selected on the basis of my knowledge of SQL and Tableau. I am very happy to work with The Math Company as it is one of the Top 10 Data Analytics Companies and the growth is immense here. The learning curve at The Math Company is showing great trends and I am excited to know what's ahead of me.

Thanks to Board Infinity for aligning my career path with one of the most exciting career fields of the 21st century. This is more than I could have asked for.
---
Connect With Me

This was all about my journey. If you would like to connect with me you can fill out this form. "Connect with Board Infinity Alumni"
Watch Career Pe Charcha

You can also watch fellow learner experiences on Career Pe Charcha live series on Board Infinity's Instagram Page.