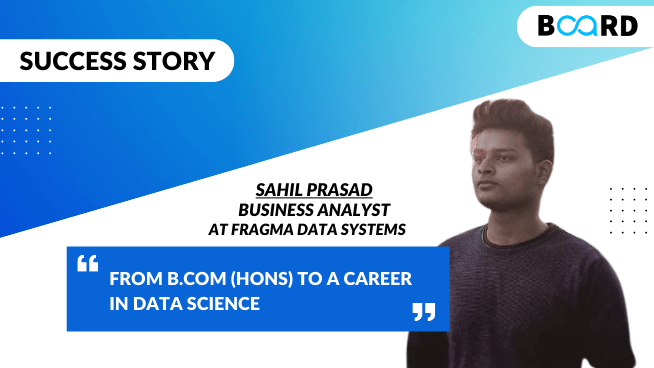 From B.Com (Hons)to a Career in Data Science
By - Sahil Prasad, Board Infinity Alumni
1. My Early Career Journey
My name is Sahil Prasad. I was born and brought up in Kolkata.
In school, I was an above-average student who disliked Mathematics. But, Math followed me everywhere.
As I finished school, my interest grew in Business Studies and surprisingly, in Accountancy as well, and I decided to pursue B.Com (Hons). I joined Prafull Chandra College in Kolkata in 2016.
However, due to a lack of any sense of direction, I decided to take a year off to decide my next career move. For many B.Com graduates, the obvious next step is CA or CFM, but I neither had the money nor the time to invest in clearing these tough exams. What I wanted was something that was less chaotic and could offer me speedy growth.
While I was on my way to discovering my career interests, I decided to work at a Call Centre in Kolkata since sitting idle wouldn't do any good. The next part of my life changed things for me drastically.
Oftentimes, life-changing events occur out of nowhere and when you would expect them the least. Mine was a call with Navya, a regular client who was aware of my career confusion and is now a good friend. One day, Navya advised me to look for job-oriented certification courses.
She said, "In case you have no plans for the future and no money to invest in CA and CFM exams, you can take up a short-term course and make a career transition in Data Science."
That was the first time I had heard the term "Data Science". Thanks to YouTube, I could do some research on it and discovered the huge market with a bright shining future. As a result, I became aware of terms like Data Engineer, Machine Learning Engineer, Data Analyst, Business Consultant and the high demands of these roles in the job market. Once I found out that companies were only looking for basic knowledge, I decided to give it a shot!
2. My Journey with Board Infinity
Without any further delay, I immediately contacted Board Infinity, where Aditya guided me through the Data Science Course and clarified all my doubts. I joined Board Infinity in September 2020 and now when I look back, I feel it was the wisest decision of my life.
My experience with Board Infinity has been a life-changing one. Because of the course, I could learn so many new things that I had no idea about. All the credit goes to the coaches who patiently guided me through every module and ensured that we develop a decent understanding.

Before joining this course, I had no idea about Advance Excel, SQL, Python, Data Visualization, or Dashboarding. But, with helpful guidance from the coaches and long hours of self-study of these modules to the core, I could finally develop a deep understanding of this entirely new career field.
With time, I could overcome my fear of Math as Math plays an integral part in Data Science. Each module in Data Science raised the bar on the math involved. Finally, I stopped running away from it and got a hold of the subject with focused learning as I dedicated time to learn math.
3. Placement Day
All my hard work paid off on my placement day when I got placed at Fragma Data System. On my placement day, I was only nervous about the technical rounds as communication was not a problem for me. I was able to leave an impression on my recruiters by answering all of the questions about SQL correctly!
I am grateful to the Board Infinity coaches and especially my program managers - Samriddhi and Tejas who helped me a lot regarding the job. I joined Fragma Data System as their Business Consultant on August 11.
In the future, I would like to work for companies like Genpact, Capgemini, or Deloitte as I gain experience in Data Science. For the people who are confused about pursuing their career in Data Science, I just want to tell them that even if you have below-average academic achievements, you can learn Data Science and have a surprising impact on your career life.
---
Connect With Me

That was my journey in the field of data science. If you would like to connect with me to discuss Board Infinity Learning Path. You can fill out this form. "Connect with Board Infinity Alumni"
Watch Career Pe Charcha

You can also watch fellow learner experiences on Career Pe Charcha live series on Board Infinity's Instagram Page.
Subscribe to our Newsletter
Receive latest industry news and updates, exclusive offers directly in your inbox.
---