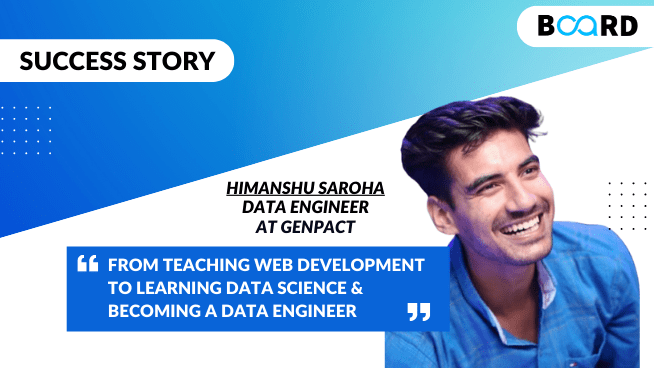 From Teaching Web Development to Learning Data Science & Becoming a Data Engineer
By - Himanshu Saroha, Board Infinity Alumni

I didn't choose to become a teacher. It was teaching that chose me. But, life for me was less about what it had to offer and more about what I wanted to make out of it. Now, I'm a Data Engineer. That's what I chose for myself.
1. My Early Career Journey
My name is Himanshu Saroha and I am from Shamli, Uttar Pradesh. It's apparent that we go for things that interest us, for me that thing was - COMPUTERS. On the way to follow my love for computers, I started learning Java, CSS, HTML, and other related technologies on my own when I was in class 10 and continued with my interest in my graduation with a B.Sc degree in Information Technology. To earn the degree, I had enrolled at Kurukshetra University, Panipat.

Several people ask me why I didn't pursue a B.Tech degree, and that's normal, as most of our friends who study science generally choose the B.Tech degree. In my case as well, I had intended to do B.Tech, but had not been able to score high enough for admission to an IIT or a Tier 1 college. Thus, I decided to study BSc at a reputed university, since the syllabus is equivalent.

Taking a course in Information Technology academically became a fulfillment of my career hopes as I was happy to learn to program in C++, CSS, Mathematics, and also Electronic and Digital Communication. As I graduated in 2018, I decided to train students in IoT and 3D Painting as a freelance teacher. After a year of this, I realized that it was difficult to get a full-time job in the industry with a bachelor's degree and that my career required more of me.

Considering the demands of my career, I enrolled in a master's program with IGNOU in Computer Applications. Side by side, I also started teaching at CodingZen where I'd train students in web development and game development. This job was extremely convenient for me as I could decide my schedule according to my suiting. But, it wasn't a profession of my choice, and choice matters a lot if you are going to dedicate so much of your time to your career.

So, I quit my job and enrolled and started looking for fields other than web development. This is when I came across Data Science. My cousin who is a Data Analyst with Flipkart familiarized me with the type of skills needed for Data Science job roles and this future technology amused me with its prospects.
2. Experience With Board Infinity
I enrolled myself in the December batch of Data Science Course at Board Infinity considering my familiarity with SQL, Robotics, etc. as I only had to polish my skills. However, the course starts with the very basic, as many who join here are freshers and so even I was able to learn from scratch.

The coaches at Board Infinity are really good and friendly. They are easily approachable and always ready to help. Under their guidance, I have been able to complete this course timely and have developed a good understanding of the subject matter and practical skills. The course was very streamlined and each module spiked my interest even more. Through proper time division for each module, I was able to make it to the Super 50 batch at Board Infinity where I also got a chance to showcase my skills.

Special mention must go to Coach Smit, who sets the standards as a mentor. I could relate a lot to his teaching style.
3. Placement Process
On August 25, Genpact arrived with the role of a Data Engineer and I knew I had to crack it. Data Engineer is a very challenging role but this would provide me a gateway to the world of Data Science which has so much more to it than just working in one role.

I cleared both the technical and the communication round with my confidence which I had developed over time through practice. The only piece of advice have for people aspiring to do anything at all is that you will get better at it if you decide to keep doing it.
---
Questions? Book a Call

If you have any questions about my journey or the online data science course by Board Infinity. Feel free to connect with me by filling out this form - "Connect with Board Infinity Alumni"
Watch Career Pe Charcha

You can watch learner experiences of my batch mates on Career Pe Charcha live series on Board Infinity's Instagram.
Subscribe to our Newsletter
Receive latest industry news and updates, exclusive offers directly in your inbox.
---