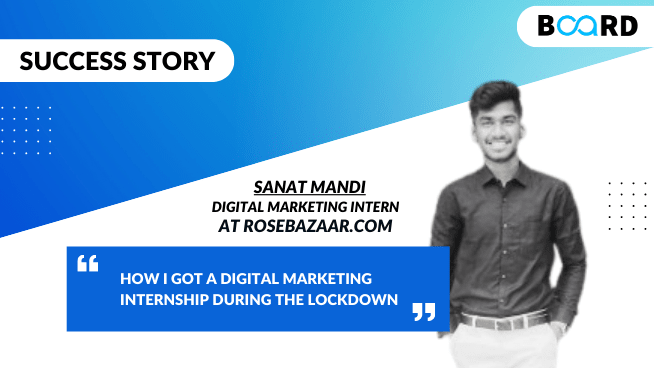 How I Got a Digital Marketing Internship During the Lockdown
By - Sanat Mandi, Board Infinity Alumni
1. My Background
I didn't know much about digital marketing at first…
It was June 2019 and I had just graduated with my B.Com degree. I was still thinking about doing some type of further studies which would accelerate my professional career & help me in the future. An MBA or master's was just not an option because they would be too costly.

This is when one of my friends recommended that I have a look at digital marketing.

I started doing a lot of research on digital marketing. I started looking at the topics covered, the scope of digital marketing, and so on. I started to notice that it was somewhat of a booming industry right now. I started looking deeper, things like different job roles in digital marketing, companies that are hiring, etc.

This is when I came across the content creator role. I was intrigued by it because I've always been a very creative person. The idea of pursuing a field that would allow me to convey my creative ideas was extremely fascinating.

During August, September & October I looked into every resource that I could find on digital marketing. I started reading a bunch of e-books, watching YouTube videos, watching free webinars, etc. When I felt like I had a good enough understanding of the basics of digital marketing, I started looking for a proper paid certification course online.
2. Experience at Board Infinity
This is when I came across Board Infinity's digital marketing course, through an Instagram ad. This made me curious, I started doing some research again. I looked at all of their social media profiles, website, customer reviews, course syllabus, and every other piece of information I could find on the internet.

I received a call from their team (where I was given complete information about the course) and even attended one of their free webinars. At this point, I was very satisfied with how professionally they managed everything so I finally decided to enroll in their Digital Marketing Learning Path.

This course was able to cut down my learning curve by a lot. The whole course was structured very well. We had about 2 classes every week & doubts were cleared by the coaches or program managers after every class.

It was nice to learn from a few different coaches since it felt like I was learning each topic from an expert who specializes in that domain. The coaches were very helpful and gave us a lot of tips about the best way to grow in our digital marketing careers.

Even after the course, I was building a blog of my own (as a side project) and was having a bit of difficulty doing so. The coach was kind enough to help me with every step of building my blog. He gave me tips on where I could buy my domain, what tools I should be using, which website builder I should be using etc.
Another thing that stood out to me was my program manager. She was also very kind & did her best to answer all my calls. Even during non-working hours, she used to go out of her way to pick up my phone calls and solve my queries. It truly felt like I had someone who cared about my career growth.
3. Placement Process
Even during this lock-down situation, I was able to find a digital marketing internship at rosebazaar.in with the help of Board Infinity's team.

I loved my experience at Board Infinity, looking forward to working in the industry and I'm happy to say that I was able to increase my knowledge 10x.
---
Connect with Me

I hope you liked reading this post and I was able to provide some value to you. Feel free to connect with me by filling out this form. "Connect with Board Infinity Alumni"
Watch Career Pe Charcha

You can also watch my Career Pe Charcha Episode for a full review.

You can also watch the learner experiences of my batch mates on Career Pe Charcha live series on Board Infinity's Instagram.
Subscribe to our Newsletter
Receive latest industry news and updates, exclusive offers directly in your inbox.
---