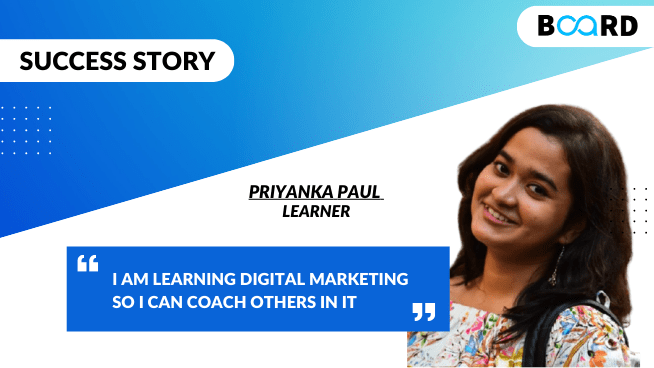 I Am Learning Digital Marketing So I Can Coach Others In It
By - Priyanka Paul, Board Infinity Alumni
1. Early Career Background
My name is Priyanka. I was born and raised in Kolkata. Throughout my childhood, I was deeply introverted and shy. However, that changed a little as I entered college and made some great friends.  Commerce was my major in 12th grade. After that, I studied Business Administration (BBA) at M.A.K.A.U.T, University in Kolkata. I dreamt of becoming a Human Resource Executive but that changed with time as the field no longer interested me.

As a student, I watched a lot of videos about blogging and digital marketing, which sparked my interest in the field. I found it to be very interesting since it was based solely on practical applications, unlike Human Resource Management which is more inclined towards theoretical knowledge. With Digital Marketing, creating new ways to attract customers and learning new strategies every day appealed to me and I certainly wanted to learn more about it.  

Board Infinity's ad caught my attention. The affordable courses at Board Infinity and the placement guarantee made me interested in taking the Digital Marketing Course. The reviews were also very positive. So, my first step to becoming a digital marketer was enrolling in this course. The decision I made about my career back then turned out to be a great one!
2. My Experience with Board Infinity
My experience with Board Infinity can be summed up in one word: AWESOME. In terms of imparting knowledge, all modules within this course were excellent. My knowledge about Digital Marketing has grown greatly and I have been introduced to so many new things that I had no idea about! As someone who is interested in blogging, I found the part about SEO and SEM particularly fascinating. My exposure to Google ads has come from taking this course. Ad creation and management are now my favorite things to do. So far, I have worked on six projects, two per module, and the evaluation of the projects was extremely helpful since they were so insightful.

For experience, I have created my blog site brilliancespot.com and practiced the strategies that I learned from BI on it. I also plan to monetize it someday.

The coaches at Board Infinity are exceptionally good! I have greatly benefited from Ashwini ma'am's coaching. Although I have bothered her a lot with so many questions, she has never refused me and has very patiently answered all of my questions.
3. Placement Training
I am in the process of getting placed at my dream company now. Since June, I have been undergoing placement training. 1:1 consultations are proving to be extremely helpful in equipping me with the placement processes. My current placement trainer, Shraddha Somani ma'am is an excellent trainer as well. I'm fortunate enough to be seeking guidance under so many good coaches. I'm treated very well by my coaches, and my problems are addressed promptly.  Working at Ogilvy would be my dream job. But, my larger goal is to teach.

One day, I hope to run my own coaching where I can teach digital marketing to marketing aspirants. Neil Patel is my idol when it comes to digital marketing, and I hope to emulate him.

My parents are the reason why I am at Board Infinity today. They trusted me over everything and I'm never going to regret any part of my being here. BBA graduate Priyanka once aspired to be a Human Resources professional, but her interest in blogging led her to pursue another fascinating field - Digital Marketing. She dreams of coaching digital marketing techniques to marketing aspirants.
---
Connect with me

Have doubts about Board Infinity's Digital Marketing Course and want to connect with me? You can fill out this form. "Connect with Board Infinity Alumni"
Watch Career Pe Charcha

You can watch fellow learner experiences on Career Pe Charcha live series on Board Infinity's Instagram Page.
Subscribe to our Newsletter
Receive latest industry news and updates, exclusive offers directly in your inbox.
---