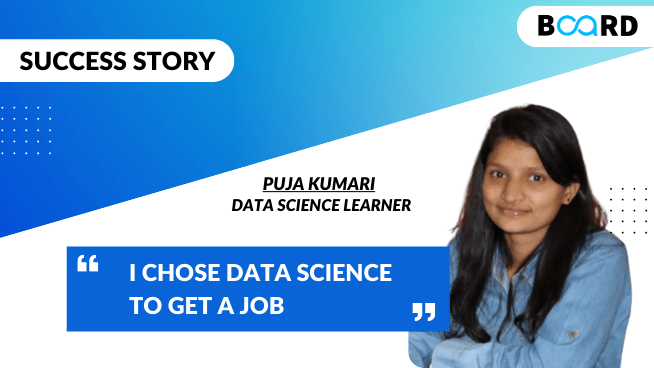 I Chose Data Science To Get a Job!
By - Puja Kumari, Board Infinity Alumni
1. My Background
Where do I start? I don't have a great story to tell but I do lead an amazing life! I don't even know if my story will inspire you but I am sure it will make you laugh.

I come from a small town called Muzaffarpur in Bihar. My family has my father, who is a businessman, my mother who is a homemaker and my two sisters. I am the second child in my family.

As a kid, I was never counted amongst the good ones. Mostly because of the lack of interest in studies. Nevertheless, my family loved me. I did averagely good in my class 10th boards and cracked a Diploma course in Control & Instrumentation Engineering at Sant Longowal Institute of Engineering and Technology, Punjab. Despite not giving my family enough reasons to believe in me, they have always supported me and allowed me to move to Punjab for further studies. They think I'll figure out life. I too like to believe that but if you had asked me a few years ago when I joined college, I would say - for months, I couldn't even figure out the way to my class.

I made no friends in college except my roommate, because I spent most of my time with her sleeping or eating Parathas in Punjab. My college memory is more of these fascinating Parathas than in-class moments.

I like to think that all this while, I was too young to be serious about my career. I was away from home and on my own at a young age (I still am!) and I wanted to enjoy every moment of it.

When the lockdown happened in 2020, I got home. I had time to reflect on everything I had done in college. I was concerned about taking up a job as there were very slim jobs for girls in the Control & Instrumentation Engineering field. They don't employ girls to work in factories or plants. So, I thought I should pursue an online course. My only motive was to get a decent job in hand. I searched for various fields and I came across Data Science. The article said that there are a good number of jobs in this field. So, I decided to take up an online course in Data Science. That's how I ended up on Board Infinity's website!
2. Learning Experience at BI
My parents are very optimistic people. They still held on to the dreams of me doing something extraordinarily well and supported me to go for this Data Science online course. Since then, I have been a part of Board Infinity. At the cost of sounding dramatic, I want to say that it's almost like my boat was sinking when Board Infinity turned up like a hero and saved me. I have learnt a lot from the coaches here. Gautam Sir has been extremely helpful throughout the course. I have learnt to now help myself with my studies. Though, I still don't take myself seriously. All I know is that I am a very confident person. I know I'll find a job in Data Science and I think anything should be good to start with. I'll find my happiness in it.

Lastly, I just want to end my story by saying that I don't think all of us need a life-changing event in our lives to motivate us to do something. I think if we sit idly and reflect upon our past stories, there is so much that we can learn from them.
---
Connect with me

Have doubts about Board Infinity's data science learning path and want to connect with me? You can fill out this form. "Connect with Board Infinity Alumni"
Watch Career Pe Charcha

You can watch fellow learner experiences on Career Pe Charcha live series on Board Infinity's Instagram Page.
Subscribe to our Newsletter
Receive latest industry news and updates, exclusive offers directly in your inbox.
---