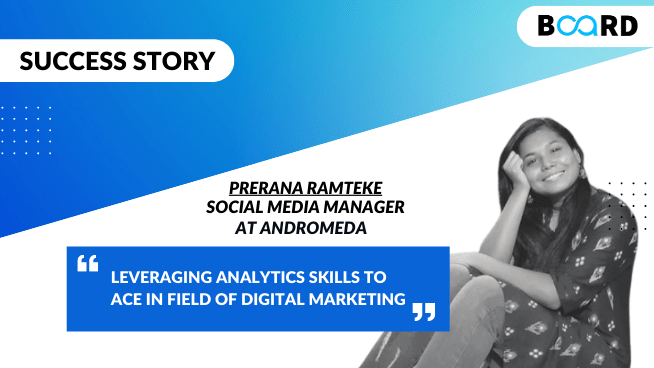 Leveraging Analytics Skills To Ace in the Field of Digital Marketing
By - Prerana Ramteke, Board Infinity Alumni
1. About me
Born and brought up in Mumbai, I stay with my parents and my younger sister who is pursuing MBBS. Coming from a finance background, I was interested to explore new opportunities. I believe there are so many CA's out there doing the same thing due to which the package in this field is less. You are not valued when there are too many people doing the same thing. Since my first year of college, I was interested in the field of digital marketing.

I took part in several events where I got hands-on experience in this field. I am keen on marketing, advanced marketing, and how analytics comes into play with the digital side of things.
2. Why Data Science?
I got to know about Board Infinity when a career advisor called me regarding a career in data science. That call really intrigued me about the field, after which I did some research of my own. I thought learning analytical tools like SQL, Tableau will help me get an edge in the field of data science. I attended a session at Board Infinity where I got more clarity about the field of data science and then enrolled in the data science course with the intention of learning in-demand tools.

During the initial few sessions, the coach asked us 'why do you want to get into data science?', and I was the only one who had the courage to say because of the package apart from analytics, which I really love. The coach really applauded me for saying what was on everyone's mind.
3. My Placement Experience
Since I am still awaiting graduation, getting a job in the market is brutal. With the experience that companies demand and being a fresher, I knew it would be tough to get a job. Due to covid and the job market being severely hit, getting the desired job is extremely difficult. My passion lies in digital marketing with a sprinkle of analytics.

I cannot thank the placement team from Board Infinity enough who set up many interviews for me and believed in me. They had faith in me when I lost hope. Their constant belief in me helped me get a good job at Andromeda. The coaches at Board Infinity are extremely supportive and helpful as well. The knowledge sharing and experience of the coaches really benefitted me during the sessions.

Therefore I decided to take up a job in digital marketing to increase my knowledge on the whole. I believe, knowing about the digital side of things will give me an edge later on, when I take up a job in data science.

I attended several interviews and luckily with the guidance and faith that Board Infinity backed me with, I got a job. Barely 6 months into the Board Infinity's Data Science Learning Path, thanks to constant help from the coaches and team here, I got placed at Andromeda.

It's still early days in this job but I am loving it so far. The people here are cordial and the training received has been very helpful. In the future, it is my dream and ambition to go to the UK and complete my master's in data science. This experience here will definitely prep me well for the future.

I am grateful to Board Infinity who helped me get a good job even during these tough times. Where many people are struggling to make ends meet, I am fortunate to have got a job at a good firm. It's better than sitting at home. I am now making good use of my time by putting my skills to the test and learning.
---
Connect with Me

Have questions about my experience at Board Infinity?  Feel free to connect with me by filling out this form. "Connect with Board Infinity Alumni"
Watch Career Pe Charcha

You can also watch my Career Pe Charcha Episode for a full review.

You can also watch fellow learner experiences on Career Pe Charcha live series on Board Infinity's Instagram Page.
Subscribe to our Newsletter
Receive latest industry news and updates, exclusive offers directly in your inbox.
---