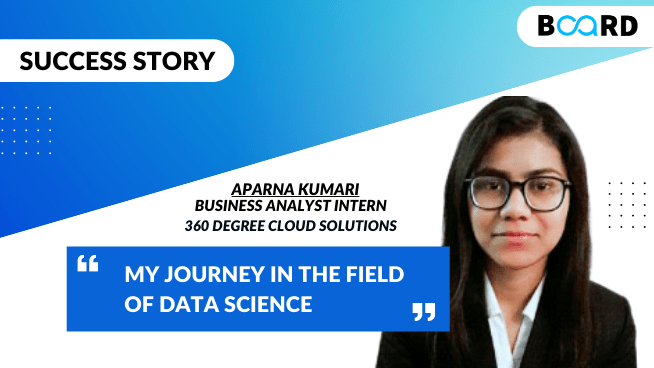 My Journey in the Field of Data Science
By - Aparna Kumari, Board Infinity Alumni
1. Professional Journey
I belong to Bihar. I have done my schooling at Bihar and completed my B.tech from Lovely Professional University. I am a fun-loving person. During my free time, I love watching web series and playing outdoor games.

My interest in data science began when I attended a seminar by a senior from Lovely Professional University. After attending that seminar, I got motivated. He had given an inspiring talk about the field of data science. In India, the number of data scientists is quite low and there is a high demand for resources. Although it might be difficult for freshers, once you get experience under your belt, the prospects in this field are great.

I had applied for many jobs in Data Science but most of them require a lot of experience. As a beginner, we do not get the opportunities to prove ourselves. Upskilling and doing a course in data science helped me knock on the right doors.

During my college years, there were a few professors in the first semester that were demotivating. I used to cry and doubt myself because of this. And as a result, a very foul environment was created. Somehow, later on in the next semester, there was a change in faculty and things got better. Another big setback was when the pandemic hit. This affected the job market and we had to wait longer than usual to get an internship or a job.

I had two options when I had to make a choice - Board Infinity or another institute. Upon speaking with the internal team, there was a sense of trust and after that, I decided to enroll with Board Infinity.
2. Experience at Board Infinity
I have applied for the learning path in data science with Board Infinity. The journey has been great. Through all the modules, I have enriched my knowledge in excel, know how to work with Python, and have understood how one can explore data. In the field of data science, there are many libraries and I have expanded my base on how to apply them and how to explore data using these tools. All the faculty members too were really good and knowledgeable.

The joy of learning through books is invaluable. In class, there is active interaction, and you are engaged throughout. A good feature about online classes is that you can go back and watch the recorded sessions anytime.

The best advice I got from my coach is that knowledge is very important. According to me, a degree is not important but knowledge is what matters. Many people who work at Google do not have degrees but they have the right skills. My message to everyone would be that whatever you are doing, keep at it and doors will open and work out for you.
3. Placement Review
The day came when I had to go through the dreaded interviews. I had to go through 2 rounds of interviews - the HR round and the technical round. The interview rounds were not difficult. They asked me questions like tell me about what projects I had handled, what experience I had and so on. Later in the day, I got a call that I was selected.

Talking about placements, I am working as a Business Analyst Intern at 360-degree cloud solutions. It's still early days in this company but I am excited to learn and grow more.
---
Connect with Me

I hope you liked reading this post and I was able to provide some value to you. Feel free to connect with me by filling out this form. "Connect with Board Infinity Alumni"
Watch Career Pe Charcha

You can also watch fellow learner experiences on Career Pe Charcha live series on Board Infinity's Instagram Page.
Subscribe to our Newsletter
Receive latest industry news and updates, exclusive offers directly in your inbox.
---