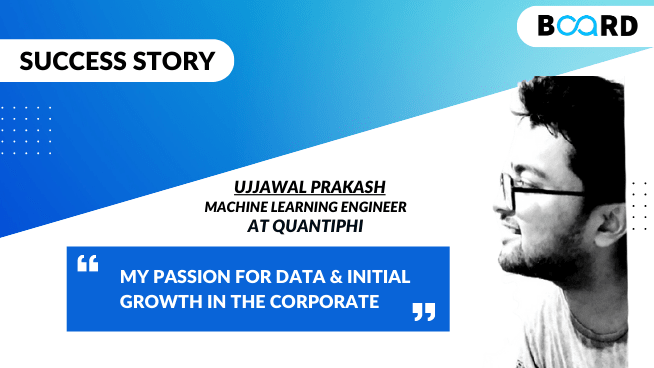 My Passion for Data & Initial Growth in the Corporate!
By - Ujjwal Prakash, Board Infinity Alumni
1. My Background
Today I want to tell you a bit about my career journey. Hopefully, you will get value from it.

So, my journey starts after my 12th, when I decided to go for a B.Tech in Computer Science.

During my 8th semester, I chose Big Data, Cloud Computing & Analytics as my electives. This is when my interest in data science starts developing. Especially in this age, Data is the new science and it can give you a lot of insights that aren't visible to the naked eye, the whole concept was pretty surreal to me.

After completing my graduation in Computer Science I got placed at a web development firm in Delhi. I'm not the best coder, so I didn't really see myself doing web development for a very long time.

I believe it's important to continuously grow and learn, but after working there for 3 months I started to notice that I wasn't really growing. My work had a particular structure to it, the clients used to change, but the work would almost be the same. The work and projects got very redundant after doing it a few times.

During this period, I was also doing a 3-month certification course in Business Analytics.

Soon, I got a 6-month internship opportunity at Oyo rooms. I couldn't believe it. I was getting a chance to work with the Startup unicorn. Who would not want to work for them?

I grabbed the opportunity as soon as possible. After working at Oyo rooms & coming into the field of analytics, I felt like I was always working on something new. Every day I was working with different technologies & would be exposed to new opportunities.

While working there(for around 2.5+ years) as a Data Analyst, I again felt the need to up my game as a Data Scientist as I wanted hands-on experience with Excel, SQL, Python, and R and to work on real-life projects, especially in Machine Learning.

My goal in this industry was to excel, thus I realized I had to learn.

So, I chose Board Infinity's Data Science course for its inclusivity towards practical learning while also continuing my full-time job.  Juggling between the course and the job was obviously difficult but nobody ever said that good things came easy!
2. Experience at Board Infinity
Through this course, I acquired new skills, such as obtaining insights from data, auditing, cleansing data, and more. My past working experiences also helped me cover the Analytics touch-base so now I was inclined towards Machine Learning and Deep Learning skills. In each of the 7-8 modules, we were engaged by tests, assignments, quizzes, and projects, which significantly enhanced my ability to get hands-on with the technologies. I found Hackathons to be extremely motivating. My goal was always the top 10, and I eventually improved overall.  It was equally beneficial to attend webinars!
3. Placement From Board Infinity
Thanks to BI, I got a job at a company called Quantiphi, an AI software and service company where I got hired for the position of a Machine Learning engineer. At this point, I had worked consistently on my weaknesses and had therefore gained confidence. At my interview, my recruiters inquired about machine learning projects I'd worked on, as well as my work experience. Then they gave me some tasks to complete, which I thankfully was able to complete all of them and get selected.

Several rejections preceded my selection for Quantiphi. Back then, I tried giving more and more interviews for data science positions, and I worked on where I was lagging. In addition, I worked on making my resume more concise and relevant to real-world experience. I tried to make sure recruiters had a clearer sense of the projects I was involved in by clearly communicating them.

Thus, if you ask me, I would attribute my success to Board Infinity mentors and their guidance in helping me reach my full potential.

Finally, I would like to recommend you check out Board Infinity. Even if you're not in a position where you can enrol in their job assurance learning paths, you should definitely check out their FREE webinars & courses. They put out a ton of valuable content.
---
Connect with Me

If you have any questions regarding Board Infinity's Data Science course and you need my advice. Feel free to connect with me by filling out this form - "Connect with Board Infinity Alumni"
Watch Career Pe Charcha

You can watch the learner experiences of my batch mates on Career Pe Charcha live series on Board Infinity's Instagram.
Subscribe to our Newsletter
Receive latest industry news and updates, exclusive offers directly in your inbox.
---