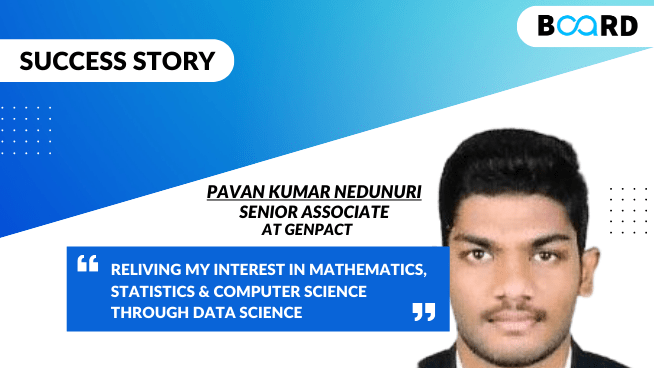 Reliving My Interest In Mathematics, Statistics & Computer Science Through Data Science
By - Pavan Kumar Nedunuri, Board Infinity Alumni

With this course in Data Science, I have rekindled my love for Computer Science, Mathematics & Data Science from my bachelors days and now I am devoted to this career field.
1. Early Career Journey
My name is Pavan. My home state is Andhra Pradesh. I did my Bachelors in Computer Science with Mathematics & Statistics as a minor from a state university in Andhra Pradesh. Upon completing my bachelor's degree, I pursued an MBA in Human Resource Management at JNTU, Hyderabad. However, the pandemic altered my plans and I reconsidered my career path to widen my future possibilities.

During the lockdown, my love for mathematics & statistics pulled me back to where I had started. I discovered the Data Science field, which offered a great scope in terms of job opportunities and was also based on Computer Science, Mathematics  & Statistics, all of which I had studied during my graduation. The field interested me a lot and I wanted to learn more about it.

After getting to know about the Data Science field, I wanted to pursue MS in Data Science. However, I had to avoid it because of financial reasons. A big thank you to certification courses! In my research, I found several platforms that offer Data Science certification courses. I signed up for a number of them. Only Board Infinity took the initiative to contact me first and told me about the course and its scope in detail.  

The course offerings seemed to be what I was looking for. With Board Infinity's 1-year placement guarantee and affordable courses, I chose to enroll in the Data Science Learning Path Course. This proved to be an excellent decision for me!
2. My Experience with Board Infinity
My learning experience with Board Infinity has been great! The coaches here are 10/10 when it comes to teaching. It's easy to grasp their method of teaching. My special thanks go out to Darshana Ingle who taught us Python & Machine Learning. The guidance he has provided to me has been invaluable.  

In addition to the classes, Hackathons were a great learning experience for me. I participated in 4 of them and even aced one.

Moreover, the webinars organized by Board Infinity provide learners with valuable insight from industry experts. This allows us to understand their reasoning process and the skills they used to solve several problems.
3. My Placement Journey
Even during my placement training, Coach Lavanya Gupta helped me a lot. Her training helped me face the interviews without being fearful. Her guidance helped me through the various rounds of interviews where-in I was also taught how to handle the questions I didn't know a proper answer to.

My skills and knowledge gained from this course helped me secure a job as a Senior Associate with Genpact following Board Infinity's placement drive and I can't thank Board Infinity enough for that!

Finally, I can breathe a sigh of relief.  My mother wasn't sure what I was doing when I enrolled in this course. My whole family, including my mother, is happy now that I have a job.

Now that I have chosen Data Science for my career, I want to pursue it forever. It's where I have found my happiness. In this field, I'm glad to use the knowledge I gained during my undergraduate years. It's where I belong!
---
Connect With Me

This was all about my journey. If you would like to connect with me you can fill out this form. "Connect with Board Infinity Alumni"
Watch Career Pe Charcha

You can watch fellow learner experiences on Career Pe Charcha live series on Board Infinity's Instagram Page.
Subscribe to our Newsletter
Receive latest industry news and updates, exclusive offers directly in your inbox.
---