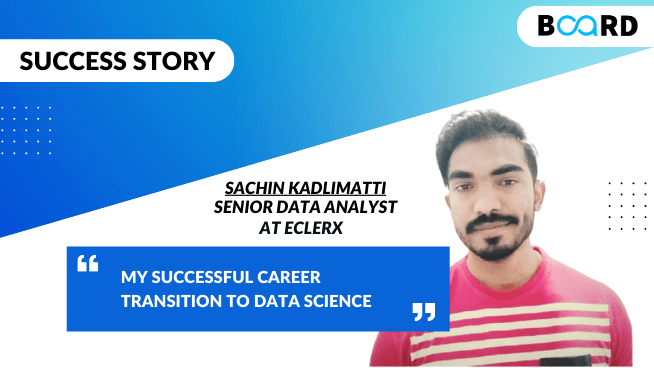 Say YES To Challenges: My Successful Career Transition To Data Science!
By - Sachin Kadlimatti, Board Infinity Alumni
1. About Myself
I hail from Karnataka with a bachelor's in civil engineering and was recruited through campus placement at a company called TESCO Business services, where I worked for around 4 years. It was a good experience but I believe to grow in a career one always has to upskill. So while working, I also simultaneously did my master's at symbiosis institute of management, Bengaluru.

Thereafter, I moved into the role of a marketing executive at a real estate firm called Structwel, and post that, I worked as a key account manager at Quikr India Pvt Ltd managing digital marketing solutions for clients.
2. Why Digital Marketing?
Observing the advantages of digital marketing in the field of data science, I then thought to step up the corporate ladder and make a career switch. I love to take on challenges and learn something new every day. But, coming from a non-technical background, was a little hesitant to switch my career to data science.

I had heard about this company called Board Infinity. The Career Guide there explained the entire process to me and how lectures are aimed at helping even a novice beginner like me. I decided to take the Data Science Learning Path and that decision was worth it.
3. My Learning Experience
However, with the help of Board Infinity, the process became enjoyable and easy for me. I had to learn everything from scratch. That did not pose a threat to me because the mentors made sure they simplified concepts in a manner that was easy to understand.

I think learning can happen anywhere, be it online or offline. It all depends on the learner and how they take it. Online is definitely better in today's climate because it comes with recorded sessions that can be viewed anytime at your convenience.
4. My Placement Experience
Coming to my interview process, the guidance and help received from Board Infinity were instrumental in me getting a good job. I got interview opportunities. But sometimes you don't make it to the next round and that's demotivating. However, I continued to believe in myself. For me, being resilient is the key. That was a defining point for me in my journey toward getting a job at eClerx India.

In the coming days, I will be working closely with the big data & helping out in extracting insights. I am really looking forward to learning continuously, applying myself, and growing in this thriving field.

With regards to getting a job right now, it's a tough time for everyone at the moment and my message to one and all would be to stay resilient. Many people are losing their jobs and few companies have halted the hiring process, so things can be difficult. During such times, we have to enable ourselves to grab every opportunity and not lose hope.

When it came to the lectures, each session was something new for me and it benefited me greatly. Board Infinity has supported me in my data science journey. Be it placements or interviews, they have helped me through it all. I will always be thankful to them.
---
Connect With Me

This was all about my journey. If you would like to connect with me you can fill out this form. "Connect with Board Infinity Alumni"
Watch Career Pe Charcha

You can also watch my Career Pe Charcha Episode for a full review

You can also watch fellow learner experiences on Career Pe Charcha live series on Board Infinity's Instagram Page.
Subscribe to our Newsletter
Receive latest industry news and updates, exclusive offers directly in your inbox.
---