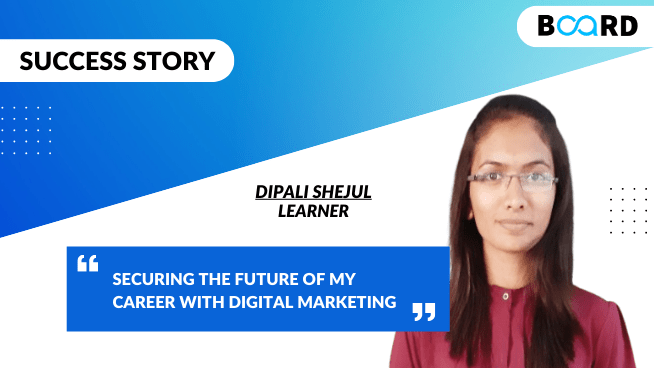 Securing the Future of My Career with Digital Marketing
By - Dipali Shejul, Board Infinity Alumni

My name is Dipali and I am from Aurangabad (Maharashtra). I hope to start my own business in the future. The field of Digital Marketing gives me great hope as it allows you to work from anywhere in the world and earn money. I hold an MBA degree in Finance from Sinhgad College, Pune. Currently, I am working as a Process Executive with Cognizant and also pursuing the Digital Marketing course at Board Infinity to secure the future of my career in this trendy marketing field.
1. Early Career Background
During my school years, I was more interested in sports than academics. I was a boxer and swimmer at the state and district level, but due to lack of guidance, those interests waned.

I joined S.B. College of Arts & Commerce in 2015 to study Bachelor's of Commerce, as Accounts as a subject interested me. After the completion of my 3 years bachelor's degree, I went for an MBA in Finance since I was very keen on the stock market. I finished the degree in 2020 and have been working with Cognizant since then.

Since I do not plan to work for more than 5 years because of the business plans that I have, I started looking up online courses that will give me an edge in caressing my plan. I came across Digital Marketing which seemed like a promising field to me and Board Infinity's offerings in terms of the Digital Marketing Course and the free structure seemed like a great deal! In case my plan A doesn't work out, I will always have the Plan B of Digital Marketing ready to sit at home and earn.
2. My Experience with Board Infinity
I enrolled in the Digital Marketing Learning Path with Board infinity in April 2021. My learning experience here till now has been really good. Since I am also managing a full-time job with this course, it is extremely convenient for me to opt for weekend classes. Also, the recorded sessions help me if I miss any of my classes due to work.

My coaches here are very helpful too. The way of teaching that these coaches demonstrate is extremely admirable and can help any beginner get to the roots of the concepts taught in class.

All my doubts are very well dealt with by the coaches and I have been able to learn a lot from them.

Along with this course, I am also doing a Digital Marketing internship where I get to apply whatever I study here and it is helping me broaden my practical knowledge base. Till now, I have been able to work with Facebook promotions, Digital Marketing ads, SMS, and Email Marketing. Earlier, I could never understand how personalized content could be viewed by the customers on different platforms but learning Digital Marketing from Board Infinity is slowly answering all my questions.
3. My Future Career Plans
In the years to come, I see more doors opening for me in Digital Marketing than in Finance. However, I think I am capable of managing both Finance and Digital Marketing together. As I said earlier, I plan to be a businesswoman and from where I see, I can only see this career field blooming and creating better opportunities.
---
Connect With Me

I hope that this article and video helped you and gave you the required clarity. If you would like to connect with me you can fill out this form. "Connect with Board Infinity Alumni"
Watch Career Pe Charcha

You can also watch fellow learner experiences on Career Pe Charcha live series on Board Infinity's Instagram Page.
Subscribe to our Newsletter
Receive latest industry news and updates, exclusive offers directly in your inbox.
---