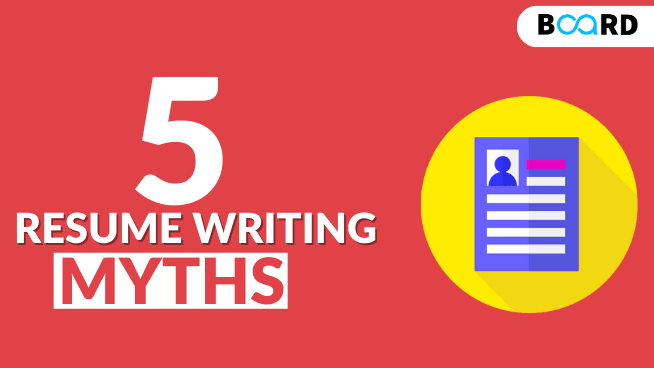 5 Resume Writing Myths That You Need to Stop Following Now!
Resumes are the break even point of your interview process. They can either make or break your chances of getting your dream job. This is the reason why people spend weeks, even months, to prepare their resumes.
The perfect resume is one which showcases all your strengths in an effective and impactful manner. More than most people have difficulty in grasping the idea of resume writing and for the same reason they have the entire concept of resume completely wrong. This has led to a lot of myths and misconceptions involving resume writing.
Here are 5 common resume writing myths that you need to stop following if you want to create the perfect resume for yourself!
Myth 1: One Resume for multiple jobs
If you think that taking the same resume in every job interview is enough to land you a job, you are completely wrong!
It is a common misconception that creating an 'All Purpose' resume which contains all your strengths and skills will impress the employers. As a matter of fact, employers look for job specific skills in candidates. Having additional skills is an added bonus, both for the employers as well as the job candidates.
Instead of creating a generic resume, you should create a targeted one. Companies prefer candidates who spend enough time on creating a job specific resume as it shows the efforts one is ready to make to get the job.
Myth 2: The shorter the better
More often than not, people stick to the myth that resumes should not exceed the 'One Page' limit. People follow the same resume format to maintain a 1 page resume. This has resulted in many worthy candidates not getting jobs as they couldn't present their complete profile to the employers.
Resumes should be as many pages as required and include all the relevant information. Do not miss out on important skills and strengths just to keep the resume up to 1 page long. What you can do is prioritize your skills to decide which information stays on page 1 and which goes to the next page.
Myth 3: Work gaps are dead ends
Another common myth related to resume writing is that including work gaps will lower your chances of getting hired. Hence, people try to hide their work gaps by providing uncertain dates and timelines.
You may think that this is a smart move and you will not get caught, however, this practice can lead to serious consequences. Instead of hiding work gaps, provide a proper reasoning as to why you left previous job and you might even gain the employers trust.
Myth 4: Resumes should be monochrome
A huge misconception regarding resume format is that it can only be black and white and adding colour to your resume will make it look unprofessional.
There are tons of job candidates, all having the same monotonous resume theme. A little highlight, where required, might be just the thing you need to get your resume noticed by the employers. You can even direct the interviewer's attention to the right places, like your skills and achievements by just highlighting them.
Myth 5: Graphics and charts have no use in a resume
It is common to think that charts and graphics are only meant for textbooks or presentations and have no relation to a resume. However, graphics are a very eye catching addition to your resume.
Include a relevant graph which tells the employer or interviewer your story in short. They will be more than interested in knowing more about you if only you have a self-explanatory graph or chart in your resume.
Conclusion
You should display all your skills that are relevant to a particular job position and not worry about page limit or resume format when including such important details. Don't fall prey to such myths and learn how to create an impactful resume.
---
If you want to learn more about how to build the perfect resume then you should check out our Free Resume Builder Course, this course is for freshers, students, and everyone. Learn about how to write a resume, resume formats, action words for resume, skills for resume, and sample resume templates. Take this course and create a perfect resume for the job of your dreams.
Subscribe to our Newsletter
Receive latest industry news and updates, exclusive offers directly in your inbox.
---