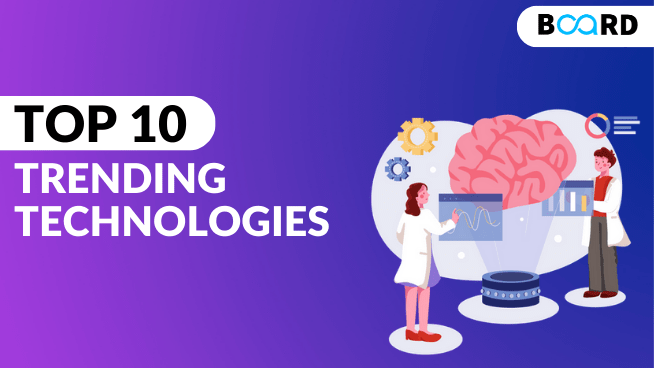 Top 10 Emerging Advanced Technology Trends in 2023
Around the world, a major digital revolution is happening. Technological advancements have enhanced innovation, agility, and market development. The Covid-19 pandemic has expedited digitization and automation, letting businesses thrive even in the face of economic hardship. Many companies have adapted disruptive technologies and adjusted their business strategies as a result.

The impact of the pandemic will last a protracted time, and also the digital shift will continue. It'll be difficult for businesses to recover if they do not stay up with technology advancements.
Top 10 Trending Technologies
Advanced technology will still transform our lives and also the way we do business, creating great potential for enterprises all around the world. Let's take a glance at a few recent technological trends so everyone understands what to look for, adopt, and have with them.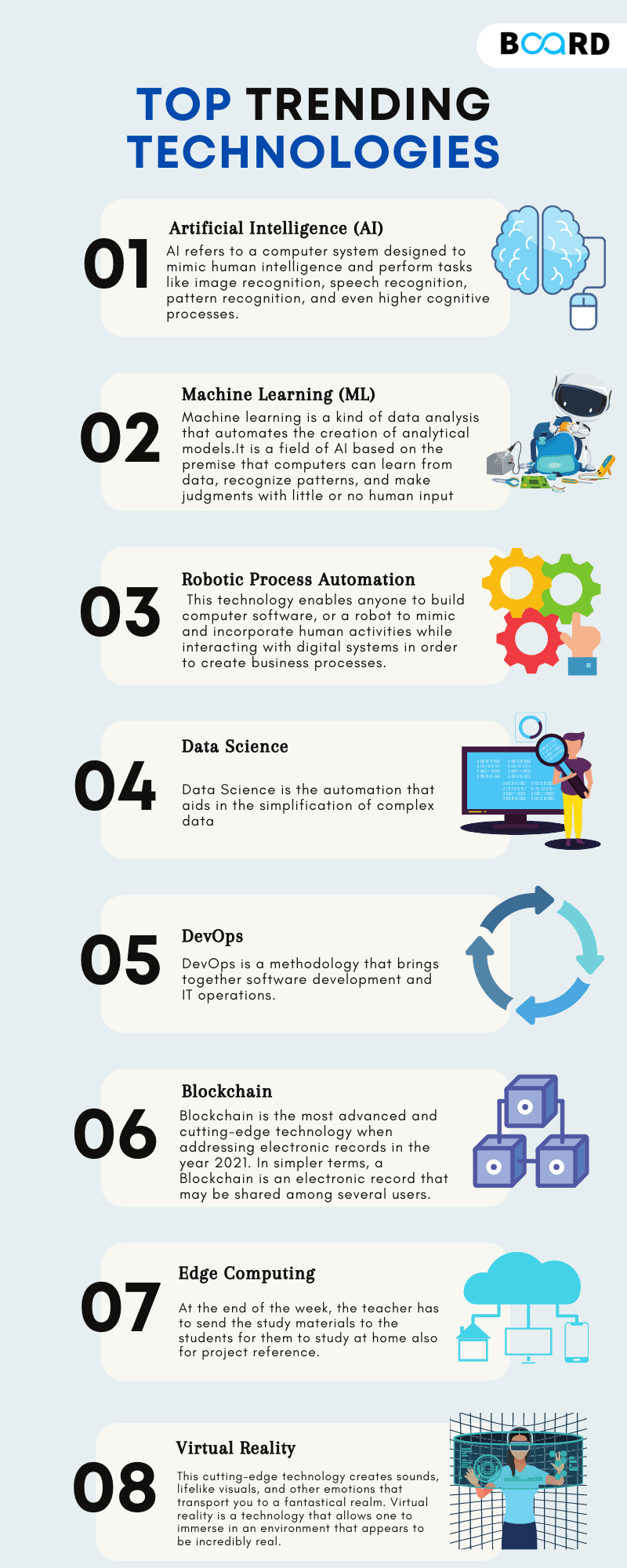 1. Artificial Intelligence
Over the last decade, computing has received plenty of attention. Because its substantial consequences on how we live, work, and play are still in its infancy, it remains one of the foremost important emergent technology advancements.
AI refers to a computer system designed to mimic human intelligence and perform tasks like image recognition, speech recognition, pattern recognition, and even higher cognitive processes. Compared to human intelligence, AI can perform all of those activities more accurately.

AI is additionally used to examine interactions in order to uncover previously undetected linkages, as well as to estimate facility demand in real-time in order to manage resources and identify dynamic patterns among users. Machine Learning, which will be highlighted below, is one of the more advanced branches of AI. The technology is employed to provide computer systems with the power to create human-like behaviors.

Build a career in Artificial Intelligence with our AI Course with Certification which contains the perfect mix of theory, case studies, and extensive hands-on assignments to turn even a beginner into a pro by the end.
2. Machine Learning
Machine learning is becoming more widely adopted across enterprises and industries, leading to a major demand for skilled individuals, making ML one of the foremost emerging technologies for 2023. Machine learning is a kind of data analysis that automates the creation of analytical models.
Source: https://www.wordstream.com/blog/ws/2017/07/28/machine-learning-applications

It is a field of AI, based on the premise that computers can learn from data, recognize patterns, and make judgments with little or no human input. Machine learning is employed in many apps on our phones, including search engines, spam filters, websites that generate personalized recommendations, banking software that detects suspicious transactions, and speech recognition.

If you want to learn more about machine learning, check out our ML Certification Course to get mentored directly by industry experts, build your practical knowledge, receive complete career coaching, be a certified ML Engineer.
3. Robotic Process Automation
Robotic Process Automation like computing is a technology that is used for everyday work. This technology is employed to automate repetitive processes like email handling and replying, transaction processing, and data management. This technology enables anyone to build computer software, or a robot to mimic and incorporate human activities while interacting with digital systems in order to create business processes.

This system never sleeps and never makes an error. RPA, as compared to other technologies, allows an individual to automate at a fraction of the cost and time previously required. Cost-effectiveness and concurrency don't seem to be only benefits, but also the good thing about automation, owing to RPA. This places RPA within the top ten most well-liked technologies in 2023.
4. Data Science
It is the fourth on the list of emerging technologies for the year 2023. Data Science is the automation that aids in the simplification of complex data. Several companies produce enormous amounts of data each day. It includes, among other things, sales data, customer profile data, server data, business data, and financial models. Almost all of the data gathered is unstructured and indeterminate.

Data Scientists turn datasets into determinable ones and so the organized data is reviewed for trends and patterns. These patterns and trends can be used to better understand a company's business performance and customer retention, as well as how they could be improved. This field is rapidly expanding and transforming a large number of companies. In a nutshell, data science is the process of extracting data from unstructured raw datasets and building meaningful insights for smart decision making.

If you want to become a Certified Data Scientist, join our online Data Science Course and get personalized 1:1 mentoring from top Data Science industry experts and be job-ready. This includes the complete Data Science syllabus, hands-on projects, hackathons, and a Data Science Certification.
5. DevOps
DevOps is a methodology that brings together software development and IT operations. Its goal is to shorten the software development life cycle and provide high-quality software delivery on a continuous basis. Experts at Microsoft explain DevOps best. It works hand-in-hand with agile software development and a number of other aspects of DevOps that are derived from the agile methodology.
Source: https://devopedia.org/devops

This cutting-edge technology is critical for several domains like IT operations, development, security, quality, and engineering to coordinate and collaborate in order to create the quickest and also most comprehensive solutions possible. DevOps, when combined with innovative techniques and methodologies, allows companies to attain their goals faster. This is often why DevOps, a relatively new technology, is listed among the top ten trending technologies for 2023.
6. Blockchain
Blockchain is the most advanced and cutting-edge technology when addressing electronic records in the year 2023. In simpler terms, a Blockchain is an electronic record that may be shared among several users. Blockchain aids in the creation of a permanent record of transactions. Each of them is saved in a machine and is connected to the one before it.

Many seem to believe that Blockchain is solely concerned with cryptocurrency, which isn't the reality. Bitcoin and other cryptocurrencies are only small segments that use Blockchain technology. It is incorporated in a variety of industries, including healthcare, supply chain and logistics, and advertising, in addition to cryptocurrency.

Various businesses are looking for Blockchain platforms to assist them to develop top-level business strategies, which is propelling the Blockchain industry forward. The degree of security and transparency provided by Blockchain is the key reason for its meteoric surge in popularity.
7. Edge Computing
It is a comparatively new technology that is rapidly gaining traction. According to IBM experts, Edge computing is transforming the way data is managed, processed, and implemented across millions of devices. Edge computing brings computations closer to data storage systems, leading to improved application performance. Long-distance communication between the server and the client is eliminated when the gap between data and calculation is bridged, leading to faster processing.

Edge computing systems are employed by the world's fastest 5G mobile networks, real-time applications like video processing and analytics, computing robotics, and self-driving automobiles.
8. Virtual Reality
Virtual Reality is the next big thing in the world. This cutting-edge technology creates sounds, lifelike visuals, and other emotions that transport you to a fantastical realm. Virtual reality is a technology that allows one to immerse in an environment that appears to be incredibly real.

This program makes use of computer technology to create a restorative situation. It's a remarkable piece of technology, particularly for playing video or computer games. The edge computing program allows you to experience the gaming environment while playing on a computer through the screen.

In the areas of entertainment, training, marketing, and education, Virtual Reality has enormous promise. Samsung, Google, Sony, and Oculus are major players in this market and are providing immense possibilities for innovation and technology growth. This places virtual reality in the top ten most popular and advanced technologies in 2023.
9. Internet of Things
The Internet of Things (IoT) is the future of the digital world. It refers to a network of interconnected devices that communicate with each other and share data. These electronic devices can communicate over Wi-Fi, allowing them to share data based on the surroundings and the way they're used.

They have a usage in home appliances, cars, enabled devices, and many more that can connect to the internet and exchange data. IoT is now extending to Internet of Behavior (IoB). With the use of IoB, businesses are able to track client behavior and use IoB to benefit their respective channels.

A health-tracking app, for instance, may collect data on your physical activity routine, nutrition, sleep, and other habits. This data can be utilized to drive additional behavioral change, such as through the creation of individualized health plans.
10. Cybersecurity
Cybersecurity will remain a popular technology this year and going forward. Malicious hackers attempting to gain unauthorized access to data would not quit quickly, and they will continue to find ways to avoid even the most stringent protection measures. It's partly due to the adoption of modern technologies to improve the defense.

Latest courses and training material is available for experts in this field to gain knowledge about protecting servers, networks, appliances, and programs from cyberattacks. Network security, application security, information security, cloud security, data loss prevention, and end-user education are some of the subgroups that form up cybersecurity.

Cyberattack is a real threat for organizations, customers, and employees, and they are finding it difficult and cumbersome as new technologies continue to demand improved security systems. This places Cybersecurity in the top ten most emerging technologies in 2023.
Conclusion
These are the top ten most important technological breakthroughs to be aware of in 2023. One may have probably figured out that all of these new emerging technologies are linked in some or the other way. These are the technology trends of the future, and they will have a big impact on other emerging trends that are to be seen around the world.

Subscribe to our Newsletter
Receive latest industry news and updates, exclusive offers directly in your inbox.
---