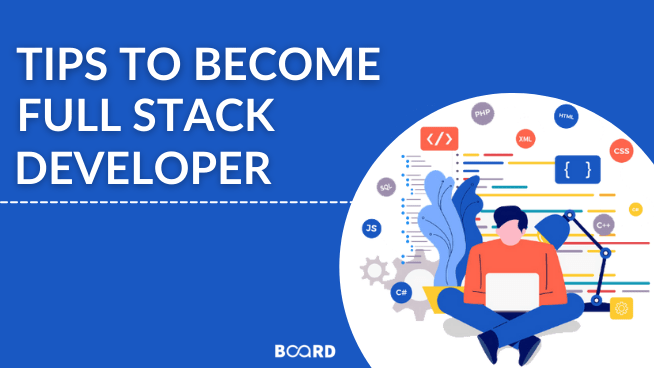 An all-rounder who can develop any single product from start to finish. This is called full-stack development and the person doing it is a full stack developer. The person is a master of a variety of skills and technologies and he can develop a product from its concept to the whole finished product itself. Say, you want to develop a website. Hiring different resources for the front end, back end, databases, DevOps, etc. may prove to be really complex for the organization, in which case a person knowing all the skills and can work multiple stacks, is cost-effective and increases TAT (Turn-Around-Time).  Let's see what are the steps to become a full-stack developer.
1. Get Your Fundamentals Right
To become a full-stack developer, your basic foundation skills should be very strong. You need to know all the programming languages and be an expert in anyone. These languages are very crucial in developing full-stack projects and applications. The core business revolves around these programming languages - HTML/CSS, JavaScript, Python, and other back-end technologies.
2. Test Your Knowledge
After making your base strong, you need to be absolutely confident about your
knowledge. In order to be so, you'll need to put your knowledge to use and test it time and again so that all your concepts are very clear. In order to become proficient in the usage of these languages, creating test applications and applying your knowledge will do the trick. You will need to create the perfect output which will only happen with practice and when you understand each module of the development and the role it plays in forming the finished product.
3. Become an SME
You can be a Jack of all trades, but you need to master at least one language well. You'll realize that the scope of learning these languages is immense and you'll need to master a few of these to stand out. Trying to perfect too many of these may backfire and lead to failure. Do your groundwork and choose your specialty and go ahead and master that knowledge. You should always aim to know and understand all of it and be a subject matter expert in any one language.
4. Keep Upgrading
The knowledge you've learnt 4 years ago is not going to help you that much in the
present times. Instead, focus on upgrading your skills time and again with certificates, etc.  to remain valuable in the marketplace. Don't choose courses that promise to make you a master within a few hours or a few days. Take your time to understand and master the skill and which will update you on the relevant changes.

It's not a herculean task! Start small and keep upgrading to reap maximum benefits. You could be a valuable resource to a company if you succeed in following the steps above.
Make sure to check out on How to start your career in Full-stack development?
Conclusion
In the past 1 year, the demand for full-stack developers has increased by 30%. A full-stack developer can earn up to 30% more than a regular developer depending on his experience level. According to a survey conducted by Indeed, the average salary for a Full Stack Developer in India is 6.25 lakhs per annum especially in cities like Mumbai, Pune, Delhi, Noida, Bangalore. These estimates are based on the figures submitted by full-stack developer employees in the past 3 years.
---
Fast-track your career in the IT industry with our Full-Stack Development Course. Get 120+ hours of hybrid training from 700+ Industry experts from Jio, Amazon, PayPal, Paytm and become a full stack developer. You'll become an expert at the front-end and back-end JavaScript technologies of the most popular MERN Stack(MongoDB, Express, React, and Node.js). Learn to build responsive web applications using both front-end and back-end technologies and become an expert Full-Stack Web Developer.