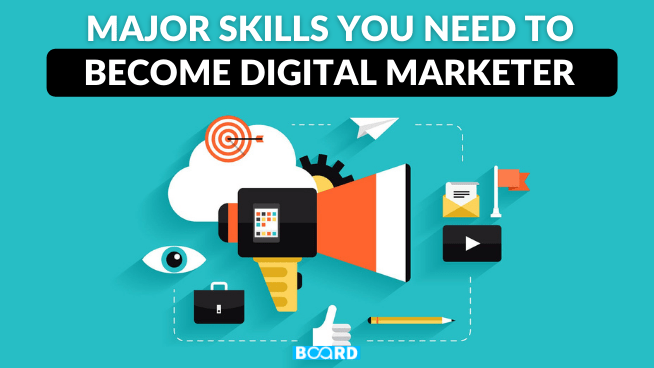 5 Major Skills Required for Success in Digital Marketing
An upcoming career opportunity, Digital Marketing promises you a six-figure income and flexibility to work from anywhere in the world. That's why it's so sought after. But, you need certain skills and talents to grasp what it is and how it works. Acquiring and updating these skills are a crucial part of almost every business in the market, nowadays. Let's have a look at a few major skills which are needed to become a digital marketer.
1. Content Writing and Marketing
It's one of the most important skills to possess. Content marketing is also one of the
most powerful approaches because it focuses on creating long-term value addition by creating relevant and valuable content to attract a consumer and therefore drive
consumer action. According to a report, 58% of marketers reported spending more on content creation in 2018 than in 2017. Writing and editing are vital skillsets if you want to understand content marketing as blogs, whitepapers, newsletters are all forms of content you need to modify in order to achieve the goal.
2. Search Engine Optimisation
Where do you go for an answer? Google. Or more precisely, search engines. You tend to believe whatever comes on the first page of the search, to be true. Such is the power of search engines. SEO is a way wherein you optimize your content so that it's visible on the first page of the search results. Research published in a journal says, most of the online experiences (93%) start from search engines. Another study says, there are 67000 searches performed on Google every minute. Hence, it's imperative to understand and learn SEO for getting excellent results.
3. Social Media Marketing
Research published by Smart Insights suggests that there are over 3 billion people
who're using social media today, and that number is just increasing day by day. Social media has a humongous revolutionary power to transform the online marketplace. That's why it's so essential for businesses to tap into social media as an avenue. If you understand how to use it from a business perspective (understanding the copy and image requirements, understanding paid ads, etc.), it will be a very lucrative skill for you to have.
4. Email Marketing
Till now you have only used emails as a customer. But ever wondered where you get those professional emails from? The ones that talk about an EOSS sale, or the one that talks about your financial investments, etc. That's email marketing. Getting the customer to read an email and take an action following that—is still very effective. It delivers accurate results. The global email users count is increasing to 4.3 billion by 2022, then 3.7 billion in 2017, says research by Statista.
5. Designing
Entire marketing is driven by visuals. Graphic design is a vital element of all marketing communication. A study by Venngage reveals that 88% of marketers use visuals in more than 50% of their marketing efforts. As a digital marketer, you need to have a keen eye for visuals and be able to identify what works for the brand, and what doesn't. There are much online software in which you can prepare whichever visuals you want using the ready templates.

Oh! So you made it to the end. Here's a bonus video for you.
Subscribe to our Newsletter
Receive latest industry news and updates, exclusive offers directly in your inbox.
---