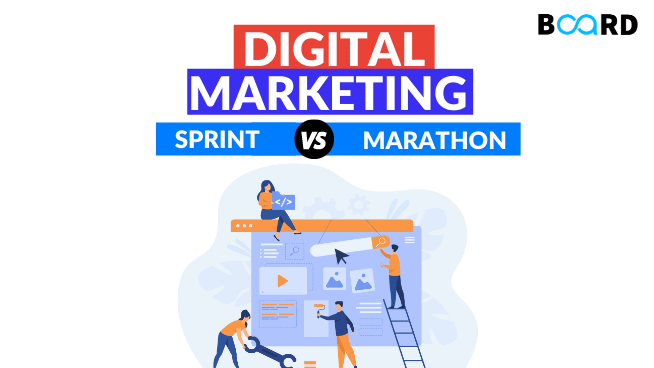 Dear, future Digital Marketing Managers, Digital Marketing Specialists, CMOs', and Digital Marketing Dropouts. I hope, wish, and pray that you all are doing well.

Missing out on the one complete year, and more of the campus life is no fun. But I hope most of you have adopted and learned to deal with it.

When Board Infinity (BI) gave me this opportunity to reach out to all of you through their blogs, the title of this blog is the first thing that crossed my mind.
And I am grateful to the team at BI (and especially Priyanka), for understanding why this topic is of utmost importance for all Digital Marketing aspirants like you.

For the last six months, I have been very closely interacting with and observing the journey of Digital Marketing Learners (again, all thanks to Board Infinity). I felt that I was now ready to share some of my thoughts regarding the nature of the Digital Marketing Learning Path.

What can be an ideal approach towards this learning path? Should one treat it like a 100 m sprint or a half/full marathon? Is this path for everyone? Does this path only lead to success (because reports/surveys claim or show that it is an in-demand skill)?

Will I try to provide answers to all the above questions in this blog? Well, to be honest I don't intend to do that.

This is because the best person to seek answers to such questions is, YOU!

We (BI & I) are just attempting to nudge you to ask yourself such questions and find your path. After all, this is what good teachers and coaches do 😊.

(P.S – I am not trying to claim that I am a 'good coach'. Like you, this new journey of mine has also just started. Wish me luck!)  

We intend  to provide you all with some guiding light, some tough questions, and suggest possible paths to find your answers.

All this is based on my personal experience (11+ years in the IT Industry, 8+ years in B2B Digital Marketing, and 6 months of teaching Digital Marketing) and observations. Let's get started!
1. How can I find out if Digital Marketing is the right career choice?
When I had come face-to-face with such questions regarding making a career choice (back in 2008-2010), the Digital Marketing Wave had not yet reached the Post Graduate Institutes and hiring companies in India (or was just about to spread).

Sales and Marketing had the reputation of being field jobs that required innate people skills. We would come across marketing stories of how Flipkart Founders would hand over Flipkart branded bookmarks to their prospective customers outside the physical bookstores in Bengaluru.

In the hindsight, I believe that Sales & Marketing in 2021 continues to be field jobs that require people skills.

The only but very pertinent difference being that the 'field' has become 'digital' consisting of search engine algorithms, your and your competitor's website, apps, social media channels, email inboxes, and other digital platforms.

Hence, Digital Marketing demands adopting and learning new skills. But, are you meant to adapt and learn these skills? Will you enjoy the learning journey and the career path that will follow?
2. Some of the following pointers can help you find answers-
At the heart of Digital Marketing, lies the 'Content'. It is omnipresent in the form of blogs, videos, emails, ad copy, and more.
If you enjoy writing content, coming up with content ideas, scripts, or storyboarding for videos, or storytelling in general, then there are very high chances of you finding the right career path for you by learning Digital Marketing.
Please read the above pointer again. Please note that for being a good Digital Marketer, it is not mandatory that you should be or were a good Blogger or Content Writer. But, love for good quality content and storytelling can serve as the foundation for your success. Specifically, in the areas of Content Marketing, SEO, and Email Marketing.
If 'Content' is the heart, then 'Data' is the brain behind Digital Marketing! Do you enjoy data analytics more than content? Then you can excel in unraveling the hidden insights from the campaigns through Marketing Data Analytics tools like Google Analytics, Kissmetrics, Adobe Analytics, and more.
And, in my opinion, along with a love for 'Content' and 'Data', one's 'Creativity can be considered as the trinity of core skills required for success in Digital Marketing. So if you are a creative problem-solver, who can come up with winning campaign ideas, then you can be a great addition to any digital marketing team.
Also as mentioned earlier, Marketing even in its 'Digital' Avatar will continue to require people skills.
This is because various creative elements of digital marketing are very subjective in nature (you may find yourself discussing the color of the CTA button, passive/active voice of the email or blog content, or larger discussions around the nurture tracks of your campaigns), you will require all the skills for working in collaboration with fellow marketers, sales teams, design teams, digital marketing agencies, freelancers, and more.
3. I am starting my own business, should I learn Digital Marketing?
Learning Digital Marketing for your own business is one of the strongest motivating factors. Such kind of motivation can ensure that you complete the entire learning journey, without dropping out.

But, let's find out if the grass is green on the other side as well. Consider asking yourselves some of the following questions:
Did I start my entrepreneurial journey with 'learning Digital Marketing' as the core driving force?
Learning Digital Marketing requires an investment of your precious time, efforts, and money. Am I ready to invest in all three?
It demands a good amount of continuous self-learning. Will I have time and energy for the same?
Should I equip myself with sufficient knowledge of Digital Marketing, so that I can make better decisions while collaborating with Digital Marketing Freelancers and/or Agencies?
4. Learning Digital Marketing and securing a Job will solve all my life problems, isn't it?
Many of us would love to believe that the above rhetoric statement would turn out to be true.

Honestly, when I was your age and at your stage of the career, I truly believed in the above.

And more honestly, till today I continue to believe in this at every new milestone of my career or a job change 😊

What I will tell you next, can be your first lesson in Expectations Management! (subsequent lessons will follow when you are/will start dating someone, get married, become a parent, and other life events):
Realistic expectations from a career choice and its outcome can help you manage the ups and downs of your journey better.
Learning Digital Marketing will demand your time and efforts in attending sessions, completing assignments, quizzes, exams, placement preparations, self-learning, and more.
Amidst all this, a part of you would also try to discover the 'self' and figure out the areas and aspects of Digital Marketing (content/data/creativity?) that interest you the most.
Maybe, some of you may discover that Digital Marketing is not for you or vice-versa. Never disregard this possibility.
Or, you may start believing the above then suddenly you may come across that coach/mentor/a session/a video/a blog which will turn things upside-down and in the positive direction for you. Magic does happen!
Remember: Digital Marketing is going to be a part of your Life (if you desire so), a Job/Business (any Job/Business) is going to be a part of your life. But none of this is going to be your entire life. None of this can entirely define you!

Surely, your first paycheck is going to be very special. Financial Independence is empowering and so is having the right expectations from money and career.

As you will witness different events of your life, you will continue to transform. Your life goals, your dreams, your priorities will continue to change.

Give yourself time and space to re-discover the 'self', enjoy the journey and results shall follow. Make sure you don't get too attached to the results 😊

The surveys and reports tell me that Digital Marketing Talent is in high demand, I think this will be the right career choice for me.

The first part of the above statement is true (as of today). Yes, companies of all types, forms, and sizes need good Digital Marketing talent.

The surveys and reports released by the organizations, which are working in the areas of talent development, are doing their bit by releasing these numbers in a certain context.

These numbers and statistics are true to a large extent. But fallacy lies in making a career choice by heavily relying on these numbers and getting too attached to these numbers.

One can use these numbers as a reference while discussing career choices with friends and family, but it won't take one too far if such numbers become the foundation of the decision-making.

And no, I am not talking about not following the herd-mentality. In fact, no man is an island. Most living beings work, survive, and flourish in herds. We human beings too!

Here, the larger question is about finding your right herd. Is Digital Marketing Herd or Tribe, the best for you?
5. Can I become an expert Digital Marketer in 6 months-8 months-10 months?
Allow me to introduce you to the concept of 'The T-Shaped Marketer'
(image source - https://www.webcoupers.com/)

During the initial phases of your learning journey and career, most of you would be 'raw talent' for your digital marketing teams.

Your managers and team members would be keen to leverage your raw, out-of-the-box ideas, and your energy and hunger for contributing to the team's success.

(P.S – Some of these raw ideas would be unrealistic and may fail. But don't let them stop you.)

This is the stage where you will be building your 'Broad Marketing Knowledge' or the Horizontal Expansion (as shown in the above representation of 'The T-Shaped Marketer').

The time will come when you will figure out your areas of interest and specialization within Digital Marketing. And this is when you start building the 'Depth of Knowledge' or the Vertical Expansion.

For example, you may want to become a 'T-Shaped Paid Media Marketer' or a 'T-Shaped Marketing Analyst'
(Image source - https://www.webcoupers.com/)

(Image source- Ahref)

Now, how much time will it take for you to build 'The Depth of Knowledge' and how 'deep' will this 'depth' can be, is the question no one can confidently answer for you.

In fact, it will also be very difficult for you to answer this for 'self'. Please check if the following pointers can help:
Should one put a timeline for becoming an expert?
At what level of depth in knowledge can one consider himself or herself to be an expert?
Will continue to keep a learner's or a student's mindset throughout the journey and career, prove to be a better option?
Is 'continuing with student's mindset' one of the greatest lessons in humility?
My Concluding Thoughts
I hope that you were able to relate to some of the points discussed in this blog.

Don't consider my thoughts as some rules written in stone, as I am also still learning about Digital Marketing, Life, and Self.

But since I have experienced some of the stages of this journey before you would do so, you can benefit by learning from my experience.

So, decide for yourself if you would like to approach Digital Marketing as a Sprint or a Marathon.

And while you do so, also remember that various algorithms (search engine/social media) and associated metrics have been defining a lot of our aspirations and evaluation of success and failures. Please be mindful and don't let these hijack your happiness 😊

Take Care of yourself and your family.

Written by - Nitin Amlani, Board Infinity Coach

If you're someone who wants to accelerate your career in Digital Marketing, You should consider joining Digital Marketing Course

The major advantages of joining a course like this are:
You get 80+ hours of premium content in the form of LIVE classes and offline bootcamps
You get 1-on-1 mentoring directly from Industry Experts
You get access to tons of internship and job opportunities in major companies
You get a pathway to land your dream job
You get coaching on improving your soft skills so that you can crack interviews
You get full support until you get placed
And a lot more…
If you want to know more details about this then I recommend you to click here