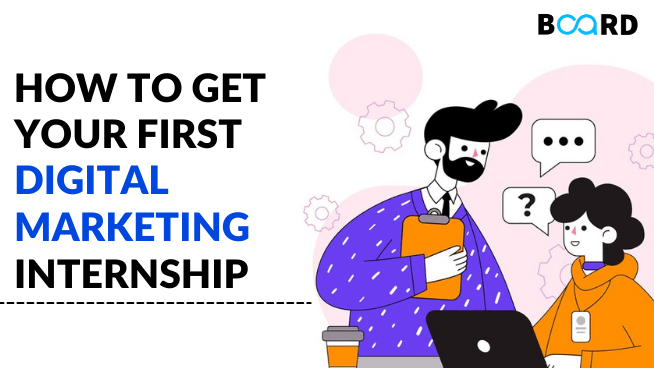 Digital marketing is a budding field that is attracting people from all walks of life. Over time, the digital world is expanding which in turn has increased the demand for candidates who have digital marketing skills. But the fact is that not many companies will hire you when you have no experience.

Therefore, the easiest way to get into Digital Marketing is to intern somewhere first. In time, you can slowly start climbing the ranks and turn into a full-time employee for the same company or a different one.

Now, how to get a Digital Marketing internship in the summer of 2022!
1. Build your own Website Portfolio
Many of the companies ask for LinkedIn or social network URLs. That's cool and all, but you can take this a notch higher.

What if you build your whole portfolio on a website?
This will help differentiate you from the hundreds of applicants out there. This will also help show the employers that you actually have a passion for Digital Marketing.

The website could consist of anything realistically, your resume, your projects, or it could even be based on topics that you're really interested in. Creating a basic website is really not even that difficult with the plethora of online tools available. There are tons of step-by-step YouTube videos on this topic.

Moreover, the process of creating your own website will also require you to learn more about Digital Marketing. You'll be forced to learn about SEO, tracking metrics, the different website builders available in the market, content marketing, and more, all of which will make you more knowledgeable than the other applicants and a better digital marketer in the process.
2. Do a Certification Course
Digital marketing skills can easily be learned by free or paid certifications that are offered online. In any field, you need to have some form of theoretical knowledge before you can practically apply it. The theoretical knowledge creates a foundation for your work. Not only that, but it will also give you a basic idea of which sector in Digital Marketing you want to focus on the most.

There are general digital marketing courses too, or specific ones in SEO, content marketing, SEM, paid advertising, copywriting, etc. Here's a completely FREE course that Google has put together (so you know it will be good): Fundamentals of digital marketing - Digital Unlocked

If this doesn't suit your interest, then you can search "Free Digital Marketing Courses" on Google. There are a lot of them!
3. Networking
This is the golden rule for any job search.
Network!
It allows you to gain a lot of knowledge and experience in very little time. Especially in a vast field like Digital Marketing, networking with people who have more experience than you will help you a lot in cutting short the learning curve.

Your main goal in the process of networking shouldn't be to get a job from them or even a referral. You should just focus on building a relationship, providing value to them, and learning everything you can from them (you're basically getting access to FREE knowledge & experience).

Another advantage of this is, that your network can possibly even lead to various direct or indirect opportunities in the future.
4. Ask for Feedback
This is probably the most important thing if you want to grow.

If you have been attending interviews for digital marketing internships, and have not been able to clear them, make it a duty to ask where you went wrong. This information will help you grow a lot as a person. This will help you rectify your mistakes in the next interviews and be more valuable than you were in the past.

Learn to take criticism head-on and work it to your advantage. It won't always be your fault, maybe the company was just looking for someone with a bit more experience. But, whatever the case, you have to learn to ask for feedback so that you know for sure.
Watch this video to see what it's like to get, Digital Marketing Job without any experience:
Conclusion
Digital Marketing is a very huge field. Once you actually start working you'll realize the various different opportunities in it. A digital marketing internship will help you narrow down on the thing that you want to do specifically, under the supervision of experts.
If you follow all the above steps, you're sure to bag a very lucrative digital marketing internship that might even convert to a full-time job in the future!
---
This is the only digital marketing course with various internship opportunities. If you're someone who is serious about your career and want to fast-track your growth in Digital Marketing, join Board Infinity's Digital Marketing Learning Path. Get premium content, 1-on-1 mentoring directly from industry experts, access to tons of internship and job opportunities in major companies, certification, and a lot more.