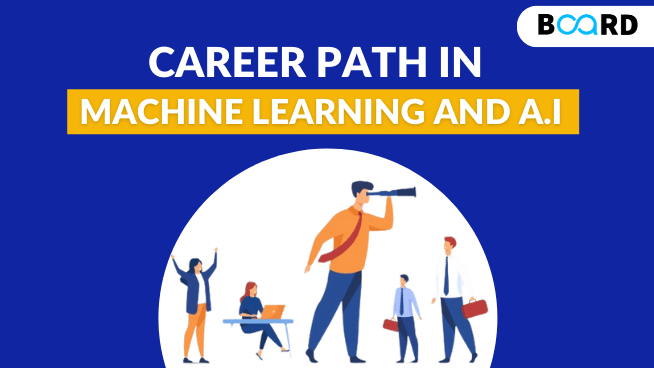 Career Path in Machine Learning and Artificial Intelligence: Explained
So you want to build a career in machine learning and AI but don't know where to start. We got you covered. Let's start with the basics first!
1. What is AI and Machine Learning?
AI is the process of making intelligent machines. It enables software to mimic humans so as to partake in our jobs or do the job in a faster and more efficient manner.
Machine Learning is a subset of AI, so when someone is elaborating on AI, we are also talking about machine learning which is the means by which AI picks up.

With the help of machine learning, algorithms use a collection of training data to enable computers to learn the information they are not wired or programmed to do. Simply put, Machines give us the tech to augment our human capabilities.
2. Skills and tools required to pursue a career in ML
Programming
Programming is high on the priority list for any machine learning enthusiast.  The most used languages are R and Python. It is found that the scope for Machine Learning with Python is high.
Understanding data structures
The core of any software lies in its data structure. A good grasp of these concepts is thus recommended.
Mathematics
Performance of computation cannot be done without mathematics. Knowledge of applying mathematical concepts such as calculus, linear algebra, stats, and probability is required when working with Machine Learning Models.
Software Engineering
ML is created to integrate with the software. Thus an ML engineer ought to have knowledge of software engineering.
Data Mining and visualization
To build various machine learning models, one should have the skills to understand the data.
Machine Learning Algorithms
Lastly and most importantly, one should have immense experience in implementing different ML algorithms
3. Who can be a machine learning engineer?
Professionals who have a master's or have a background in computer science AI, Data Science or Software Engineering qualify to take this career role up. Many graduates with 1-3 years of experience are also eligible to become ML Engineers.

Another path is where experienced developers transition into a role of Software engineering or data engineering and data science.
4. Scope of Machine Learning
This field is expanding and flourishing across fields like banking and finance, IT, media and entertainment, gaming, and also the automotive industry.
Automotive Industry
This is one area where Machine Learning is growing by changing the definition of safe driving. Major companies such as Google, Tesla, Benz, Nissan have invested heavily in Machine Learning to come up with new inventions. These cars or automobiles use machine learning, IoT sensors, HD cameras, and voice recognition systems.
Robotics
It has picked up the interest of researchers worldwide. Researchers globally are working on building robots that mimic the human brain. Neural networks, AI, ML, computer vision, and other tech is used in this process.
Quantum Computing
One of the advancements that will take machine learning to the next level is quantum computing. It is a form of computing that makes use of mechanical phenomena such as entanglement and superposition. These processes help in describing the correlation between the properties of a quantum system.
The scope of Machine Learning in India is high in comparison to other career fields when it comes to job opportunities. According to a report by Gartner, there will be 2.3 million jobs in the field of Artificial Intelligence and Machine Learning by 2022. It is also reported that the salary of a Machine Learning Engineer is much higher than the salaries offered to other job professions.
5. Career Path in Machine Learning
Machine Learning Engineer
One can opt to be an engineer. This person uses different machine learning experiments using programming languages such as Java, Python, etc. An ML engineer is proficient in analyzing data to build various machine learning algorithms that will run by themselves with minimal supervision.
Major skills required in this role are programming, probability, and stats, data modeling, machine learning algorithm, system design, etc.
Data Scientist
Deemed as the 'Sexiest Job of the 21st Century, data scientists used advanced tech to collect, analyze and interpret large amounts of data and predict actionable insights. These insights are then used to drive major business decisions.
Skills needed to be a data scientist include knowledge of big data platforms and tools like Hadoop, Hive Spark, etc., and programming languages such as SQL, Python, Perl, etc.
NLP Scientist
NLP stands for Natural Language Processing. This process includes providing machines the ability to interpret human language. An NLP scientist essentially works on learning patterns of speech to translate spoken words in different languages.  
Skills required are to be well versed with syntax, spelling, and grammar of at least one language in addition to ML so that a machine can accomplish the same skills.
Business Intelligence Developer
A developer makes use of data analytics & machine learning to collect, analyze and interpret massive chunks of data to give out insights. These insights are used to make smarter business decisions.
They need to possess both relational and multidimensional databases along with knowledge of programming languages. Knowledge of business analytics services namely - Power BI is a great add-on.
Human-Centered Machine Learning Designer
An example of this profession is OTT player Netflix which provides viewers movie choice recommendations based on their preferences to create an enjoyable viewer experience.
To excel in this job role, designers must possess in-depth experience with ML concepts, algorithms, and how they operate. A good base in Mathematics, stats, and mastery of coding is also needed.
Online Courses
Depending on your interest and level of commitment, you can dip your water into several online courses that are available on the web. From esteemed universities and certification courses to ed-tech platforms, all are easily accessible. Once you chalk out your career plan, there are various online courses to choose from.
You can opt for our Learning Path in Machine Learning which provides you with a mix of theory and case studies. Moreover, you also get mentored directly by top industry experts.
We hope this article has given you rich insights into taking up Machine Learning and AI as a career path. If you still have doubts, why not opt to speak with our career counsellor. Book a session, here.
Subscribe to our Newsletter
Receive latest industry news and updates, exclusive offers directly in your inbox.
---